Rachael Ray's Pork Chop Sauce Uses Three Surprising Ingredients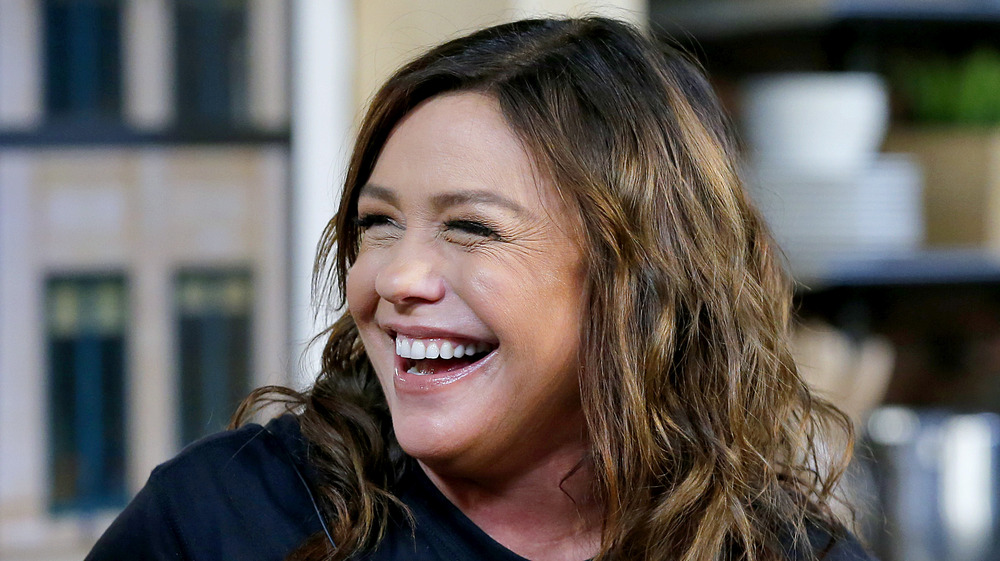 John Lamparski/Getty Images
Rachael Ray is all about keeping things unpretentious. The ease of the recipes and simplicity of ingredients are why many of us love to watch her Food Network show Rachael Ray's 30 Minute Meals. Even when she makes pork chops, there is an effortlessness to her methods. And it's clear Ray likes to use this cut of meat because she cooks pork chops a lot. Her Rachael Ray Show even compiled a list of her 20 most popular pork chop recipes. 
But, if you are like us, you know the possibility is high that you can overcook your pork chops. The Kitchn notes that it's easy to turn what should be a juicy chop into a tough, chewy piece of meat, and it only takes a few minutes for this less than tasty transformation to happen. Been there, done that. Of course, this does not apply to when Rachael Ray makes pork chops. Ray makes it look easy, especially when she drizzles one of her special sauces she makes right on top of the pork chops. These sauces can turn this lean meat into a gourmet dish. One drool-worthy sauce is the perfect combination of sweet and savory, and it is easy peasy to make. In fact, there are three key ingredients that go into this sauce that may surprise you, and they really up the game when it comes to preparing pork chops.
Rachael Ray's pork chop sauce includes maple syrup, capers, and mustard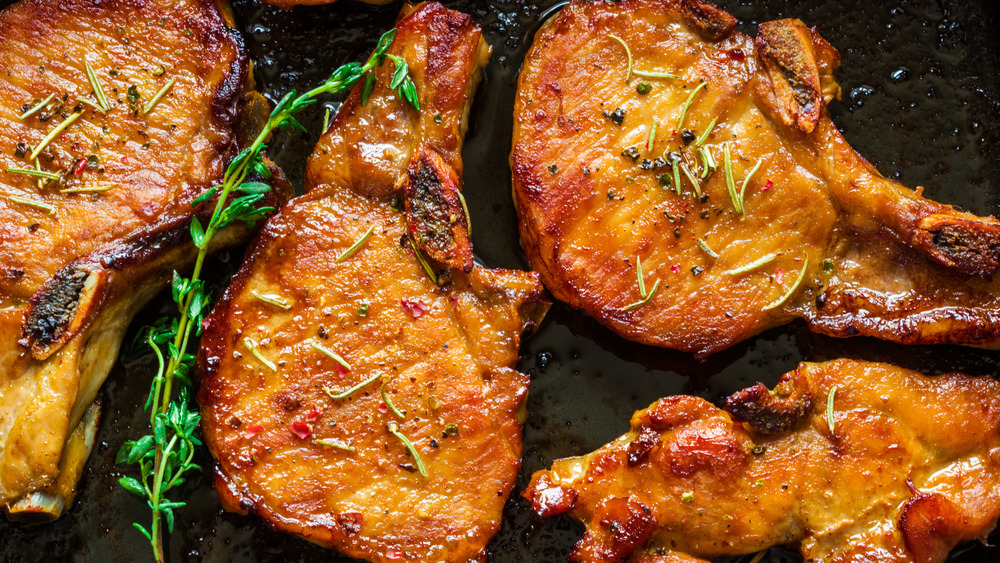 Shutterstock
This Rachael Ray pork chop sauce that has us excited contains maple syrup, capers, and two kinds of mustard (via The Rachael Ray Show). What we love about this sauce is that you make it in the same pan that you fried up your pork chops in to incorporate all the flavors of the savory drippings. Ray notes in the video that if you are using a cast iron pan, you can take it off the burner and use no heat, just the residual that the cast iron is able to maintain will work. For salt, Ray adds capers. She notes that in addition to the flavor capers add to this sauce, these little flower buds add a nice texture to the overall dish. 
When Ray adds the maple syrup, she pours "two turns of the pan" or two tablespoons if you need the precision. Ray opts for smoked maple syrup but she says you can use any maple syrup or brown sugar, so if you don't have smoked maple syrup, don't feel compelled to run out to the store. She finishes the sauce with a tablespoon of regular Dijon and grainy Dijon. Why both? Because they offer different flavors. After you've made your sauce, Ray says you want to put your pork chops back in the pan and coat them with what she calls a "hot mess of maple caper" sauce. Sounds absolutely delish to us.