Wheaties Is Finally Honoring This Important Athlete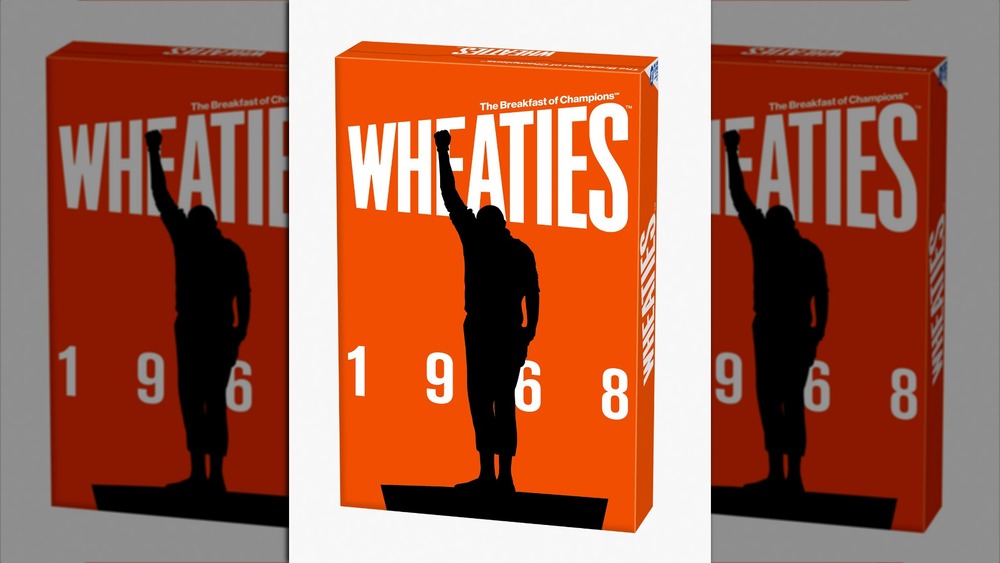 Wheaties
Wheaties wants to inspire its customers to be champions. That's why General Mills calls its cereal "the breakfast of champions," and why it puts the images of famous athletes on the box. Baseball legend Lou Gehrig was the first, in 1934 (via Business Wire). Olympians Mary Lou Retton, Jackie Joyner-Kersee, Michael Phelps, and many others have appeared on Wheaties boxes (via Eater). Muhammad Ali won a gold medal in the 1960 Olympics and had a stellar professional boxing career, but the Black activist and athlete didn't get his cereal-box honor until 1999 (via Fansided).
After winning gold in the 200-meter sprint in the 1968 Olympics in Mexico City, Tommie Smith famously raised his fist while the national anthem played during the medal ceremony (via Voices of the Civil Rights Movement). Two days later, Smith and John Carlos, another American who raised his fist on the same podium, were expelled from the Olympic Village. After they returned to the U.S., the gold medal-winning Smith couldn't look forward to a Wheaties box. Instead, he and Carlos received death threats.
More than 52 years later, Wheaties is belatedly recognizing Smith, not just for his athletic accomplishments but also for blazing a trail for athlete activists, according to Business Wire. The limited-edition Tommie Smith 1968 Wheaties box is now available online for pre-sale, with orders shipped in April. The box sells for $5 with proceeds going to the NAACP.
Tommie Smith paved the way for Colin Kaepernick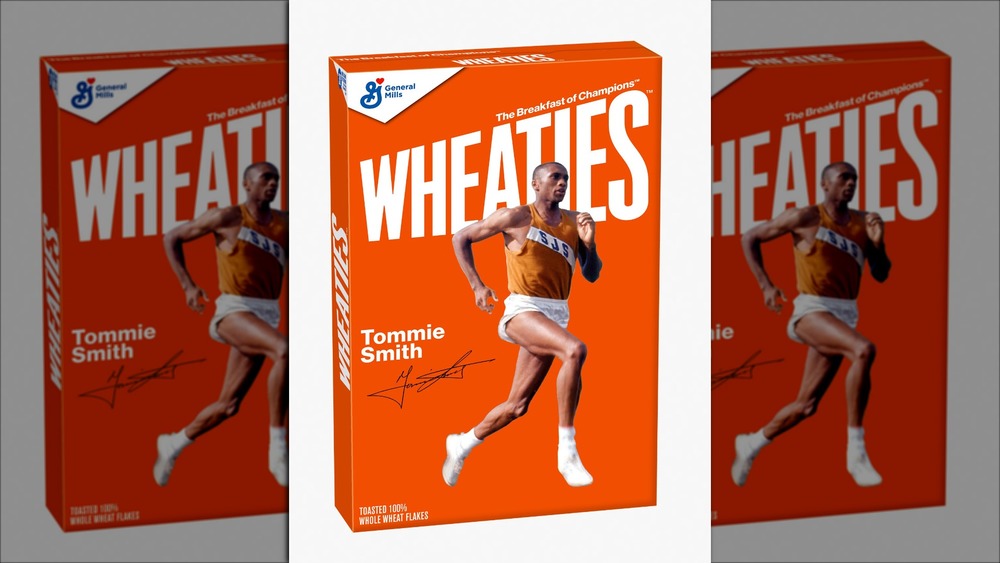 Wheaties
"In 1968, black athletes were expected to perform and shut up," Smith says in With Drawn Arms, a new documentary about his gold medal in that year's Olympics, his protest, and how that raised fist changed his life forever (via YouTube).
"We were dealing with not having a voice," Smith goes on to say, referring to Black Americans in the 1960s. "Running became my voice. I knew something had to be done. My next move would be immortalized in history."
Smith's gesture was echoed almost 50 years later by Colin Kaepernick, an NFL football player who kneeled during the national anthem throughout the 2016 season. Kaepernick has not played football since. He filed a grievance with the league, accusing teams of colluding to keep him out of the sport (via The Washington Post).
Like Smith, Kaepernick was ostracized. Unlike Smith, businesses who were sympathetic to Kaepernick's cause quickly sided with him and amplified his message. Ben & Jerry's gave him his own ice cream flavor. Nike gave him a huge "Just Do It" endorsement deal in 2018 with the tagline, "Believe in something. Even if it means sacrificing everything" (via Time).
Tommie Smith: I always wanted to be on a Wheaties box
Tommie Smith knows what it's like to sacrifice everything for a cause. "When I returned home the only job I could get was washing cars," Smith says in the documentary With Drawn Arms. "It destroyed what I loved — running and my family," he goes on to say. "I hit rock bottom."
Smith knew in 1968 that with all the world watching him, he had to seize that moment and use a platform Black people normally didn't have to make a statement. He also knew whatever action he took during the medal ceremony would immortalize him. He couldn't have known then that more than 50 years later, he would receive an honor like the ones Nike and Ben & Jerry's gave Kaepernick.
"As a world champion, I always wanted to be on a Wheaties box," Smith said, according to Business Wire. "To now be recognized by Wheaties and selected to grace the cover of their box, in the class with other great champion athletes, is an honor."