You Can Now Send Valentine's Day Notes With Fancy Chicken Sandwiches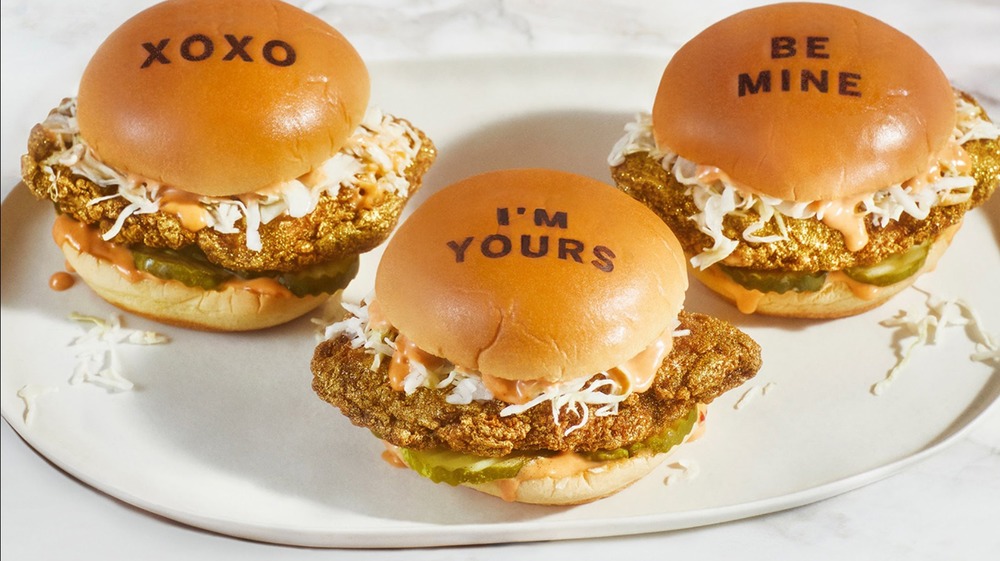 American Express
Just in time for Valentine's Day, American Express has announced they will be bringing back their popular Rose Gold card design for American Express Gold Card members. While it was released for a limited time in 2018, customers liked the design so much the company has decided to make the rose gold card a permanent offering.
"Our rose gold design quickly became a card member favorite when we introduced the limited-edition design a few years ago, so we knew we needed to bring it back as an option to choose from permanently. In addition to the return of this special design, we are excited to now provide our Gold card members with even more value in dining with the new Uber Cash benefit," said Rachel Stocks, an Executive Vice President at American Express (via CNBC).
American Express is partnering with Uber Eats and Fuku, the fast-casual fried chicken restaurant launched by chef David Chang of Momofuku fame, to celebrate the occasion with the release of the romantic Rose Gold Chicken Sandwich Meal. This special, Valentine's-themed meal is exclusively available through Uber Eats, and for a limited time, American Express Gold Card members will also receive a $120 credit to put towards their UberEats orders or Uber rides.
The Rose Gold Chicken Meal will be available for two days only in New York and Los Angeles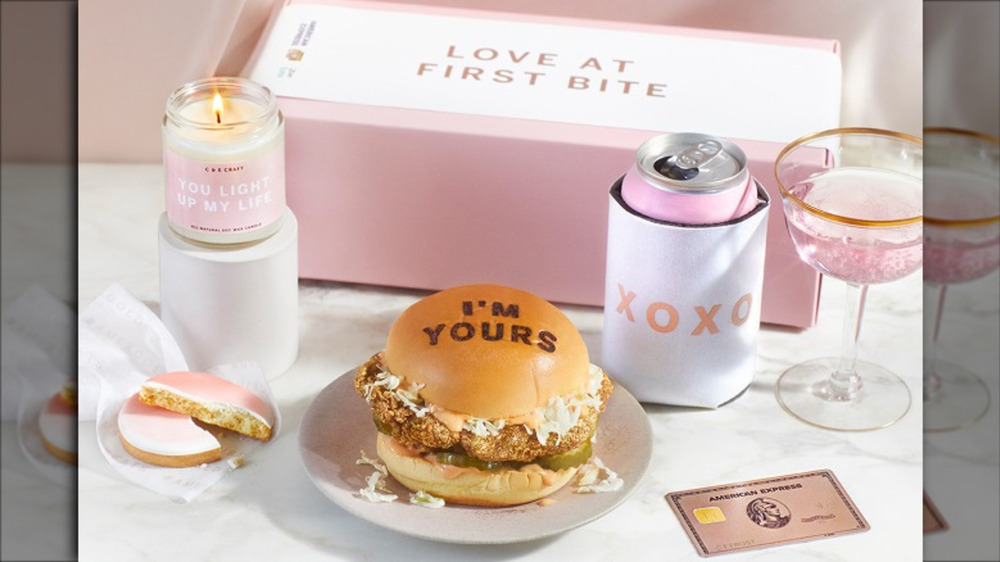 American Express
The meal's main course is Fuku's Knockout Sando, a spicy fried chicken sandwich with pickles, shredded cabbage, and their specialty knockout sauce. The pieces of habanero-brined fried chicken are dusted with gold before being placed between fresh potato buns, but that's not all. The chicken sandwiches each come with an extra-special finishing touch. Romantic messages, such as "Be Mine," "I'm Yours," or "XOXO," are stamped onto the tops of the buns, according to Fox News, turning each sandwich into a deliciously unique Valentine's Day message for your loved one.
The meal is complete with a can of bubbly, non-alcoholic White Grape Soda, a cup cozy that reads "XOXO," a C&E Craft Co. lavender-vanilla candle with "You Light Up My Life" printed on the side, and, for dessert, a rose-gold sugar cookie from the Brooklyn-based bakeshop Tiny Kitchen Treats, all delivered straight to your door in a lovely pink box. This whole package is available for only $15, per Elite Daily.
The Rose Gold Meal is a special, two-day only event. These romantic sandwich packages will only be available for order through Uber Eats on February 13th and February 14th. Unfortunately, these fried-chicken Valentines are only available at participating locations in New York and Los Angeles, but if you live in either of those two cities, don't miss out on this unique opportunity to express your love with fried chicken.