Fuku: The Truth About David Chang's Fried Chicken Brand
David Chang is always up to something. Whether it's his critically acclaimed Netflix series Ugly Delicious (via Eater), or his Michelin-starred restaurant brand Momofuku, he's always keeping busy in the culinary world. He even used to have a quarterly food magazine that hosted essays from contributors such as Anthony Bourdain, which put out its final issue in 2017 (via The New York Times).
One of this latest projects is the fried chicken restaurant Fuku, which has locations in New York, Boston, and Los Angeles, as well as in event and sporting centers such as Capital One Arena in Washington, D.C., Michigan Stadium in Ann Arbor, and Lincoln Financial Field in Philadelphia. The restaurant even had a pop-up location at Coachella over the last two years (via TimeOut).
Unlike Chang's previous endeavors which have had mostly a Japanese or Korean flair, Fuku concentrates on Southern-style dishes, primarily fried chicken-related, with a variety of side dishes. Waffle fries, chili-garlic green beans, and horseradish snow peas are on the menu to accompany the fried chicken legs, chicken tenders, and spicy fried chicken sandwiches that have made the restaurant a hit across the country (via Eater). According to the Fuku website, every location offers the trademark chicken sandwich, but nothing else is guaranteed as menus vary based on location.
The lowdown on Fuku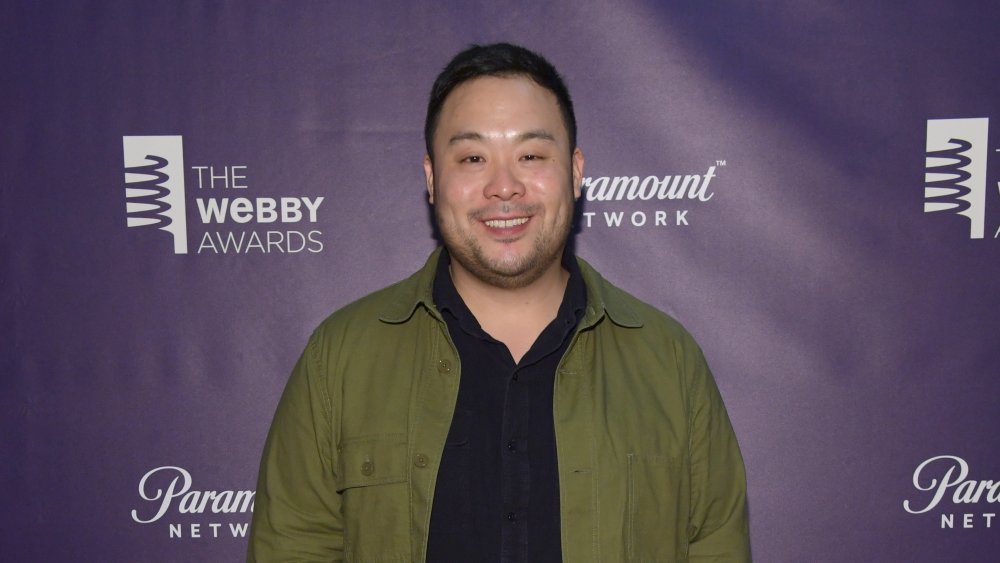 Ben Gabbe/Getty Images
In an interview, Fuku CEO Alex Muñoz-Suarez says that the menu is simple, but there are a couple of secret menu items to spice things up (via Haute Living). Eater notes that ordering the fried chicken sandwich as a "knockout" will result in it being served to you with coleslaw and a "knockout" spicy mayonnaise sauce as toppings.
Muñoz-Suarez also says that their use of dark meat in the fried chicken sandwich sets them apart from their competitors, and that having Chef Stephanie Abrams at the helm of their culinary team accounts for their success. The CEO says that Momofuku has plans to expand going forward and anticipates trying out new menu items such as the Rippin' Hot Fried Chicken, a blazingly spicy fried chicken leg and thigh served with a carton of milk and a pair of gloves to shield you from the spice. 
Of course, it wouldn't be like Chang to not have at least one Japanese- or Korean-influenced menu item, and the Yuzu (Japanese citrus) lemonade (via TimeOut) fits the bill.