What Is Man'oushe And How Do You Make It?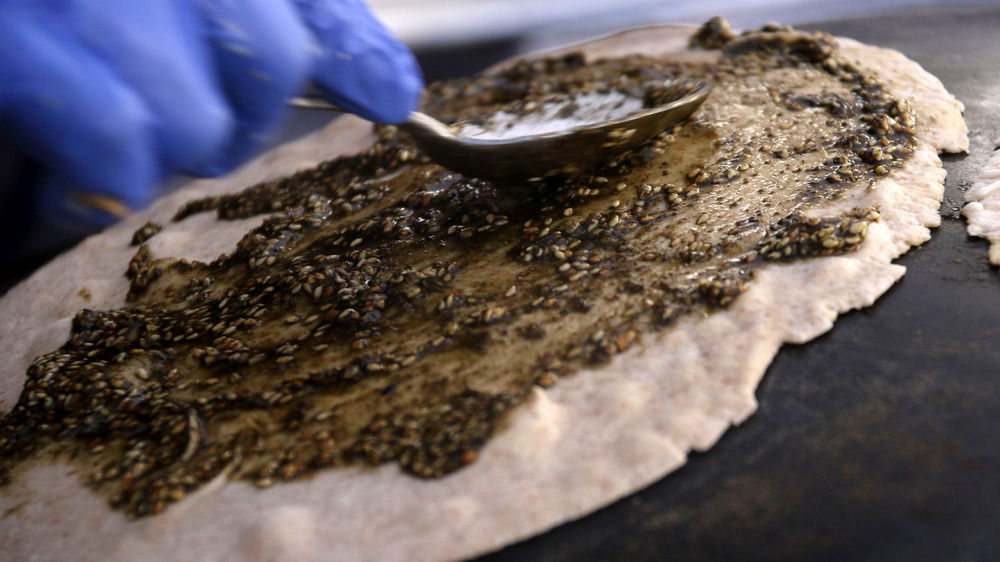 Shutterstock
In recent times, Middle Eastern and Mediterranean food has seen a rise in popularity, per Business Insider. But, lumping Middle Eastern food under a Mediterranean "umbrella" would be doing it a huge disservice – QSR Magazine likens it to saying that Korean and Japanese cuisines should fall under a Chinese "umbrella." While Mediterranean cuisine and Middle Eastern cuisine share similar staple ingredients, the two are not interchangeable, QSR Magazine points out.
What are some of the foods that fall under Middle Eastern cuisine from places like Lebanon in the Levant region? Nomad Paradise lists items such as tabbouleh (a salad made from parsley and bulgur), labneh (a kind of yogurt), the crowd pleasing hummus, muhammara (a roasted red pepper dip not to be compared to harissa), kaak (bread that looks like a literal handbag), and man'oushe (a pizza-like flatbread).
According to Fortune, man'oushe is one of the most popular Lebanese street foods to make it to the United States. It's sometimes topped with za'atar and labneh.
Man'oushe is Lebanon's equivalent to the Italian pizza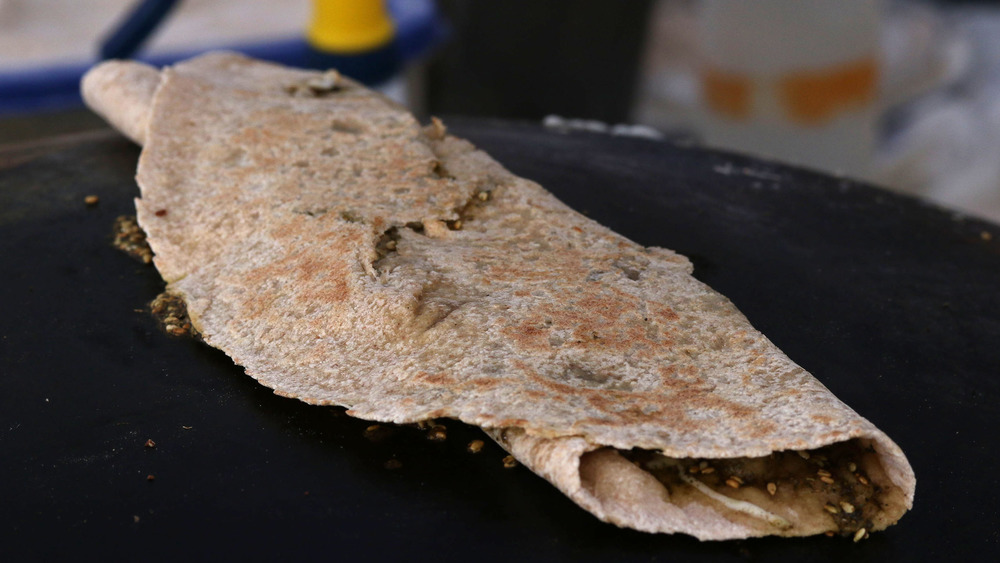 Shutterstock
Man'oushe, according to the Al'Deewan Bakery, has a long history of deliciousness that can be traced back to about the 10th century, where the first known appearance of the recipe was said to be chronicled in an Arabian cookbook. Discover Lebanon explains how in ancient times, buying bread products like man'oushe wasn't a common practice. Many of the home cooks (typically women) would make the dough at home and then take it to the village oven, owned by the baker. Discover Lebanon says that this routine was a daily communal ritual for the women, who would engage in conversation with the other women as they waited for their man'oushe.
The recipe for man'oushe (sometimes called manakeesh or manaeesh, per the Al'Deewan Bakery) is a fairly simple one, requiring basic ingredients like unbleached flour, cake flour, salt, active dry yeast, sugar, canola oil, za'atar, and extra virgin olive oil, according to Maureen Abood's blog titled Rose Water and Orange Blossoms. Man'oushe can be topped with anything from minced lamb and beef to cheese to fresh veggies, the Al'Deewan Bakery tells us, and can be eaten at either breakfast or lunchtime (or both, if you're game).