Nearly 15% Of People Agree This Chain Restaurant Serves The Best Wings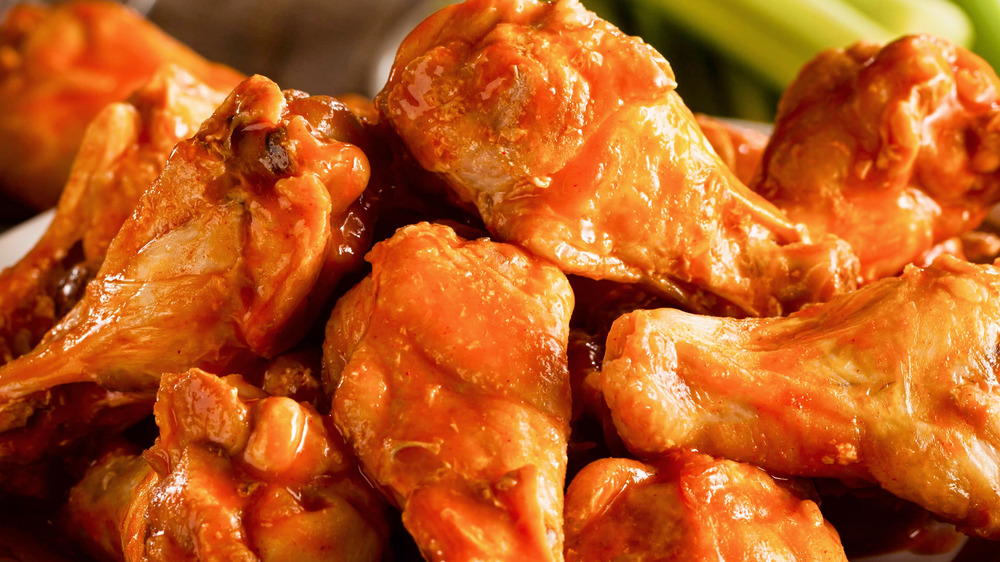 Shutterstock
What's one thing almost every sports bar has in common? A bunch of high-def TVs broadcasting the big game and plenty of ice cold beer on tap, sure, but also a menu featuring a line-up of juicy, finger-licking-good chicken wings. Whether you prefer classic buffalo, sweet and savory barbecue, or hot and spicy habanero, there's no denying that the meaty bites pair perfectly with a frosty pint and a rousing football match. (There's a reason why Americans consumed some 1.4 billion chicken wings during the Super Bowl alone last year, via the National Chicken Council.)   
If you're looking for a basket of flats and drums smothered in sauce (with a side of celery and blue cheese, of course), there are plenty of spots you can find them on the menu. But which place is serving up the most delicious chicken wings? To find out, Mashed polled over 600 people on which chain restaurant has the best wings — here's which one won over 15 percent of respondents.
It's famous for more than just wings
When you think of Hooters, you might first think of what the popular restaurant is best known for: its attractive female servers. But according to Mashed's poll results, Hooters should also be known for its mouthwatering wings. Along with the classic styles (like original buffalo, Texas barbecue, and naked), the national chain also has more unique offerings, including 100 percent meatless wings, ones that are roasted instead of fried, and even wings wrapped in bacon.
Hooters may have received 15 percent of the votes, but it was second to Buffalo Wild Wings, which 51 percent of people dubbed the best wings out there. The "other" category (which included write-ins like Wing Stop and Pizza Hut) got 10 percent of the votes, followed by Applebee's with seven percent. TGI Fridays and P.F. Chang's tied with five percent of votes each, and Outback Steakhouse came in last place for its wings, earning just four percent of people's approval.