Chicken Nuggets Might Be Returning To Popeyes. Here's What You Need To Know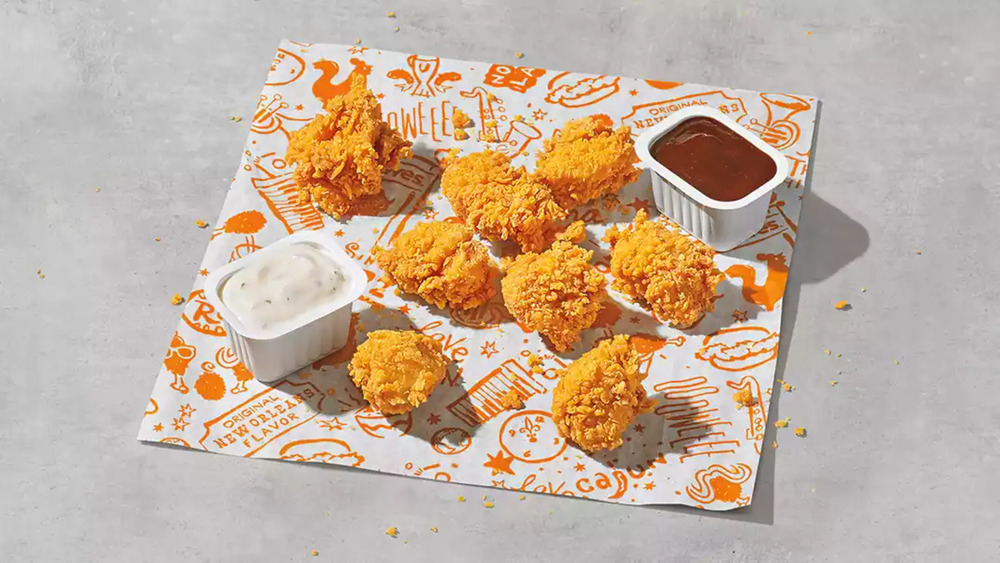 Popeyes
Popeyes might just be dropping another bomb on the fast-food landscape. The Louisiana-style chicken chain changed the game in 2019 when it reinvented Chick-fil-A's chicken sandwich, creating a war with its clean-cut cousin and spawning even more imitation sandwiches. McDonald's should be introducing a Chick-fil-A/Popeyes copycat chicken sandwich later this month (via Business Insider). Burger King, Wendy's, Jack in the Box, Zaxby's, Church's Chicken, and Whataburger also have new or improved chicken sandwiches on the menu or in the works.
Now all these players might need to up their game yet again. Popeyes appears to be test-marketing chicken nuggets. Chew Boom reports that there has been a string of Popeyes nugget sightings at locations in Arkansas, Connecticut, Ohio, and Texas. Order sizes start at an eight-piece box for around $3.69 and go all the way up to a hefty 48-piece box for $19.99, although prices may vary. Chew Boom describes the nuggets as pieces of white meat, buttermilk-battered and breaded by hand. A couple of YouTube food reviewers in Connecticut found Popeyes chicken nuggets back in December and raved about them.
Popeyes chicken nuggets are like snowflakes: no two are the same
The reviewer at Mostly Healthy Food Reviews on YouTube rated Popeyes chicken nuggets a six out of five. We're not sure how the math works on that. "These nuggets from Popeyes right now are everything," the reviewer said. Another Connecticut food YouTuber who goes by Daym Drops was stingier with his rating, giving the Popeyes nuggets a 4.5 out of five. But he still thought Popeyes blew the other fast-food nuggets out of the batter. "These are like snowflakes. No two pieces are the exact same. Everybody in the fast food game gives us pieces that are the exact same," Daym said (via YouTube). He quickly corrected himself and said Shake Shack also makes nuggets so that no two are the same – "but y'all nuggs are nasty," Daym said, in his humble opinion.
Popeyes is definitely winning hearts in Connecticut and a precious few other states with its homemade-style nuggets made entirely of chicken breast plus breading that Chew Boom says is the same that graces Popeyes' popular chicken sandwich. Popeyes hasn't had nuggets on the nationwide menu since 2012, so here's hoping the rest of the nation gets a taste soon.