These Hawaiian Teas At Aldi Are Turning Heads
All we have to say is Boom Shaka yum! The newest iced teas to grace the shelves of Aldi are already making a splash. As Aldi superfan account @aldi.mademedoit shared with their followers on Instagram, "Literally these sound like the perfect summer drink. I grabbed the pineapple mint to try!! By the way my store had probably 20 plus boxes of this drink on the shelves!!! Who has tried it?! What flavor sounds good to you?" The tea is called Shaka and is described by the company as, "Brewed with māmaki, a hydrating, herbal tea only found and grown in the Hawaiian Islands," (via Shaka Tea).
All of the teas are non-GMO verified and boast zero calories, zero grams of carbs, and zero grams of sugar. The company lists the bottles as being 100 percent plant-based and naturally caffeine-free. 
The Pineapple Mint includes natural ingredients such as pineapple flavor, monk fruit juice concentrate, and spearmint extract along with hibiscus. Says one taster on the Instagram post, "The pineapple mint has a good flavor, more mint than pineapple."
Shake things up with a Shaka tea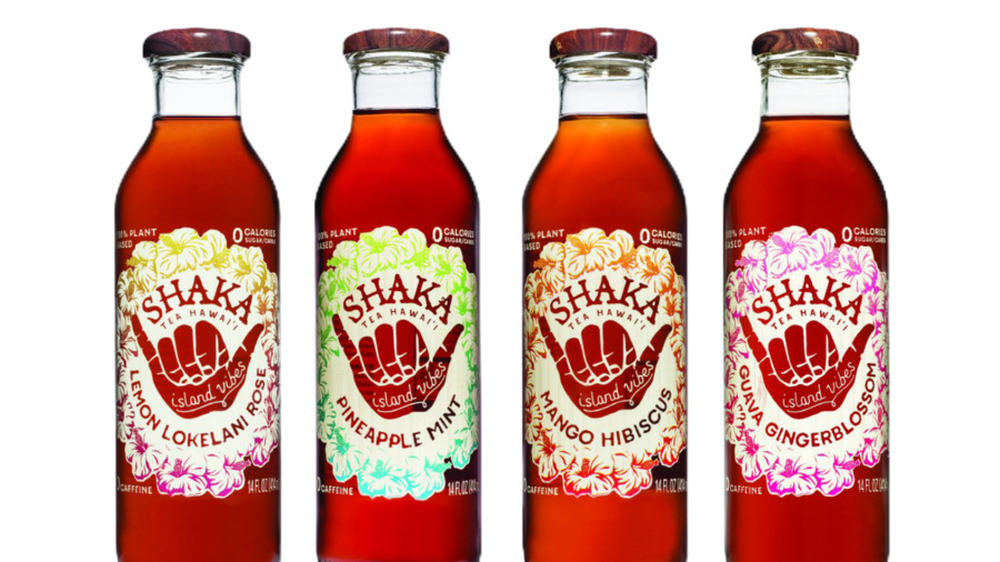 Shaka Tea
You might prefer the Mango Hibiscus instead if you aren't a pineapple fan. This mixture includes the same hibiscus and monk fruit concentrate sweetener, but the pineapple is replaced with natural mango flavor and the mint is switched out for some ginger extract (via Shaka Tea). The mango seems to be more of an acquired taste with social media users with one taster bemoaning, "Wanted to like it so bad.. sounded refreshing" and others chiming in that they're not a fan on Instagram.
But everyone has wildly different taste preferences, and the company has catered to that by producing more than just two iced tea flavors. Although we can only confirm the first two have been seen at Aldi for a real steal at $1.69 each. If you're looking for some more tastes of the islands without added colors or high fructose corn syrup, you'll want to check out the Lemon Lokelani Rose and the Guava Gingerblossom. The lemon features its namesake lemon and rose flavors and the guava features natural guava flavor plus guava puree and ginger extract.
As for exactly which Aldi is carrying your favorite flavors right now — you'll probably have to go and check. Deals like these tend to move fast and Aldi watchers are grabbing these teas up quickly, so hurry before they're gone.