Aldi Fans Are In Love With These Dark Chocolate Thins
There's never a bad time for chocolate, and Aldi just gave shoppers a whole new product to try. Apparently Specially Selected Dark Chocolate Thins just hit the shelves, and they're a total steal. Aldi fan Instagram account @aldi.mademedoit spotted the bags on Saturday, Feb. 6, and since sharing the photo, their followers have been going wild for the new confection.
The post received a little over 800 likes over the days following it. The caption read, "Since we only eat chocolate on days ending in y we definitely grabbed these!! We tried the pretzels ones and let me tell you they are so good!! A perfect treat to have! Who else loves trying all the treats?!" The bags of dark chocolate bark come in two flavors. The first, which the caption refers to, is pretzel and sea salt. The second flavor is almond and sea salt. Both come in 4.7-ounce bags that are just $2.99. That means you can pick up at least one of each to try.
What fans are saying about the new chocolate thins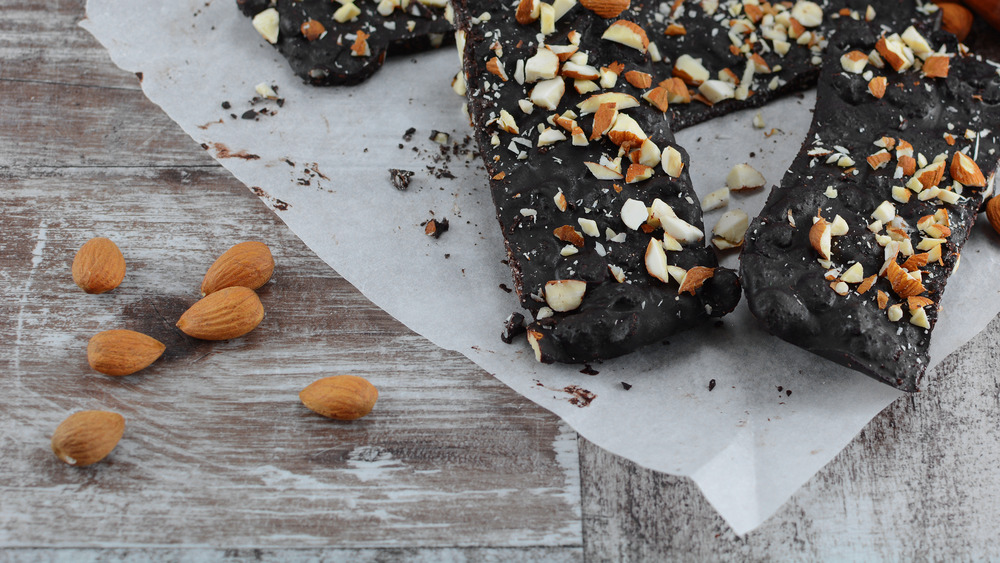 Shutterstock
Fans of the new chocolatey treat seem to be split on which flavor is better. One person commented, "delish..almond + sea salt." Another wrote, "we love the pretzels more than the almonds!" But overall, people are just generally excited no matter which flavor they pick.
One comment said, "these are calling my name!!" While others commented on the new treat's delicious taste. One person who really might want to hold off on these commented, "Bye omg I don't need to find these. I just got my cavities fixed." Other mega fans had the right idea, tagging friends in the post offering to Venmo them if they picked a pack up — they really had the right idea. 
If you fall into the category of those who haven't seen these bags yet, stay vigilant and keep your eyes peeled for when your local Aldi outlet stocks them. Chances are these dark chocolate thins will be the perfect balance of sweet and salty with a delightful snap thanks to the toppings. You won't want to miss them.