Basil Pesto Sauce Recipe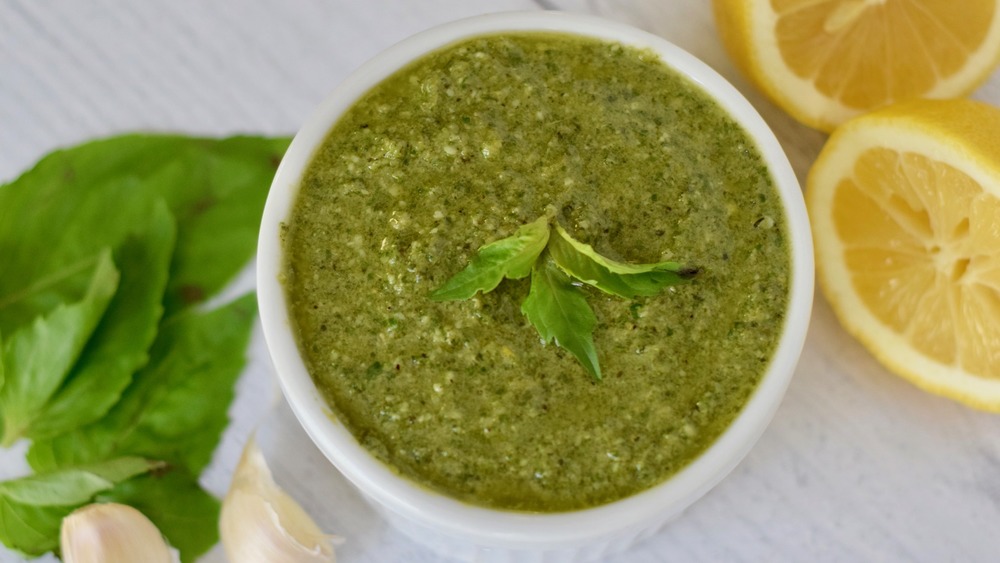 Tara Rylie/Mashed
Basil pesto is an easy condiment to make and magically makes any dish a tasty treat. Whether you grow an abundance of herbs in your garden, hit up the farmer's market, or just pick up some basil at your grocery store, this dish always tastes fresh. A little salty, a smidgen nutty, delightfully cheesy, and can be made as thick as you'd like or as thin as you desire, basil pesto is the perfect sauce to brighten up your cooking repertoire. 
Though pesto is best known for a sauce on to use on pasta, it can do so much more than that! Try combining it with equal parts hummus for a delicious dip at your next get-together, fold some pesto into your hamburger patties or homemade meatballs for mind-blowing flavor, or toss with blanched green beans for a tasty, refreshing side dish that goes with just about everything. No matter how you choose to use this pesto, we know you'll fall in love.
Chef Tara Rylie of RylieCakes shares with us a basil pesto bursting with so much flavor, we bet you'll be making it regularly!
Make your basil pesto to taste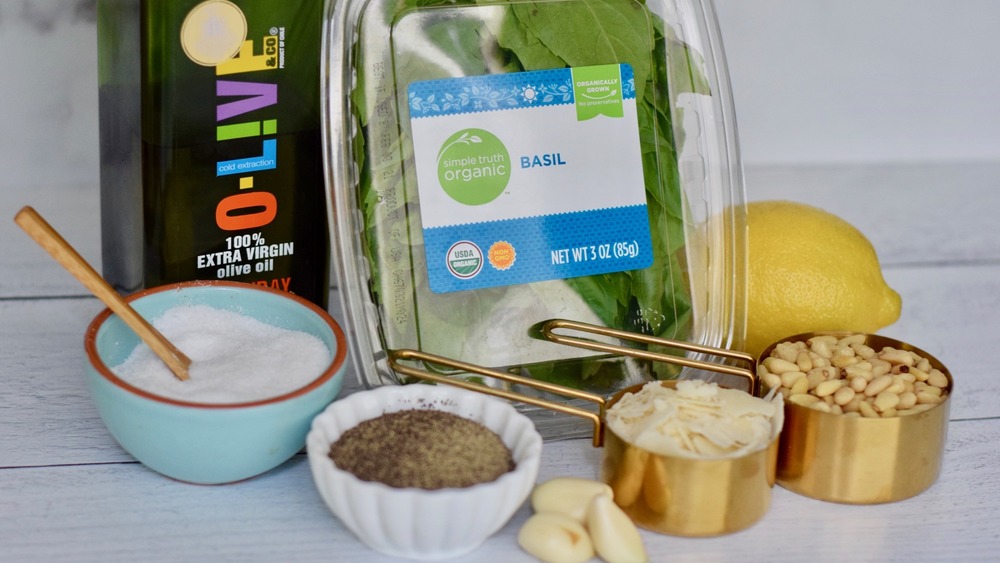 Tara Rylie/Mashed
The beauty of basil pesto made from scratch is that it's always made to taste. This makes it easy to whip up even if you're missing some ingredients or just prefer to use others. The substitutions are endless, and you could hardly go wrong. If fresh basil packs just a bit too much punch, try subbing some spinach, kale, or parsley in its place. Parmesan can be replaced by asiago or nearly any hard cheese. And if you'd like to go dairy-free, just add more nuts in its place. Allergic to pine nuts? Don't sweat it! Though basil pesto is traditionally made with pine nuts, pesto can also be made with walnuts, pecans, almonds, or cashews. 
Using a food processor vs. Vitamix blender for your basil pesto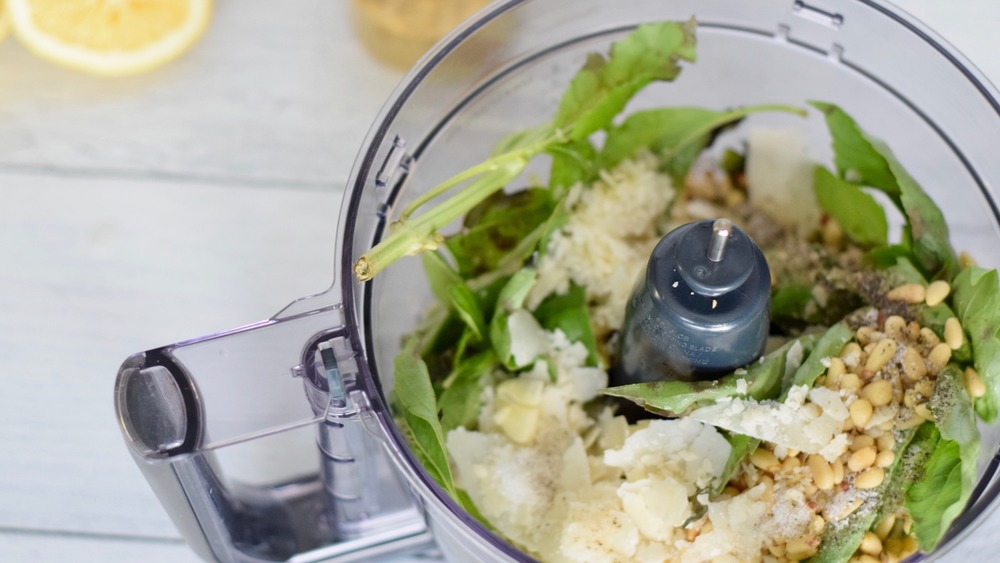 Tara Rylie/Mashed
Let's be real, not everyone has a Vitamix blender at home, and truthfully, many other brands of blenders just won't do the trick. So if you don't have a Vitamix, you can always use a food processor to make your basil pesto. This goes the other way around too — if you don't have a food processor, use your Vitamix! Either are perfectly suited to turn these few, fine ingredients into a luscious sauce that you'll use on everything.
If you don't have a Vitamix or food processor at home, you can make this by hand. You'll want to chop up all the ingredients so finely that you could press them together into a disk like a pie dough. You'll then add olive oil very last. The pesto will not be as thick as what we usually think of as pesto in the States, but it will sure taste great!
Blend your basil pesto all together in one simple step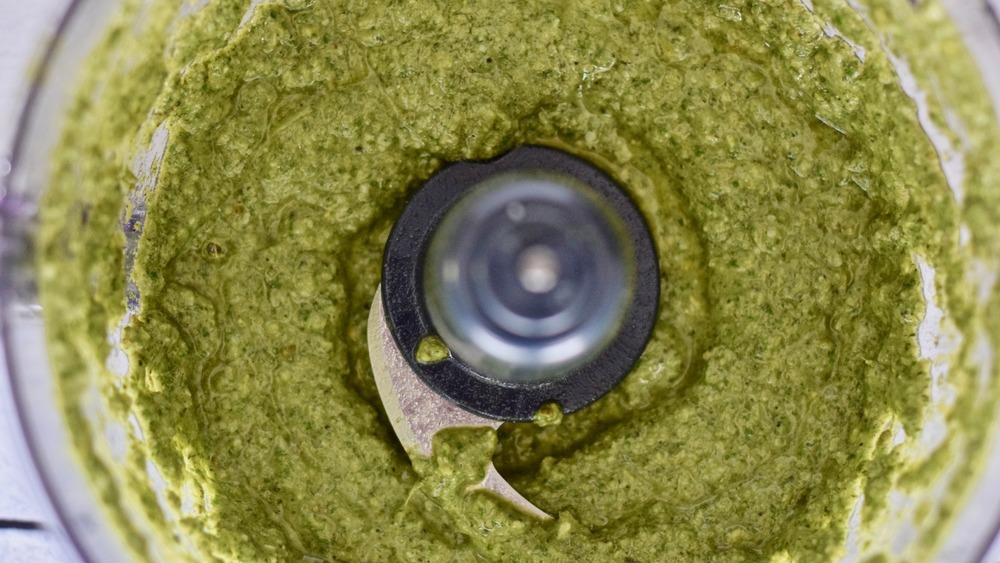 Tara Rylie/Mashed
To make this basil pesto, place all your ingredients in either a food processor or Vitamix blender, pulse and/or blend mixture until thoroughly combined, and a thick, pesto consistency forms. We promised it was easy! Okay, but you're not done quite yet. Be sure to taste test your pesto and season it further as needed. Add a little extra Parmesan or salt for more saltiness, a little extra pepper for a bite, or another squeeze of lemon juice if it's too salty already. This basil pesto can be used immediately or stored in an airtight container for seven to ten days for future use. 
Basil Pesto Sauce Recipe
Basil pesto is an easy condiment to make and magically makes any dish a tasty treat. But did you know you can make some of your own at home?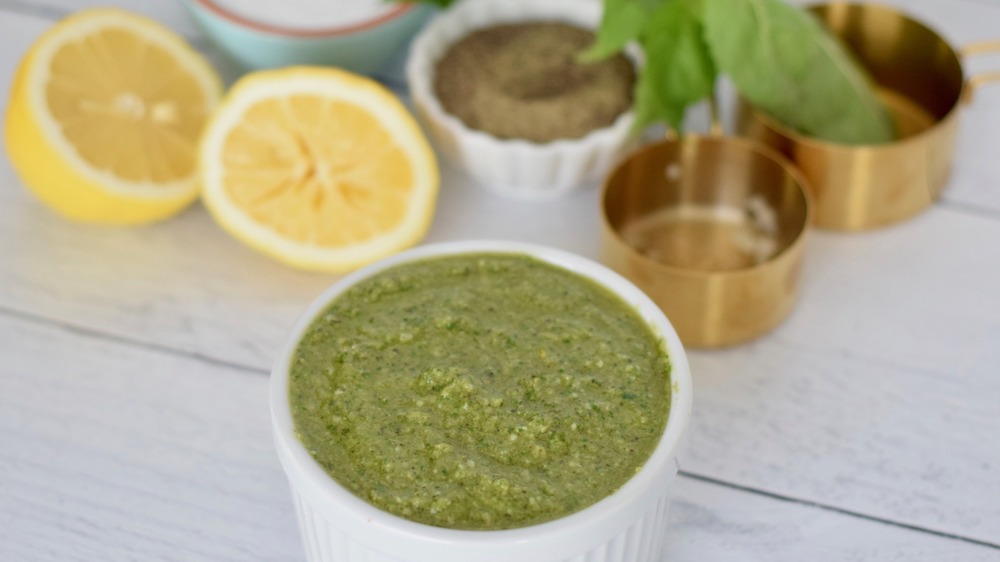 Ingredients
1 container (3 ounces) basil with stems
3 large fresh garlic cloves, roughly chopped
½ cup pine nuts
½ cup + 1 tablespoon olive oil
⅓ cup grated/shaved Parmesan
¾ teaspoon salt
½ teaspoon pepper
Squeeze of fresh lemon juice
Directions
Place all ingredients into food processor. Pulse on high until thoroughly combined and thick, pesto consistency is reached. For thinner pesto, add a little more olive oil.
Taste test and season further if needed.
Refrigerate in airtight container until ready to use. Lasts 7 to 10 days in refrigerator.
Nutrition
| | |
| --- | --- |
| Calories per Serving | 295 |
| Total Fat | 30.2 g |
| Saturated Fat | 4.7 g |
| Trans Fat | 0.0 g |
| Cholesterol | 5.6 mg |
| | |
| --- | --- |
| Total Carbohydrates | 3.2 g |
| Dietary Fiber | 0.8 g |
| Total Sugars | 0.6 g |
| Sodium | 133.7 mg |
| Protein | 5.1 g |