Easy Frappuccino Recipe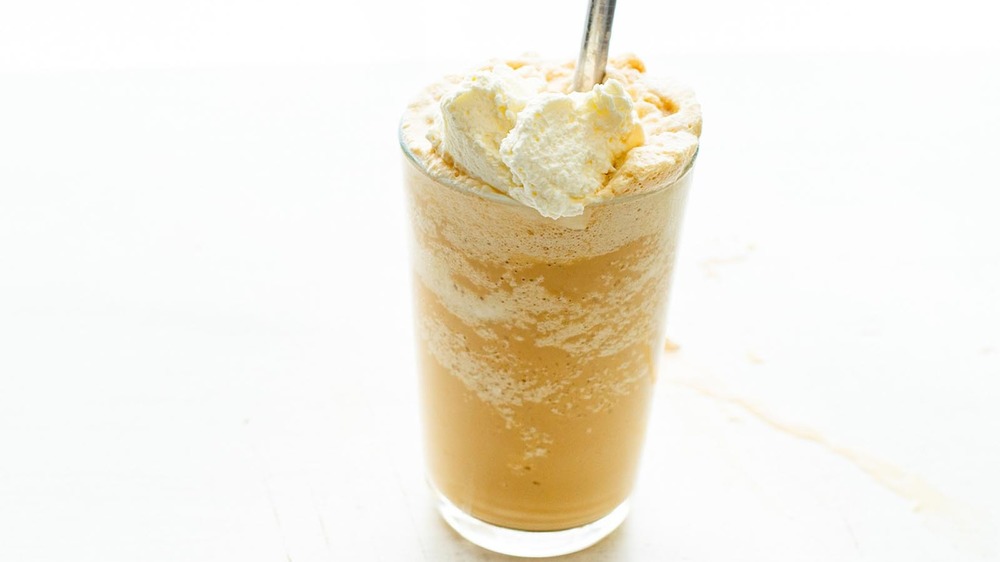 Sher Castellano/Mashed
In a mere five minutes, you too can whip up a homemade frappuccino recipe that rivals any such drink bought at a café or shop. With this recipe from Sher Castellano, your tastebuds will be tempted to where you won't be able to stop with just one glassful. A frappuccino actually is a trademarked brand from Starbucks made from a coffee or creme base that's blended with ice and other ingredients such as flavored syrups and topped with a dollop of whipped cream, sprinkles, or spices.
On occasion, typically with the holidays, Starbucks will rotate its frappuccino flavors. This recipe, too, can be modified to reflect your preferences or tweaked for different occasions. There are a ton of frappuccino variations you can find at your local Starbucks store depending on the time of year it is. With a bit of imagination and some cleverness in the kitchen, this frappuccino recipe can become exactly what you hope it to be and more.
Gather up the ingredients for this frappuccino recipe
Sher Castellano/Mashed
The wonderful thing about this delicious recipe, aside from it taking hardly any time to make at all, is that it requires only five simple ingredients. The next time you make a trip to the store, be sure to pick up a jug of whole milk or an equivalent non-dairy option. Be sure to grab instant espresso powder, sugar, and whipped cream if you don't already have these at home. Fill and freeze the ice cube tray or measure out one and a half cups of ice from your refrigerator's ice machine. Some of the yummy toppings you can grab include coffee syrups, chocolate sauce, caramel sauce, and sprinkles.
Type of blender to use for this frappuccino recipe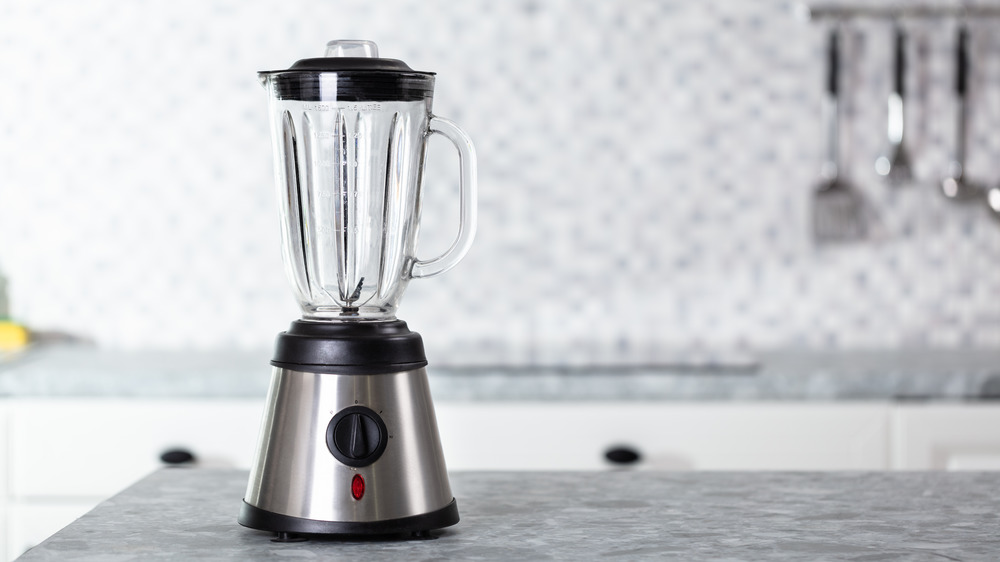 Shutterstock
Be sure to use a high-powered blender to make this frappuccino recipe, since you will be crunching ice quite often. According to the Good Food blog, the top five best blenders for making frappuccinos this year are the Ninja professional countertop blender BL660 with its 72-ounce total crushing pitcher, the high-powered Milk Frother Complete Set that includes a latte art kit, and the One-touch Milk Frother Handheld Foam Maker for Lattes that works well with all types of milk. There are plenty of other options too, like a Vitamix blender.
Start with the milk and add ice for this frappuccino recipe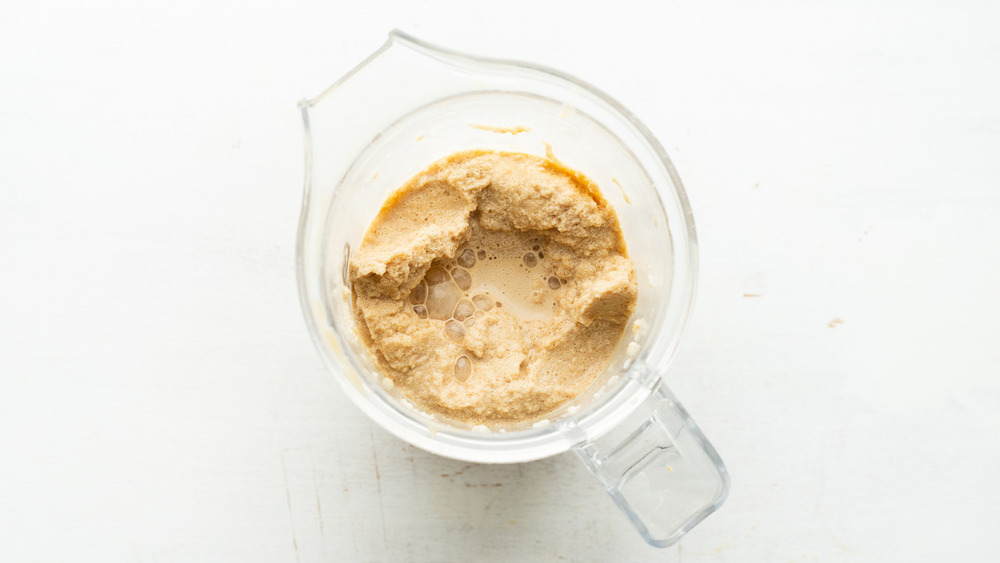 Sher Castellano/Mashed
Grab your blender and pour in one cup of whole milk or a non-dairy option for this frappuccino recipe. While Castellano said you can make your drink with whatever type of milk you prefer, she opts for unsweetened, unflavored oat or almond milk if you're not using whole milk. You can even make your own homemade almond milk. Just start by soaking almonds overnight in cool water, then drain them in the morning.
Place the almonds in a blender along with fresh water, salt, and any flavor, then blend for a couple of minutes. Pour the milk through a nut milk bag into a mixing bowl and squeeze the bag to make sure you have all of the liquid extracted. Returning your attention to the recipe, the next step is to add in one and a half cups of ice that can be small pieces bought at the store or large chunks out of the ice cube tray. Castellano advised that any sized ice would work when using a high-powered blender.
Time for flavorings in this frappuccino recipe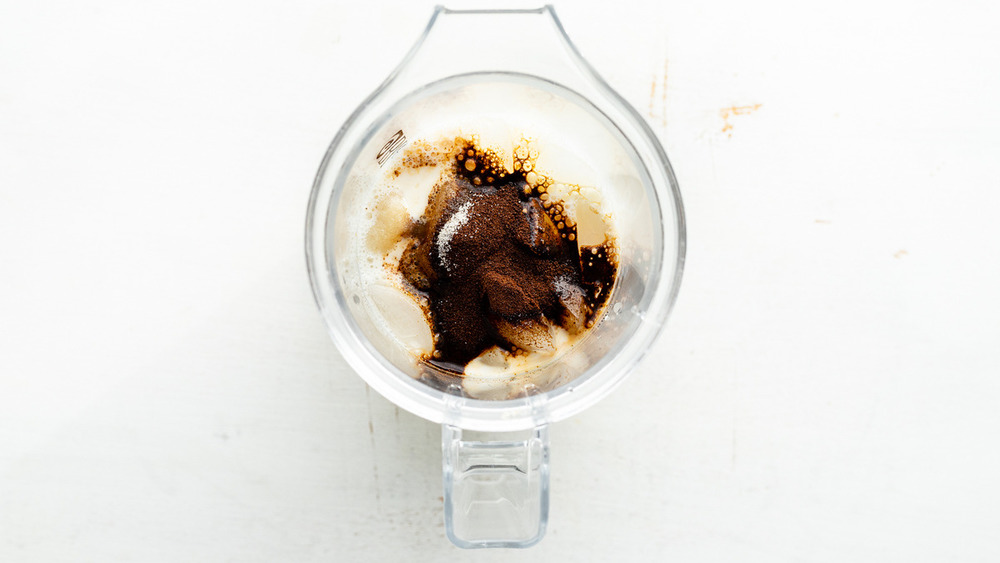 Sher Castellano/Mashed
Pour into the blender two teaspoons of instant espresso powder and one tablespoon sugar for this frappuccino recipe. Process the mixture until all of the ice is ground. If you aren't a regular coffee drinker, note that you can find espresso powder in the coffee aisle of the grocery store. Instant espresso powder basically is brewed espresso that has been dehydrated into granules. Don't toss out the container when you're done making the drinks, though. Instant espresso powder helps to add coffee flavor to any baking recipe too.
While the tablespoon of sugar is optional, Castellano chooses not to add it in. "Traditionally, frappuccinos are sweetened drinks. But I prefer mine unsweetened. Like the milk choice, it's all a personal preference of taste," she said.
Fancy up your frappuccino recipe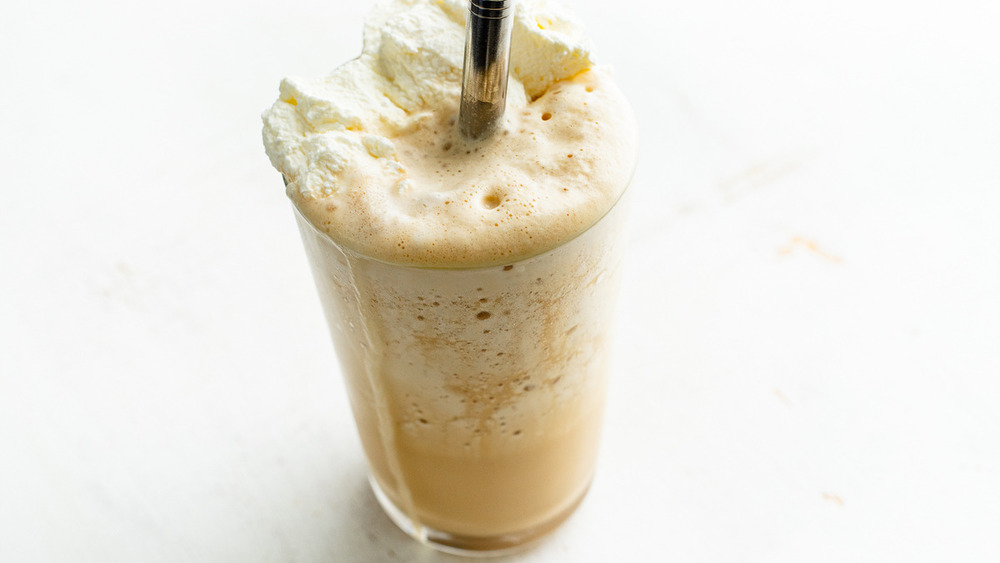 Sher Castellano/Mashed
Be sure to enjoy your beverage right away after whipping it up in the blender and personalizing the frappuccino recipe however you so choose. Add two tablespoons of whipped cream atop the frappuccino, or add in a coffee syrup for additional flavor. Starbucks sells its personal line of syrups with such flavors as vanilla, caramel, and hazelnut. But you could also drizzle chocolate sauce or caramel across the top of the whipped cream for an extra kick of flavor.
"You can make the frappuccino a mocha frappuccino by adding the chocolate sauce to the blender, one to two tablespoons. Same with the caramel. Or drizzle them on top. It's a really flexible recipe," Castellano said.
A frappuccino recipe for everyone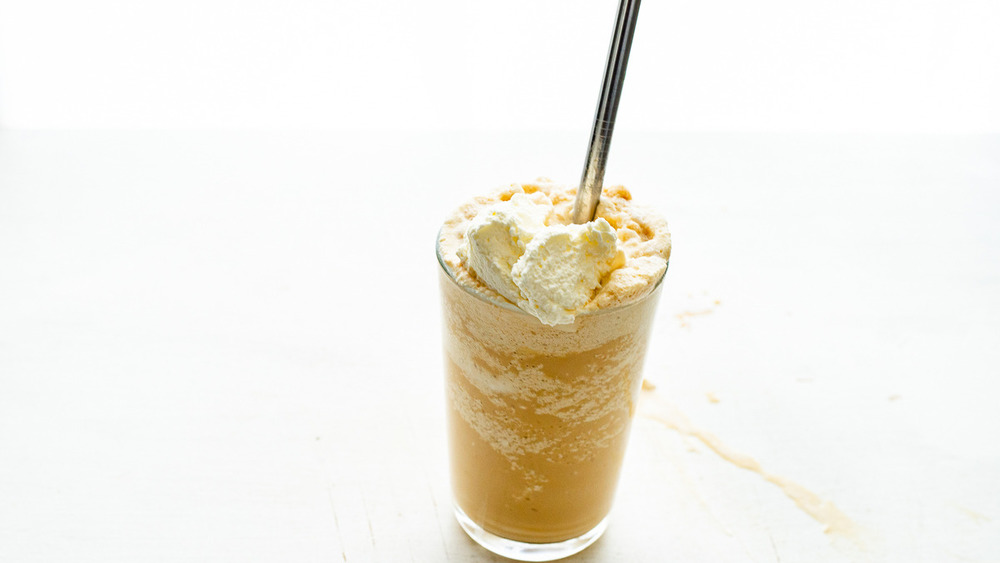 Sher Castellano/Mashed
While this recipe makes just one frappuccino, you should have on hand enough ingredients to make more for your breakfast buddy or whoever may be sitting in your kitchen and thirsty.
"This is something I make for myself at home when I'm looking for something different than just a regular cold brew or iced coffee," Castellano said. "I love making these at home because it gives you more flexibility over what ingredients you choose and how much sugar you add."
Some versions call for sweetened condensed milk, and others straight-up flavored coffee. As you play around with this recipe, you'll figure out what your tastebuds prefer.
Easy Frappuccino Recipe
In a mere five minutes, you too can whip up a homemade frappuccino recipe that rivals any such drink bought at a café or shop.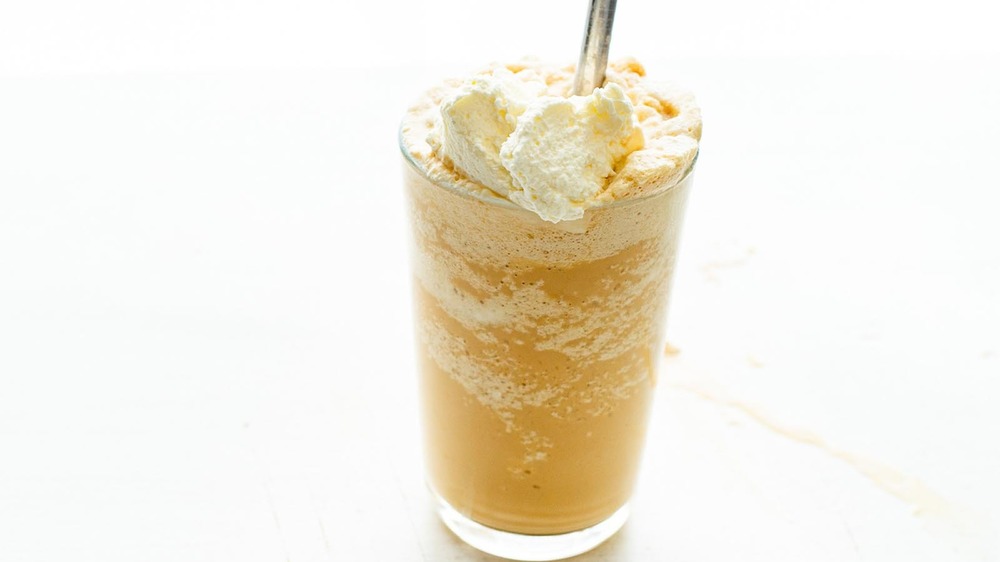 Ingredients
1 cup whole milk (or non-dairy preference)
1-½ cups ice
2 teaspoons instant espresso powder
1 tablespoon sugar
2 tablespoons whipped cream (garnish)
Optional Ingredients
Sugar or sugar-free coffee syrups
Chocolate sauce
Caramel sauce
Directions
In a blender, combine the milk, ice, espresso powder, and sugar in a blender and process until all ice is ground.
Enjoy right away with whipped cream on top if desired.
Nutrition
| | |
| --- | --- |
| Calories per Serving | 213 |
| Total Fat | 9.3 g |
| Saturated Fat | 5.4 g |
| Trans Fat | 0.0 g |
| Cholesterol | 29.0 mg |
| | |
| --- | --- |
| Total Carbohydrates | 25.1 g |
| Dietary Fiber | 0.0 g |
| Total Sugars | 25.3 g |
| Sodium | 121.1 mg |
| Protein | 7.9 g |