This Pizza Hut Classic Is So Good, It Fooled New Yorkers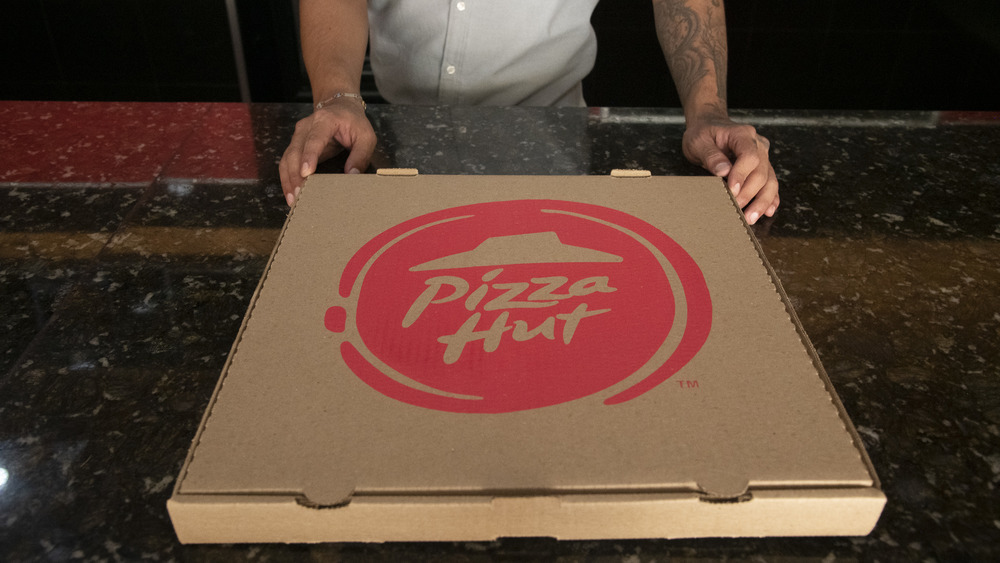 Carlos Becerra/Getty Images
Pizza Hut is known for its pizza, but it isn't necessarily the menu item that has their fanbase wagging their tongues and ordering up. In fact, one of their most popular menu items is actually not pizza, but a pasta item. Say what? We know. And to be fair, Americans eat a lot of pizza. Per the blog The Sauce by Slice, we pretty much inhale 350 slices of pizza per second, which winds up being over 3 billion pizzas per year. Our love affair with the pizza pie is pretty epic.
Not to mention, Pizza Hut has built its reputation on their "no one out pizzas the hut" campaign, but this one pasta dish is so popular and tastes so incredible, during an evening of dining out, New Yorkers were actually fooled into believing the meal they were noshing on was created in the kitchen of an upscale restaurant. At least that's how one Pizza Hut commercial from 2008 tells it (via YouTube). "This is perfect," one New Yorker commented. "Simple and homemade," another diner tasting the dish said. But, as it would turn out, the meal came from none other than Pizza Hut. Once you know what dish it is, you are going to be logging on to your Pizza Hut app to order it up.
Pizza Hut Tuscani Pasta tastes upscale
Pizza Hut's Tuscani Pasta Chicken Alfredo is described by Pizza Hut as creamy, full of melted, ooey, gooey cheese, and some of the tastiest grilled chicken (via Pizza Hut). It also comes in a Meaty Marinara flavor featuring Italian-seasoned meat. These dishes will definitely keep you coming back for more and are served with a side of breadsticks, making it a complete meal. According to a Viewpoints reviewer, "The Pizza Hut Tuscani Pasta Creamy Chicken Alfredo tastes great! I was very surprised the first time I tried it that it had been made at Pizza Hut. I think that it tastes better than Chicken Alfredo that I have had at Italian restaurants! The Chicken Alfredo is full of flavor." 
Another Viewpoints reviewer offered, "Not like anything you would expect from a pizza place. The tuscani pasta with creamy chicken alfredo is one of my family's favorites. What we usually do is order a large pizza and the pasta on the side. It has chicken in it also!!! YUMMY." If you plan on eating this dish, Fitbit notes that a serving, which is half the pan, contains 520 calories and 27 grams of fat. 
If you can't make it to Pizza Hut but still want to put the pasta dish into your dinner rotation, Todd Wilbur's Top Secret Recipes provides a copy-cat version you can make at home.