Easy Acorn Squash Recipe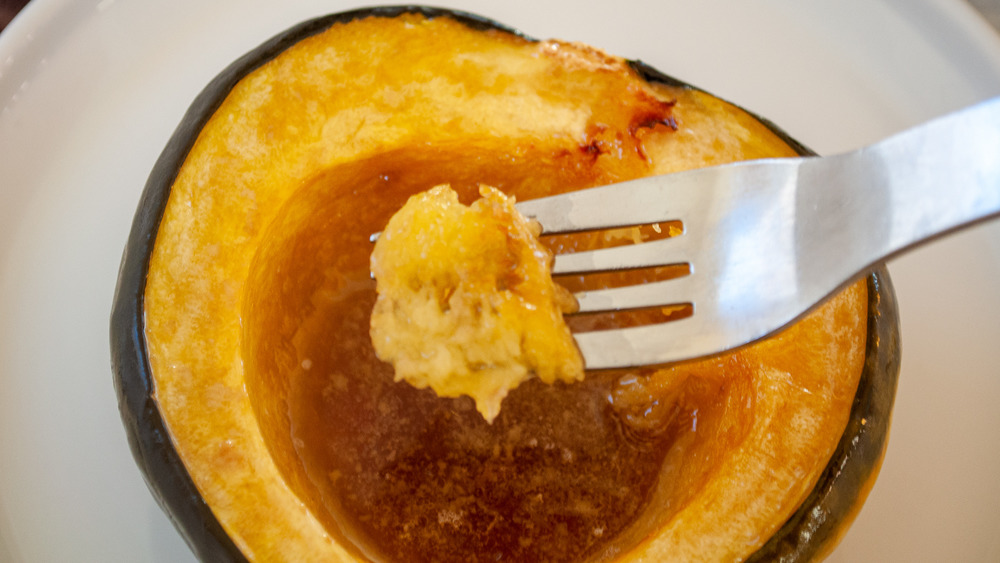 Laura Sampson/Mashed
What's the best way to eat vegetables? Obviously, it involves combining them with culinary delights like sugar and butter. Acorn squash is the perfect accompaniment to butter, salt, and sugar ... wait, we mean, butter, salt, and sugar are the perfect accompaniment to acorn squash? You get it. This super easy side dish of brown sugar butter acorn squash roasted to perfection in the oven tastes great alongside the protein of your choice and/or perhaps a serving of greens. 
We got this brown sugar butter acorn squash recipe from Laura Sampson. She creates mouthwatering recipes that will please the whole family on her popular blog, Little House Big Alaska. We asked her what inspired this particular side item and she gushed, "I love the combination of brown sugar and squash, it's so delectable!" We can't argue with that. While acorn squash is usually peak ripeness during fall and winter, it's often available year round. 
Gather the ingredients for acorn squash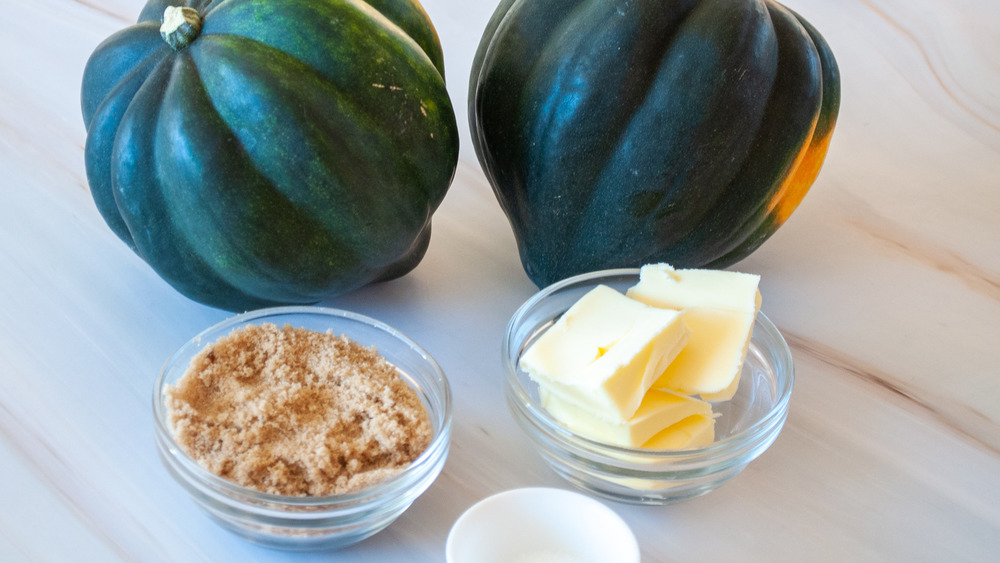 Laura Sampson/Mashed
This acorn squash recipe is not only easy to make, but it's also easy on your wallet. The only ingredients required are two acorn squash, half a teaspoon of salt, 4 tablespoons of butter, and 4 tablespoons of brown sugar. That's it! Please note, all of the non-squash ingredients are going to be evenly doled out between four halves of squash, so separate them accordingly. 
Salted or unsalted butter will work but the easiest way to get even tablespoon measurements from the butter stick is to cut into it when it's right out of the refrigerator. So we'd advise slicing the butter into four portions immediately after you take it out of the fridge, then unwrapping the paper.
Make sure to thoroughly wash the squash prior to getting to work preparing them. Try to knock the stem off without cutting into the squash when you do it. Also, have a large pan ready and preheat the oven to 350 degrees Fahrenheit. You'll also need a pastry brush handy for basting throughout the cook time.
Halve and deseed the acorn squash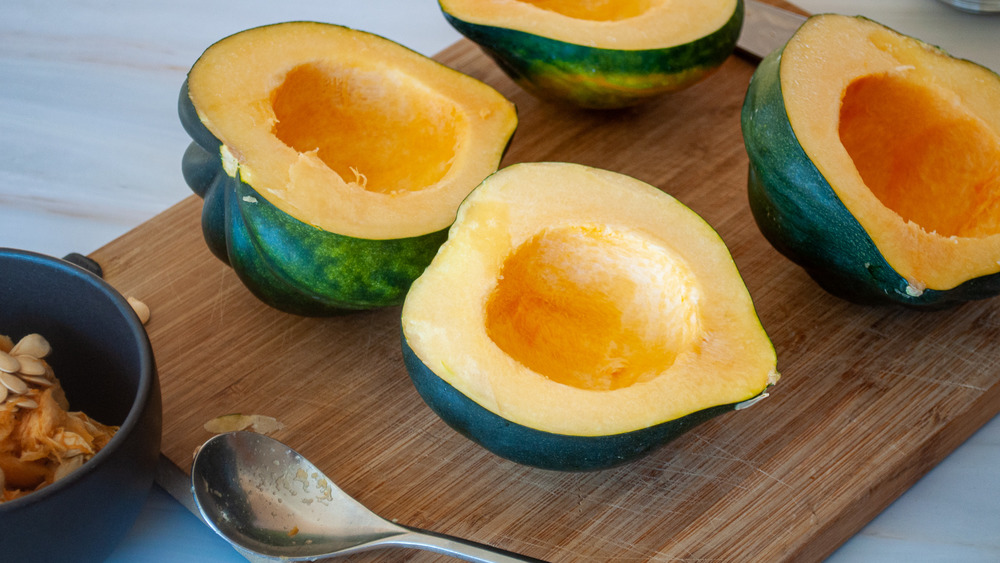 Laura Sampson/Mashed
After washing the squash, cut each one in half and carefully remove the seeds. The seedless squash halves should have a cute little bowl to serve as the perfect vessel for the salt, butter, and sugar.
We asked Sampson for suggestions for what knife to use to cut the squash, and if she had any tips around cutting it in general. Cutting squash can be daunting for many people the outer layer is so thick and firm. "I use my biggest knife to partially cut into the squash — I make sure it's set at a good angle to cut in half nicely, then press down hard to cut it the rest of the way. I feel like you don't have a lot of control so stopping to see how it's going to cut means you can fix the cut if you need to," she explained.
Put salt and butter in the acorn squash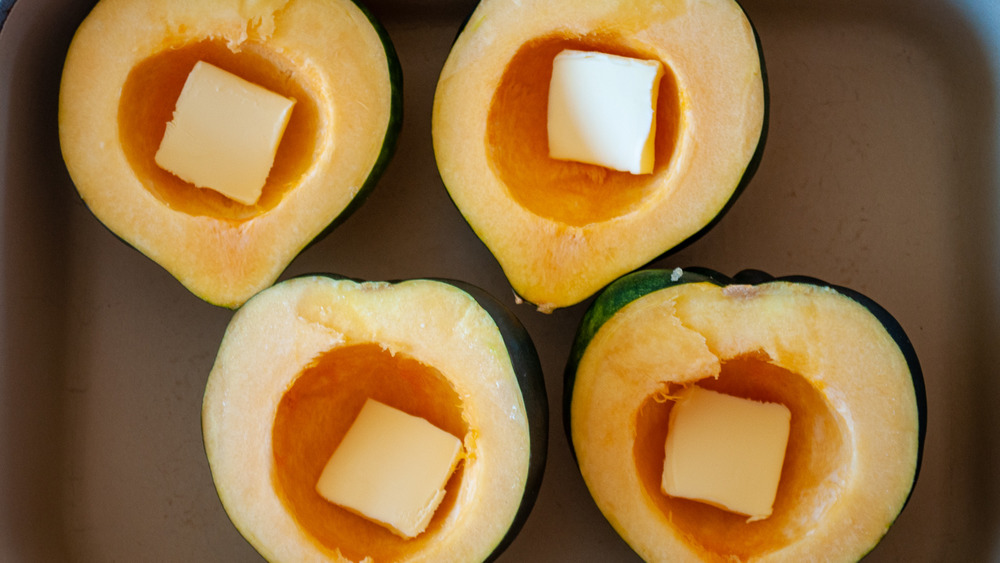 Laura Sampson/Mashed
Sprinkle each squash half with 1/4 of the salt. If you know you like everything a little bit saltier than most, feel free to add a little bit more. After you've doled out the salt, place 1 tablespoon of butter in each scooped-out hole. 
By the way, if you're wondering how to get that perfect butter-and-sugar-sized hole in your now seedless squash, you probably already have everything you need to make it happen. Then, to get those perfect sized "bowls" when you take the seeds out of the squash half, Sampson suggests using a "heavy-duty ice cream scoop." She claims, "It works really well to scrape out the seeds quickly and efficiently." 
We know, you probably never thought you'd see the day when you'd be using an ice cream scoop to prep a gourd for baking but here we are — welcome to adulthood.
Top the butter and salt in the acorn squash with brown sugar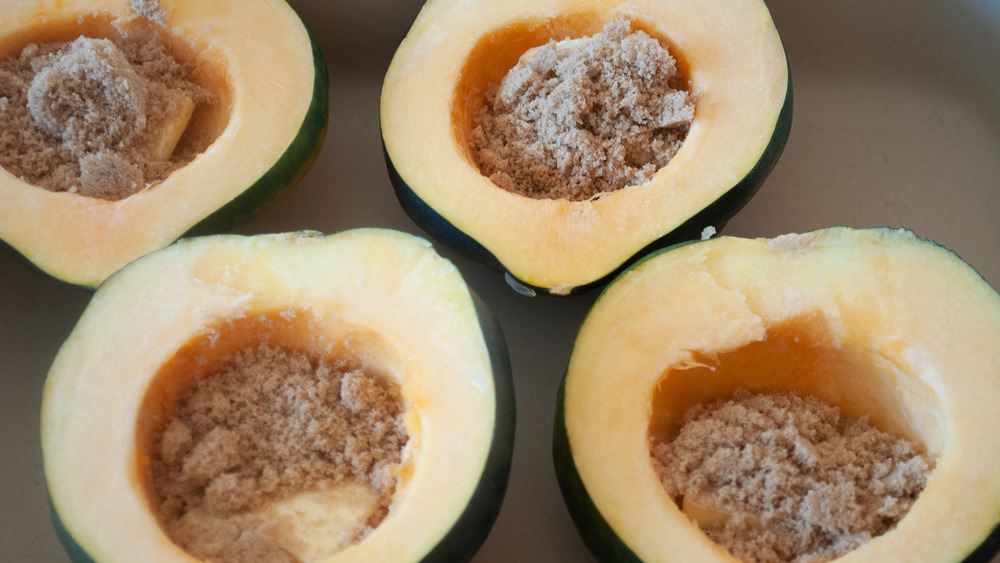 Laura Sampson/Mashed
After dividing the salt and butter evenly among the four squash halves, it's time to add in the brown sugar. Carefully place 1 tablespoon of the sugar into each squash half, making an effort to try and keep it in the scooped out "bowl." 
While adding sugar to the inside of a vegetable might feel weird, it's not all that uncommon. Hello, sweet potatoes! There are tons of non-savory options for cooking sweet potatoes. Acorn squash, just like its long lost cousin, spaghetti squash, offers a lot of versatility for both sweet and savory recipes. This brown sugar butter acorn squash recipe happens so be on the sweet side but will still definitely taste great in contrast with some more savory meal items served alongside it. What we're getting at is, just because there's straight-up pure sugar in this recipe, it doesn't mean it's meant to be a dessert.
Pour water in the pan and bake the acorn squash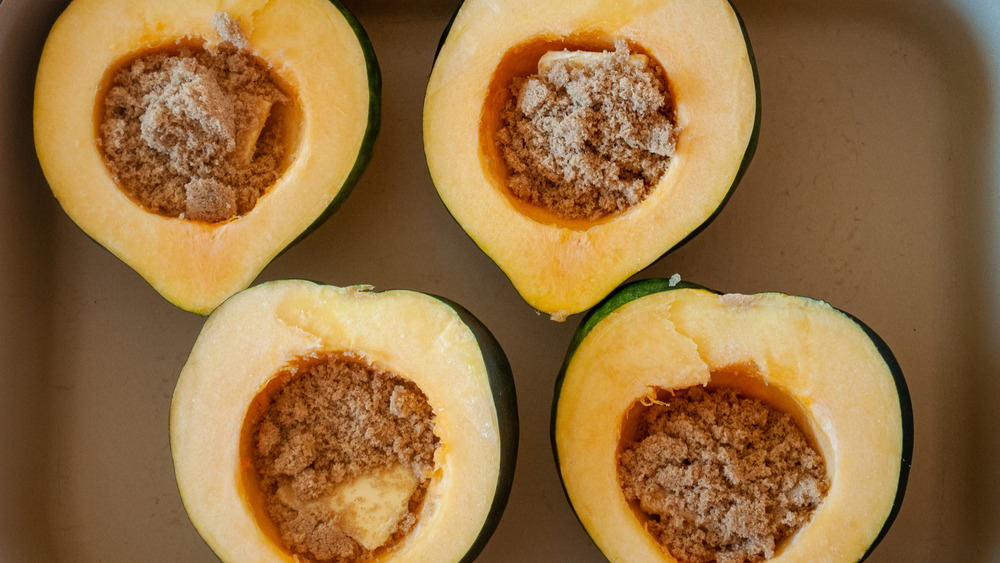 Laura Sampson/Mashed
Once the squash halves have been prepped with their salt, butter and sugar, it's time to bake them. This acorn squash recipe calls for you to pour a half inch of water in the bottom of the baking pan, prior to putting the squash in the oven. We asked Sampson the reasoning behind this step of the recipe and she told us, "It helps to steam and cook the squash. If you just leave the empty pan there it kind of roasts the bottom a bit too." Squash is pretty firm to begin with so softening it is the key to being able to enjoy eating it, so this makes sense. 
After adding water to the pan, place the squash in the oven and bake for about an hour, or until the halves are soft. Times can vary depending on your oven's cooking speed — some are faster than others.
Baste the acorn squash every 15 minutes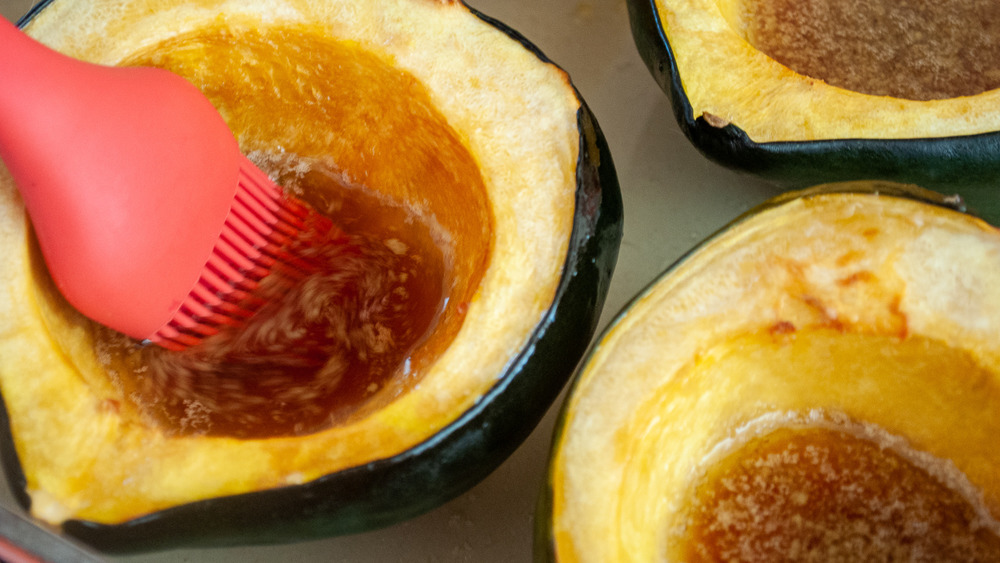 Laura Sampson/Mashed
While the squash bake, the recipe suggests you baste the butter, sugar, and salt mixture with a pastry brush every 15 minutes, or at least a couple of times over the course of the hour. This ensures that the mixture evenly permeates the flesh of the acorn squash. If you don't have a pastry brush, gently stirring it with a spoon should be sufficient. Try to be careful not to spill any of the liquid out of the designed in-squash bowl when doing this step. 
If you don't have a pastry brush and are on the hunt for one, you've probably noticed that there are a ton on the market these days. While silicon pastry brushes have become very popular, they aren't always the ideal option. Boar bristle or nylon bristle brushes are sometimes optimal, and you can read more about the shortcomings of the silicon pastry brush here.
Serve the acorn squash with brown sugar butter still in the center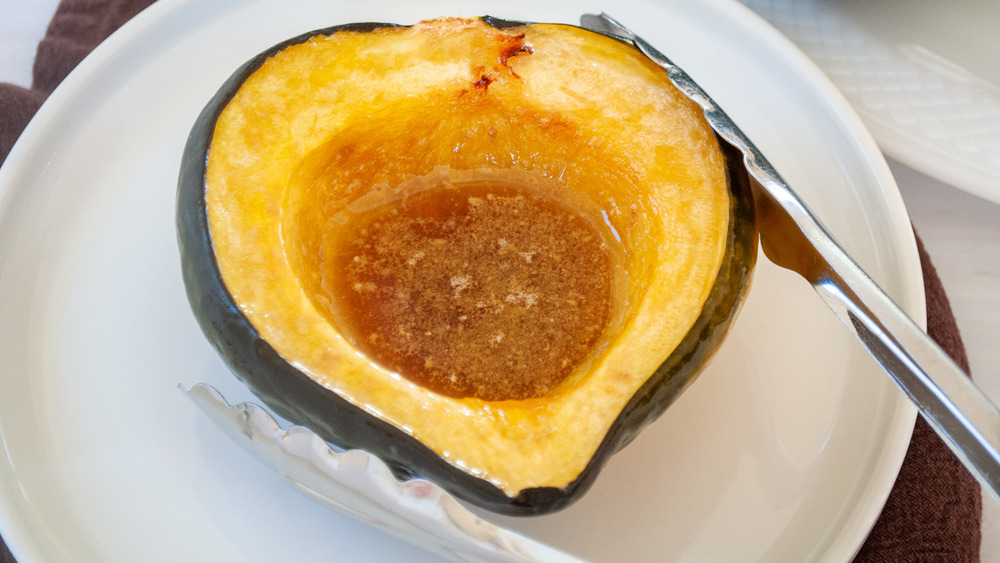 Laura Sampson/Mashed
It's time to eat! You've earned it, after all the bastin' you did for this brown sugar butter acorn squash recipe. Use a pair of tongs to carefully remove the squash from the pan. That squash has been in a hot oven for an hour, it will be very hot to touch and nobody wants their acorn squash at the expense of your burned extremities.
When you take the acorn squash out of the oven, you should serve it up pretty soon. We asked Sampson and she confirms, "I serve within ten minutes of coming out of the oven for best flavor!" Also, think about it — you don't want the butter/sugar mixture to be scalding anyone's mouth but you also don't want it to cool down too much before you get to eating because, well, who wants cold food when it's supposed to be hot? Being able to ensure you can eat it when it's hot and ready is part of the appeal of cooking at home! 
Easy Acorn Squash Recipe
Who says vegetables can't taste like dessert? This acorn squash recipe comes together easily and delivers buttery brown sugar flavor. Yum!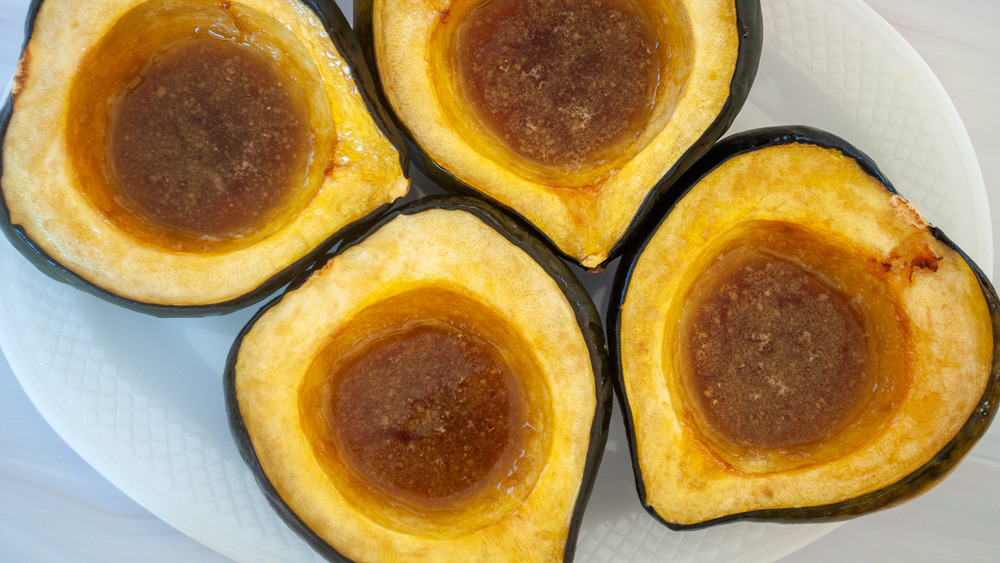 Ingredients
2 acorn squash
½ teaspoon salt
4 tablespoons butter
4 tablespoons brown sugar
Directions
Preheat the oven to 350˚ Fahrenheit.
Wash the acorn squash and cut each squash in half, scooping out the seeds.
Put the squash in a baking pan and sprinkle ¼ of the salt on each squash half.
Put 1 tablespoon of butter and 1 tablespoon of brown sugar in each squash half.
Pour ½ inch water in the bottom of the baking pan and place the pan in the oven, baking for 1 hour or until squash is soft.
For the best taste, baste every 15 minutes or so during baking.
Serve with the butter and brown sugar in the center, try not to spill when serving.
Nutrition
| | |
| --- | --- |
| Calories per Serving | 222 |
| Total Fat | 11.7 g |
| Saturated Fat | 7.3 g |
| Trans Fat | 0.5 g |
| Cholesterol | 30.5 mg |
| | |
| --- | --- |
| Total Carbohydrates | 31.4 g |
| Dietary Fiber | 3.2 g |
| Total Sugars | 8.8 g |
| Sodium | 301.2 mg |
| Protein | 1.9 g |