Aldi Fans Are Obsessed With These Croissant Buns
Aldi's Specially Selected Croissant Buns, which are imported from France, are the perfect way to add a little bit of luxury to your everyday meals. While they are a bit of an indulgence for your breakfast sandwich, their delicious crispy, golden crust and sweet, buttery taste is worth treating yourself to every once in a while.
Social media users couldn't stop raving about these croissant buns online, and they certainly had no shortage of good ideas when it came to ways of preparing and enjoying the tasty product. When Instagram account @aldi.mademedoit spotted the croissant buns, user @xpinkrevengex excitedly wrote: "I made breakfast sandwiches! Bacon, eggs fried hard and colby jack cheese and some mustard!" Another user, @hnell92, commented: "We made bacon cheeseburgers with the croissant buns (we toasted them first). Super good!" "I bought some!! Best turkey sandwich everrr," @emoney.allllllright declared. Just about any kind of sandwich or burger will be kicked up a notch if you substitute your traditional bread with one of these flavorful buns.
Aldi's croissant buns are delicious on their own or as part of a meal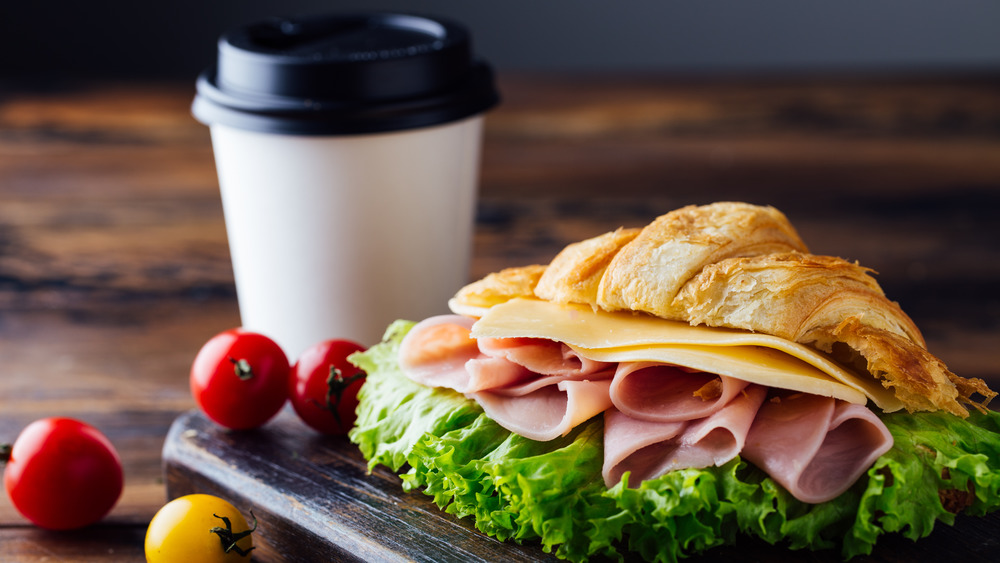 Shutterstock
However, even when eaten plain, the fresh, flaky crust and rich, buttery flavor of these croissant buns can't be beat. Just ask user @mrsgale, who raved: "The croissant buns are so delicious!!" Another user simply recommended enjoying the toasted croissant buns with just Land O'Lakes honey butter.
The popular Instagram account @theamazingaldi couldn't resist sharing the news about these tasty croissant buns with their followers on Instagram, telling them to "Check out these beauties!!!" After seeing the post, many of their followers couldn't wait to get their hands on this new bread. Follower @aldiwithmacros announced: "I HAVE to try these now!!!!" and user @thealdiaficionado wrote, "Can't wait to find these!!!!!"
As other social media users have noted, similar croissant products usually go for around five dollars for a package. However, at your local Aldi, a package of four of these delicious croissant buns will only cost you $3.49 (via Aldi). So if you've got a carb craving that you need satisfied, now is the time to take a trip to Adli to stock up on these delightfully indulgent croissants.