Anthony Bourdain's Final Travel Guide Is Getting A Posthumous Release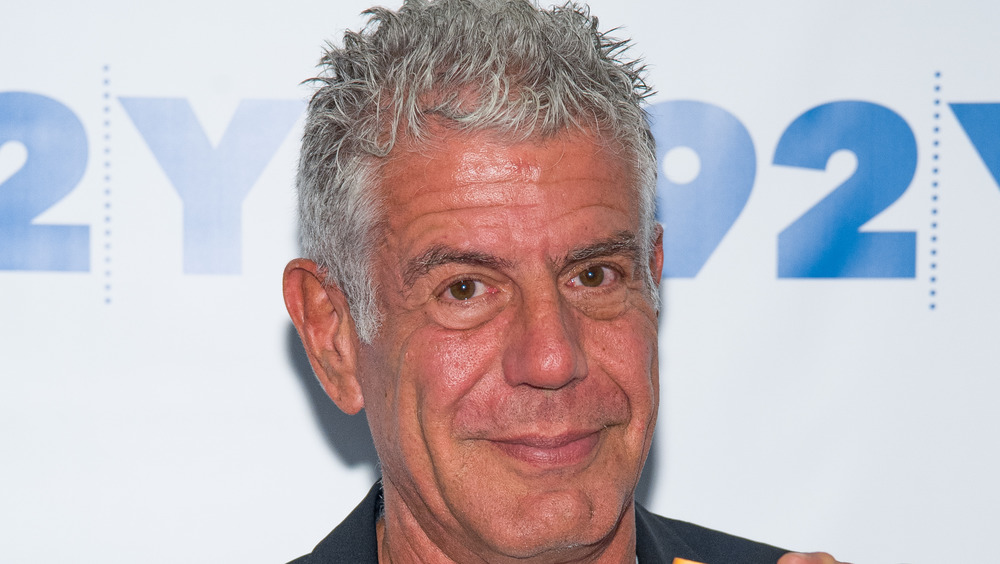 Roy Rochlin/Getty Images
We may receive a commission on purchases made from links.
Here's a new book that we can recommend with no reservations — a posthumous work by the late, great Anthony Bourdain. If we've waxed poetic about Bourdain a few too many times, it's simply that few people have ever packed an equally potent punch across the literary, food, and travels worlds as Bourdain. Like an umami explosion in our brains, the opportunity to travel with him to parts unknown one last time is a gift.
Now that we're done with our fandom drooling, the details of this new book are as good as you'd expect. Officially titled World Travel: An Irreverent Guide, it's listed as a hardcover book that is illustrated and will be released on April 20, 2021 for $31.49 (via Amazon). The author credits include Anthony Bourdain and Laurie Woolever. Described by the publisher as sharing stories in Bourdain's own words, the book is, "entertaining, practical, fun and frank travel guide" that will provide you context on why the famed chef loved the area, and the few things he might avoid while in town.
An irreverent guide to world travel
The book has additional content in the form of personal accounts from those who traveled with Bourdain, including his brother Chris, info on Chicago's cheap eats from music producer Steve Albini, illustrations by Wesley Allsbrook, and more surprises. Sharing an excerpt from the text, one early reader describes in response to a tweet from co-author Woolever, "'Tony and I, two kids from New Jersey, got to cross the Atlantic with our mom on one of the great ocean liners, the Cunard ship Queen Mary.' My goodness, the story of this trip cries out for a children's movie screenplay." Others expressed that they still think of Bourdain daily. 
Perhaps it's best to sum the book up in the words of the famed author himself, discussing travel. "Travel isn't always pretty. It isn't always comfortable. Sometimes it hurts, it even breaks your heart. But that's okay. The journey changes you; it should change you. It leaves marks on your memory, on your consciousness, on your heart, and on your body. You take something with you. Hopefully, you leave something good behind," (via Travel + Leisure).
With this book, perhaps we can all take something we learned from Bourdain with us, too. We are so glad he left some extra stories behind.