Aldi Fans Can't Get Enough Of These Keto-Friendly Cheese Fries
Aldi fans have uncovered another food find that needs to be added to the weekly shopping list. From Emporium Selection, the Halloumi-style cheese sticks might be the keto-friendly cheese fries that many people are craving. Although Aldi's website states that this weekly find (February 17-23) may not be available in all locations, an 8-ounce bag is priced at just $3.29 and is available in the Deli section (via Aldi).
When the Instagram account @aldi.mademedoit first posted the find, many Aldi fans commented that these keto-friendly cheese fries are tasty in the air fryer. Although the packaging suggests grilling or frying, using an air fryer seems like a quick, easy way to prepare this snack. "They were really good! Held their shape well but still had a meltiness to them that made them great snacks," one user commented on a post by @theamazingaldi. "I actually breaded them in Panko and air fried them! So good!" another Aldi fan commented. 
No matter how these cheese fries are prepared, it seems this Aldi find is getting people excited, especially those on a high-fat, low-carb keto diet. It is unclear whether these cheese sticks can be eaten straight from the bag, but typically, Halloumi cheese is best when heated. But, what really is Halloumi style cheese?
What is Halloumi cheese?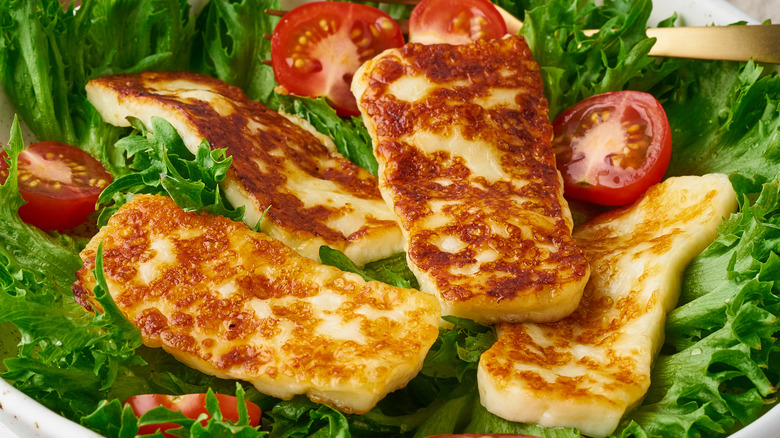 Shutterstock
While many Aldi fans will be drawn to the excitement of the keto-friendly cheese fries label, Halloumi cheese is not a new food innovation. Halloumi is a firm Mediterranean white cheese traditionally made from goat's and sheep's milk. Although the cheese can be enjoyed raw, grilled, or fried, its high melting point allows it to be heated while still maintaining its more rigid shape (via Better Homes and Gardens). The edges can get crisp and crunchy yet the center has a creamy, almost gooey texture. 
Halloumi cheese has long been associated with Cyprus, but it is unclear whether only Cyprus-made cheese can have the Halloumi label (via Forbes). Some people are familiar with the idea that only sparkling wine from the Champagne region of France can be called champagne (via Boston Magazine). Similar reasoning has been debated with the Halloumi designation, per Forbes.
For cheese lovers, the proper naming might not be their first thought. Instead, that bite of the salty, tangy Halloumi-style cheese sticks or keto-friendly cheese fries is just called delicious.