This Chef Anne Burrell Chicken Dish Was Inspired By Stanley Tucci And Rachael Ray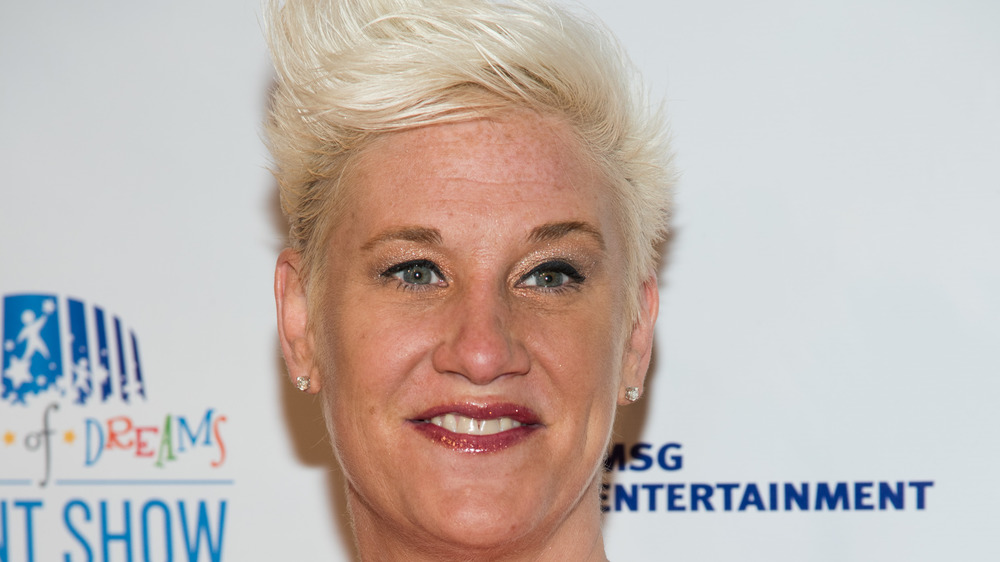 Dave Kotinsky/Getty Images
Fresh out of dinner ideas? Take a cue from Food Network chef Anne Burrell, whose latest Instagram post of a tasty chicken meal looks like sunshine in a skillet. In the photo, crispy-skinned chicken thighs emerge like volcanic peaks in a bubbling, magma-like blend of "butternut squash, cauliflower, kale, zucchini, tomatoes, chickpeas, and Israeli couscous." If you think we sound passionate about the dish, just read Burrell's caption, where she said the chicken dinner was so good, it would be dinner tonight and lunch tomorrow.
Even professional chefs dream up ideas thanks to other cooks; Burrell wrote in the caption that the dish was inspired by two celebrity food personalities. First was Rachael Ray, whose Moroccan chicken with pearl couscous and chickpeas went live the same day on the Rachael Ray Show website. The second was Stanley Tucci, whom Burrell said she watched visit his former home of Tuscany in an episode of his new CNN show, Searching for Italy.
Chef Burrell's chicken dish comes together with pantry staples and a lot of vegetables
Want to recreate Burrell's dish at home? While don't have the written recipe, we can use her photo, caption, and inspiration from Ray's Moroccan chicken to guess how she might have made it. Judging by the meat's deeply golden brown color, it's likely that Burrell started by searing the chicken thighs skin-side down before setting them aside and cooking the vegetables in the leftover fat. This is a common approach for braised chicken thighs, as shown in a similar dish from Food Network.
Burrell said she used butternut squash, cauliflower, kale, and zucchini, which, based on the photo, she diced into small pieces. After sautéing them in the chicken fat, she likely added her remaining ingredients — tomatoes, chickpeas, and couscous — and returned the chicken to the pan to simmer in the liquid and vegetables. Similarly, Ray cooks her couscous and chicken with vegetables and added stock, covering the pan and cooking for about 15 minutes until the meat is cooked through and the couscous is tender (via Rachael Ray Show).
To put your own final touches on the dish, you could also think of Tucci in Tuscany. According to Tuscan food blogger Giulia Scarpaleggia, common flavorings in the region include sage and wild fennel (via The Epoch Times). Here's to recreating your own chef-inspired skillet of sunshine!