The Interesting Way Cheddar's Scratch Kitchen Created Two New Burgers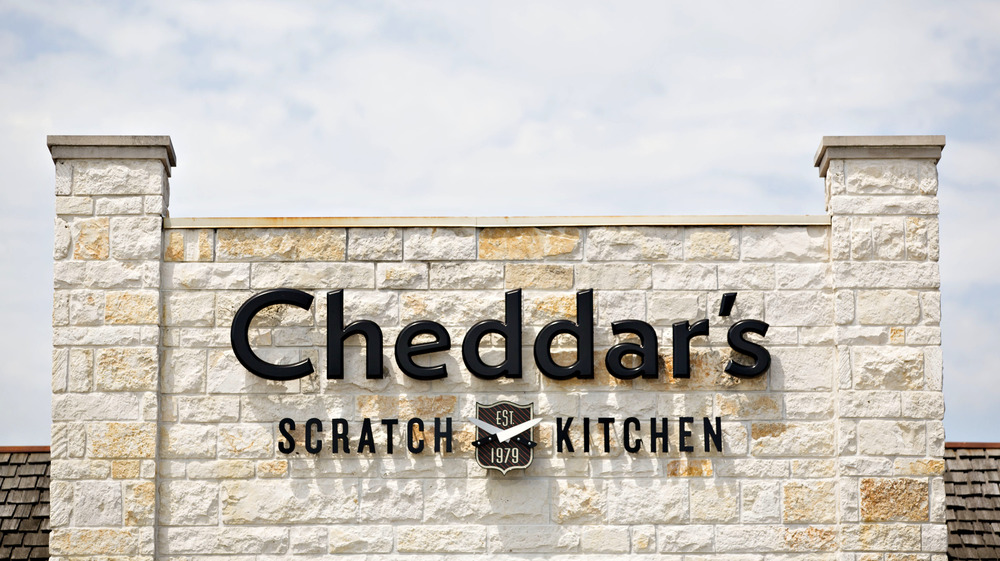 Bloomberg/Getty Images
Since the first Cheddar's Scratch Kitchen opened in Arlington, Texas in 1979, the national chain has been serving — as the name suggests — made-from-scratch American cuisine to thousands of hungry diners at its 170 locations across the country. More commonly known as Cheddar's, it's most famous for its massive portion sizes and "just like Mama made it" cooking. Think: mile-high towers of crispy onion rings, country fried steak smothered in gravy, and homemade chicken pot pie.
Of course, being an American restaurant, Cheddar's also has juicy burgers on its menu. There are the usual suspects (like the classic hamburger and the bacon cheeseburger), but there are also a few limited-time options that rotate on and off the menu seasonally. While other restaurants use professional chefs or food scientists to develop new recipes, Cheddar took a totally different approach to choosing which burgers it would add to its lineup. Here's how two of the special-edition burgers came to be.
Cheddar's Scratch Kitchen gave customers the power to choose
Cheddar's, like many businesses, lives by the motto, "the customer knows best." So when the restaurant went to add two new burgers to its spring menu in 2013, it let its diners decide what said burgers would be. According to the Nation's Restaurant News, Cheddar's sent out a survey to its 20,000+ email club members to find out. Every customer was asked, "What does a great burger mean to you?" Based on those responses, the chain's menu development team came up with the spicy Jalapeño Burger and the Mushroom Swiss Cheeseburger.
The burgers, while no longer on Cheddar's regular menu, received rave reviews from customers while they lasted. Of the Jalapeño Burger (which featured pepper Jack cheese, fried jalapeños, chipotle mayonnaise, onions, and tomato), one Yelp reviewer said, "Really interesting, they fried the jalapeños and left the onions chopped and fresh, I liked it."