What You Need To Know About Subway's New Baller Subs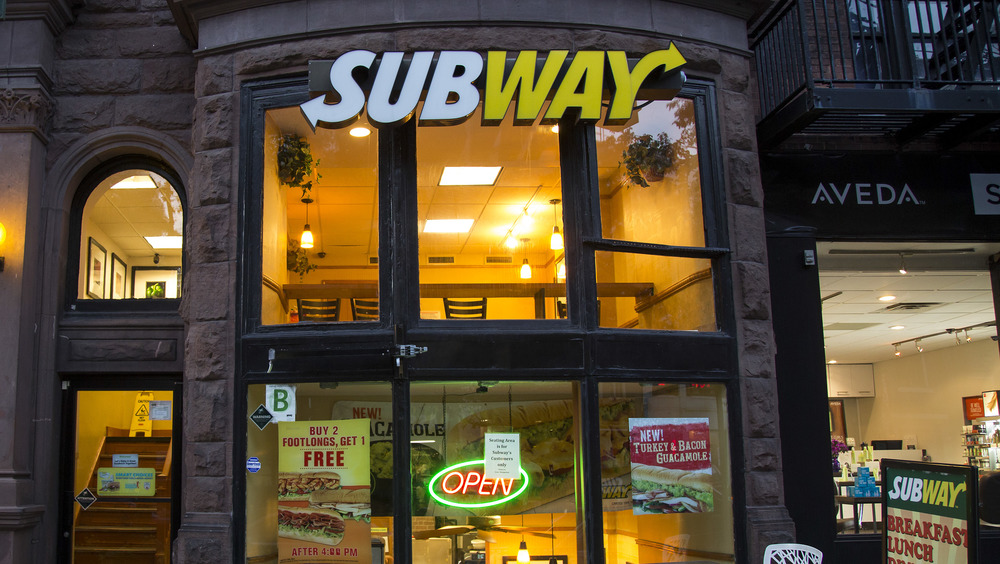 Bloomberg/Getty Images
Stuck on your Subway order? Consider one of the sandwich chain's new Baller Subs, inspired by NBA players Draymond Green and Jayson Tatum. Both meaty Footlongs are available for a limited time at participating locations, Chew Boom reports, and may or may not boost your athletic performance.
According to Subway, the DrayPotle Steak is the Footlong of choice for Golden State Warriors player Green, a three-time NBA Champion and three-time NBA All-Star (via NBA). The warm Italian sub cradles "tender steak and melty [provolone] cheese," Green describes in a Subway commercial, along with green peppers, red onion, and Chipotle Southwest sauce (via YouTube).
Tatum of the Boston Celtics is the player behind the Bacon Tatum, which he said has "delicious turkey and crispy bacon," plus fresh lettuce, jalapeños, mayonnaise, and red wine vinegar stuffed into an Italian sub. "My sub will help you put points on the board, unlike some other subs," Tatum boasts in the commercial.
How to order Subway's new Baller Subs
Whether you're team Green or team Tatum, you can order the Baller Subs exclusively online or on the Subway App, Chew Boom reports. You can even save by ordering both subs at once, as Subway's current online and in-app promotion allows you to buy one Footlong and get 50 percent off another with the promotional code "BOGO50" through April 14. Eat them both and you'll get a variety of textures and flavors: Creamy and spicy from the provolone and Chipotle Southwest sauce on the DrayPotle Steak countered with crunchy and tangy from the Bacon Tatum's crispy, vinegar-seasoned veggies.
If you feel that you must pledge allegiance to one sub and one sub only, though, Tatum does make a convincing case for his Bacon Tatum in the Subway commercial. "My sub has more rings than your sub," Green says to Tatum while holding up his saucy steak sandwich. Tatum pauses and answers with a reply that can only resonate with true bacon lovers: "My sub has bacon."