Dunkin' Is Officially Releasing Two New Matcha Products. Here's What You Need To Know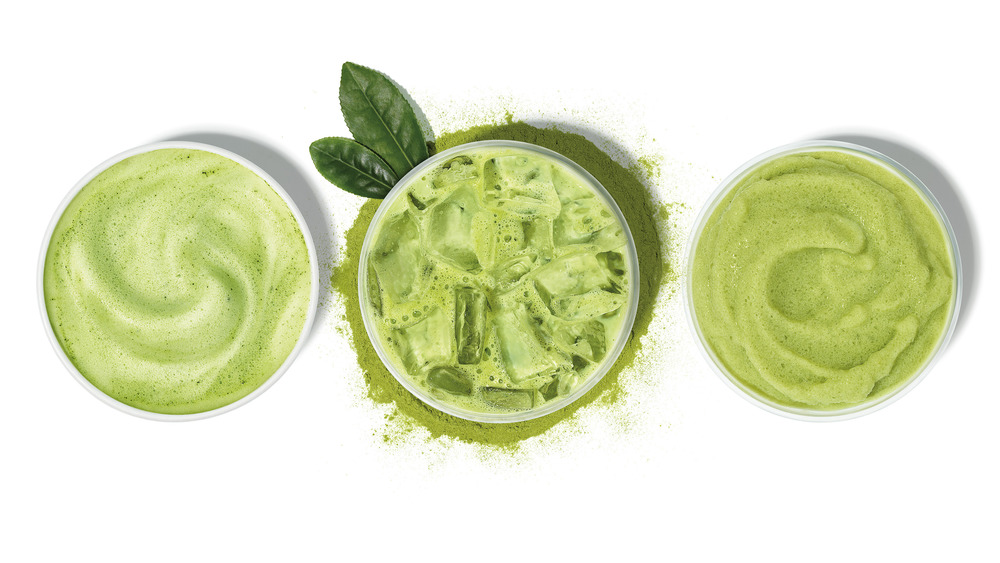 Dunkin'
Remember that time we predicted some new products might be coming to Dunkin' in spring 2021? (Well, maybe we had some help from a Reddit user who leaked it – but still.) Now, we're officially confirming it: Dunkin' is upgrading their matcha game. Yep, in case America didn't already "run on Dunkin'," you can expect to see this energizing coffee alternative taking up some extra room on the menu at participating restaurants nationwide starting February 24.
That said, please give a warm welcome to Dunkin's newcomers: the Blueberry Matcha Latte and Matcha Topped Donut. Dunkin' isn't messing around with any low-quality matcha, either. The matcha they use is actually a high-quality blend "produced in the Nishio region of Aichi prefecture, Japan, where the finest Matcha has been grown for more than 800 years," according to a press release shared with Mashed. (Need another reason to go out and try it? Matcha is full of antioxidants, so you can enjoy the delicious creaminess while reaping its plethora of health benefits.)
The matcha-needed deets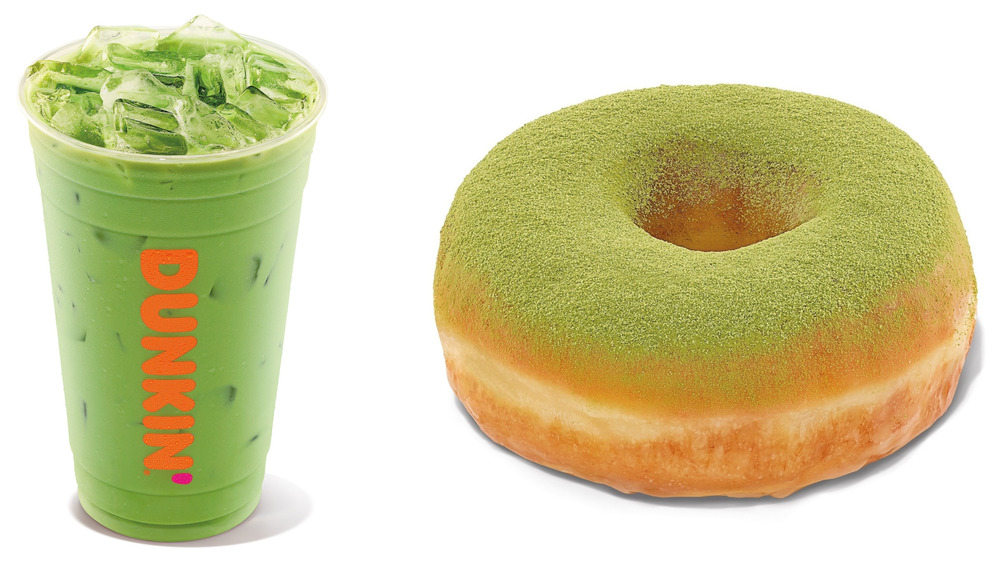 Dunkin'
Dunkin' only hopped on the matcha train last February, but they're clearly already finding ways to stand out from their competitors. First, let's talk about that Blueberry Matcha Latte. It's made by combining Dunkin's sweetened matcha green tea powder blend with blueberry flavor and your favorite milk (Dunkin' has oat milk and almond milk if you're looking for non-dairy options). As an added bonus, this handcrafted beverage can be enjoyed hot, iced, or frozen. Next up is the Matcha Topped Donut. Its name pretty does a pretty good job at describing what it is, which is a delicious glazed donut topped with matcha powder. You might want to grab a few napkins before you indulge in this one, though. Some Reddit users are concerned that it'll get pretty messy (think: powdered donuts).
Oh, and in case those new matcha items don't sound enticing enough on their own, "Beginning February 24 through March 23, DD Perks® members can earn points toward a free beverage reward twice as fast with the extra perk of 2X points (10 points per dollar rather than five) on any Matcha Latte purchase," according to the statement received by Mashed. So, who's up for a Dunkin' run?