This Is Where Dunkin's Munchkins Got Their Iconic Name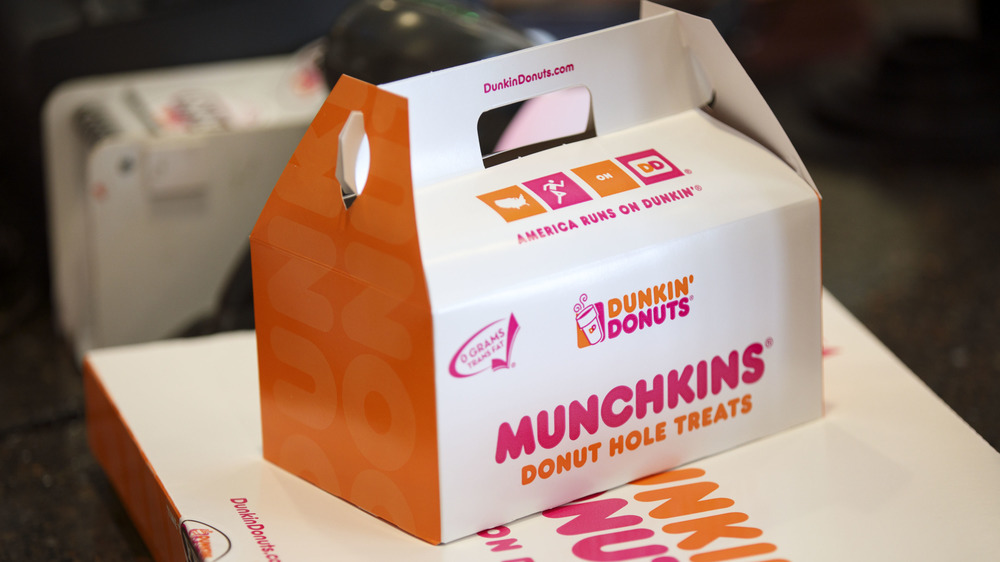 Bloomberg/Getty Images
When Munchkins first appeared on Dunkin's menu back in 1973, donuts were still cut by hand. To create the circular ring that gives the donut its distinctive shape, bakers used to have to cut out the piece of dough in the center. The leftover dough was simply thrown out — that is, until Dunkin' came up with "a fun way to use the donut dough from the center of the donut," (via Dunkin'). Instead of discarding the dough, the company began rolling it into a round ball and baking it, creating a delicious new mini-treat out of the leftover "donut holes."
To market the petite new product, the donut chain named the round holes "Munchkins," after the people in the famous movie The Wizard of Oz, according to Eat This, Not That!. When the mini donut holes were first released, the company had intended to advertise the smaller size to appeal to little kids. Soon, the treats became popular with both kids and adults alike, but the name stuck, and Munchkins donut holes have been a Dunkin' fan-favorite ever since.
Munchkins are now made with automated machines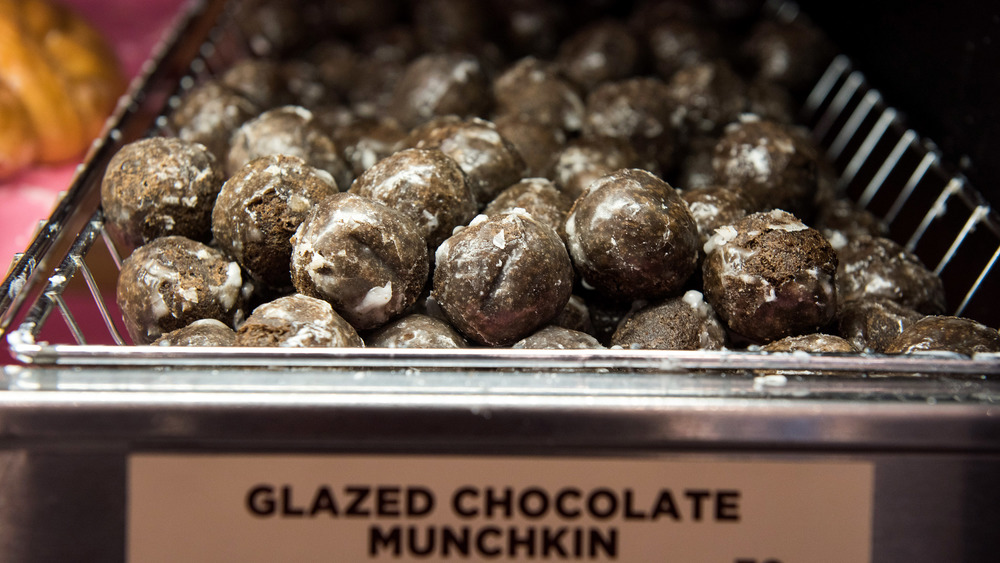 Bloomberg/Getty Images
Today, donuts are no longer hand-cut, but the Munchkins have become such a popular product that they are now manufactured separately. Now, the donut holes are made using a special automated tool, which molds the dough into its signature perfectly round shape. Per Dunkin's blog, about five of the small Munchkin holes make up the equivalent of one regular-sized cake donut.
Through the years, the company has added many additional Munchkins flavors, including some specialty versions — like buttermilk, confetti, and red velvet — that are only available in the bite-sized variety. "It's always fun when we create limited-time flavors in the Munchkins Donut Hole Treats format. It gives our guests a great way to sample some of our new treats and innovative flavors," Rick Golden, Dunkin's Manager of Donut Excellence, said of the process (via Dunkin').
Today, the store now sells about 1 billion total Munchkins annually, with the jelly, glazed, and chocolate flavors remaining the store's best-selling Munchkin flavors overall, according to Dunkin'. The brand has even started mixing them into milkshakes these days, too.