Dunkin's New Milkshake Has A Surprising Secret Ingredient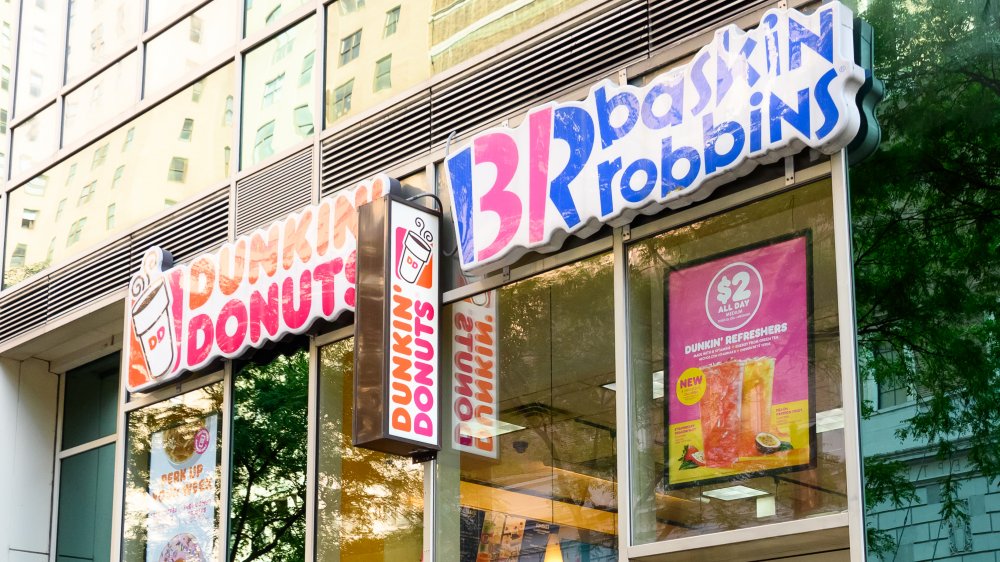 Noam Galai/Getty Images
Dunkin' is home to some delicious treats, and they have some pretty awesome promotions on an almost regular basis. While the coffee chain has an impressive drink menu already, complete with tons of customizable options, there's a new drink for you to enjoy. Though Dunkin' just introduced oat milk as an alternative milk option as well as new oat milk drinks, the chain is already switching things up again.
Though customers have probably been pretty happy to have their fall-flavored drinks this time of year on top of the new trendy oat milk options, the latest menu item sounds pretty amazing. It's a Munchkins Milkshake, which if you didn't already guess it, has Munchkin donut holes mixed right into the decadent sweet treat. It's certainly a surprising secret ingredient to toss into the recipe, but it's one that Dunkin' fans are really excited to try (via Thrillist). Unfortunately, not all Dunkin' customers will be able to get their hands on one of these anytime soon.
The new milkshake is taking 'dunking' to a whole new level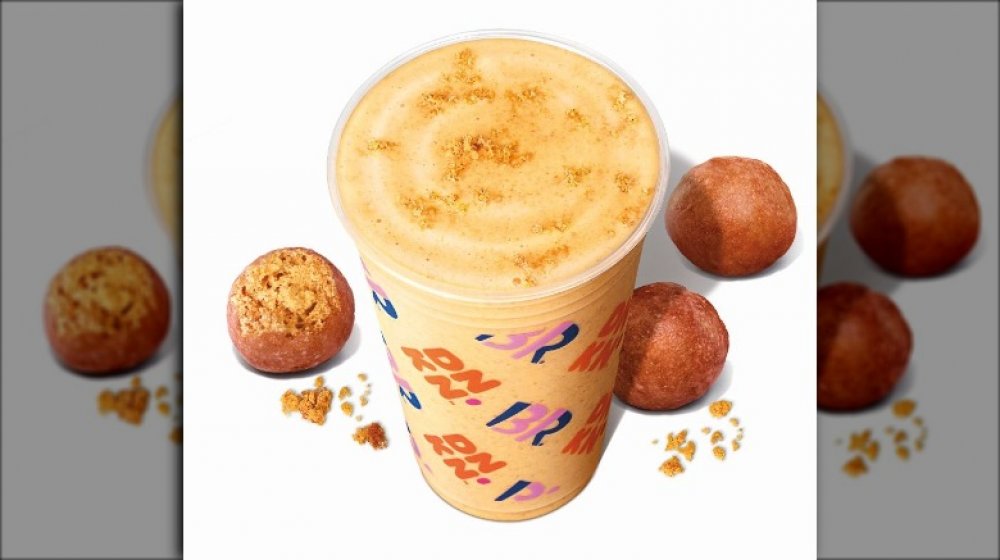 Dunkin'
The first iteration of the Munchkin Milkshake is a seasonal one. The frozen drink is currently being made with Dunkin's signature Pumpkin Munchkins and Baskin-Robbins' Flavor of the Month ice cream, which happens to be Pumpkin Cheesecake. If that doesn't already sound good enough, the ice cream actually includes pumpkin and cheesecake flavored ice cream with ginger snap cookie pieces and a cinnamon cream cheese ribbon swirled throughout.
Even the masterminds behind this new creation are pretty excited about it too, and rightly so. "Munchkins Milkshakes are an innovative product we've been toying around with for a while," Jeanne Bolger, Director of Research and Development at Baskin-Robbins said (via Dunkin'). But Bolger also has some not-so-great news. "We're very excited to be able to offer this product to the Chicago area, a community we know loves milkshakes and especially pumpkin-flavored treats. We're sure that this new offering will satisfy both milkshake and Munchkins lovers alike!" So, unless you live near Chicago, you won't be able to try the new treat right away.
The Munchkin Milkshake will be available at 250 Dunkin'-Baskin-Robbins locations in the greater Chicago area until the end of November. So, even if you're around, you'll need to try it sooner rather than later. This product was years in the making, so hopefully it'll go nationwide sometime soon so everyone can try it.