Instant Pot Risotto Recipe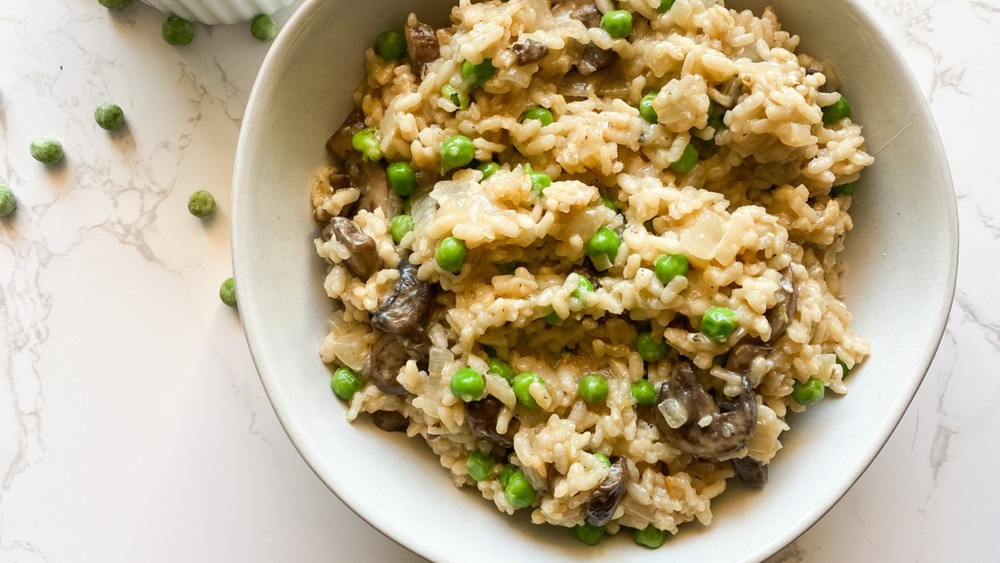 Kristen Carli/Mashed
Oh, risotto. It's easy to have a love/hate relationship with this creamy, delicious, rice-based dish. We love it because, well, it's delicious. We also kinda hate it because making risotto can be very perplexing and time consuming. But not when you have registered dietician Kristen Carli's Instant Pot risotto recipe. As she told Mashed, "Because this recipe is made in the Instant Pot, you save the 20 minutes of active stirring that stove-top risotto requires." 
So let's get this straight — perfect, mouth-watering risotto in less time than other recipes? Sign us up! Meanwhile, Carli told us about preparing this dish in her own home, "I love to make this on weeknights! Can't beat a delicious and decadent dinner made in 20 minutes!" 
We couldn't agree more. Just serve up the risotto with a side of a roasted veggies or a side salad and dinner is ready.
Pull together a few simple ingredients for Instant Pot risotto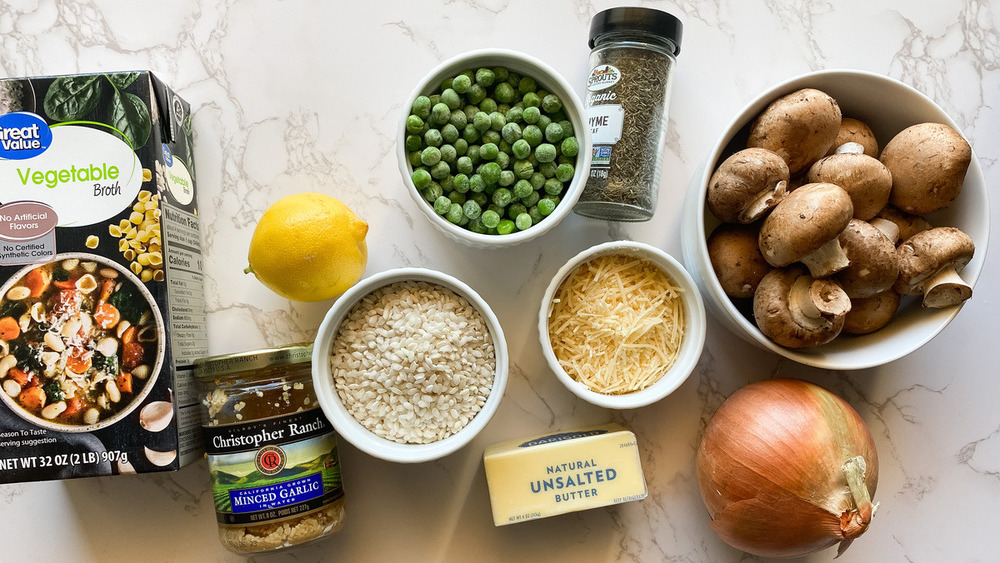 Kristen Carli/Mashed
Your Instant Pot risotto is as easy to shop for as it is to make, considering several of the ingredients are probably hanging out in your kitchen right now. You'll need olive oil, minced garlic, a yellow onion, baby bella mushrooms (which you'll slice ahead of time), dried thyme, vegetable broth, Parmesan cheese, frozen peas, a lemon, and unsalted butter. Since you're using unsalted butter in particular, you will also grab your salt and pepper. 
Finally, this recipe calls for Arborio rice, which is "the best rice for risotto." as Carli explained to Mashed. "It has a high starch content making it excellent for risotto creaminess." Meanwhile, she notes that thyme, which is used in a lot of Italian recipes according to Carli, "provides savory, earthy flavor" that's bound to boost the deliciousness of this dish.
Once your ingredients are ready to go, pull out your Instant Pot and get ready to whip up this creamy, earthy risotto!
Sauté your onion in the Instant Pot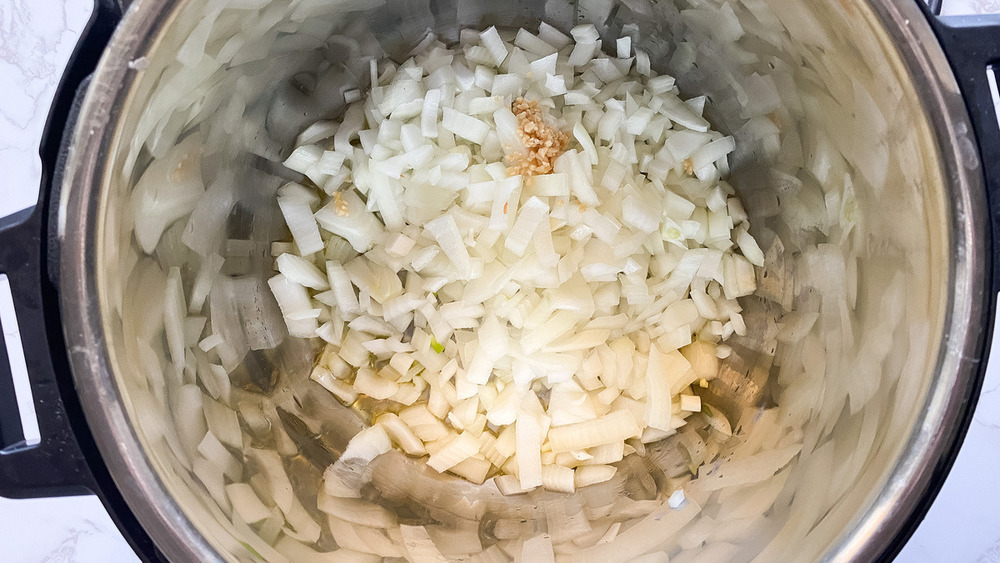 Kristen Carli/Mashed
The first step on the way to enjoying your Instant Pot risotto in just 20 minutes is to set the Instant Pot to the sauté setting so you can cook the aromatic garlic and onion before anything else. Go ahead and add the olive oil, along with your pre-diced onion and minced garlic, right into the pot. Next, allow the veggies to cook for about four minutes. You want your onion to get translucent and fragrant before moving on to the next step. 
Meanwhile, as your aromatics are sautéing, you can slice your baby bella mushrooms if you have not already done so. Other time-saving measures you can employ here include zesting up and juicing the lemon, which you will need in a few minutes. You can also shred a half cup of Parmesan cheese if it's not pre-shredded. Just be sure to keep an eye on the cooking onion to make sure it's getting heated evenly and isn't burning.
Finally, add some salt and pepper to your onion and garlic as it's sautéing away, in order to give the veggies a couple of minutes to fully absorb these flavors before you move on to the next step.
Add your mushrooms, broth, and risotto rice into the Instant Pot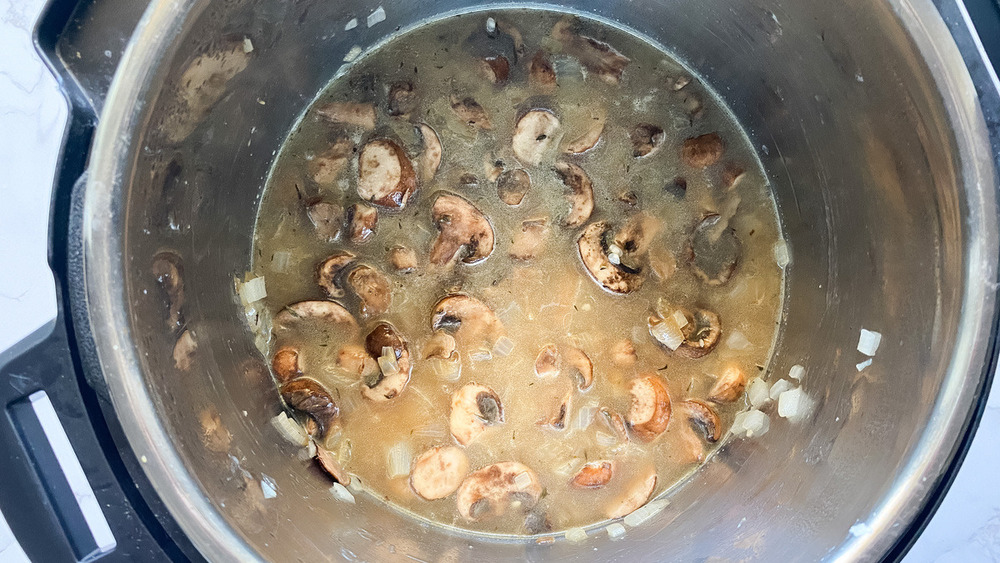 Kristen Carli/Mashed
Now you are ready to add the sliced mushrooms and dried thyme to the Instant Pot. Carli instructs home cooks to allow to the mushrooms to cook until they are nice and soft, which will take about four more minutes. Once you have achieved this milestone, add in the vegetable broth and the Arborio rice. Quickly stir these ingredients to combine them.
At this stage, with the mushrooms and rice as well as the broth added together into one glorious mixture, close the lid of your Instant Pot. Be sure to set the valve to "sealing." Set the Instant Pot on high pressure for six minutes. Seriously, that is it. Yes, it's now only six minutes between you and risotto rice cooked to perfection! Once the Instant Pot has done its magic, you are almost ready to enjoy real risotto, and all without the forearm workout typically required to turn out the right consistency and texture of this indulgent traditional dish.
Add your remaining ingredients for Instant Pot risotto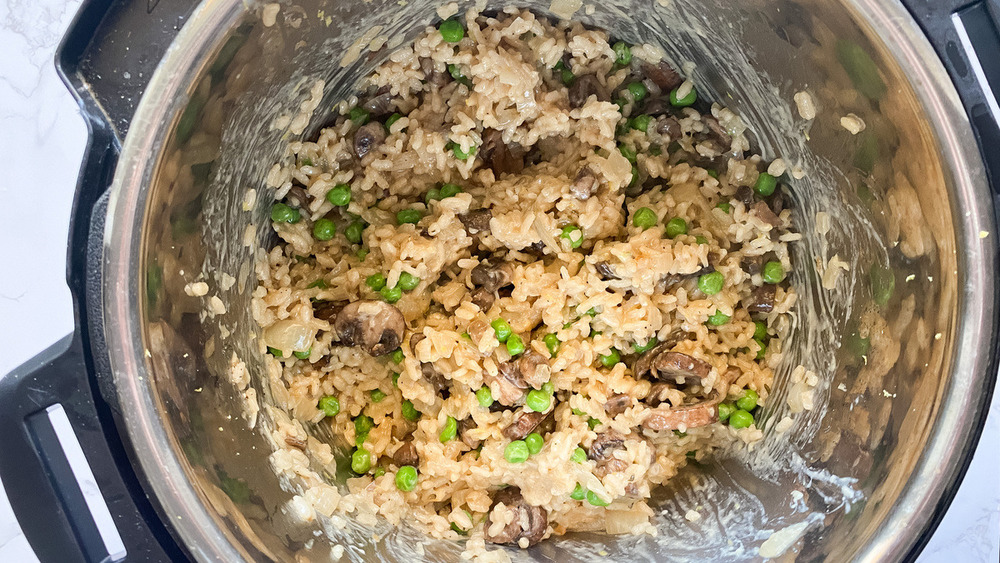 Kristen Carli/Mashed
Once six minutes is up, quick release the steam valve. Next, remove the lid of your Instant Pot and add the frozen peas, the shredded Parmesan cheese, and your unsalted butter, as well as the lemon zest and lemon juice. Stir everything up until it's well-combined. Season the risotto again with salt and pepper to taste. Finally, dig in! 
If you somehow happen to have leftovers after dinnertime, or if you made this delectable dish ahead of time for a meal later in the week, risotto does pretty well in the refrigerator. As Carli told Mashed, "This will keep in an airtight container in the fridge for up to three days." We can only imagine that the flavors would combine there to taste even more creamy, salty, earthy, and undeniably delicious flavor, with bursts of peas and chewy mushrooms, as well as that tangy cheese. 
Yum! We are never going to go back to the old, laborious way of making risotto again!
Instant Pot Risotto Recipe
This recipe uses an Instant Pot to take all of the hard labor out of the delicious classic recipe of risotto. Now your risotto will be ready in just 20 minutes!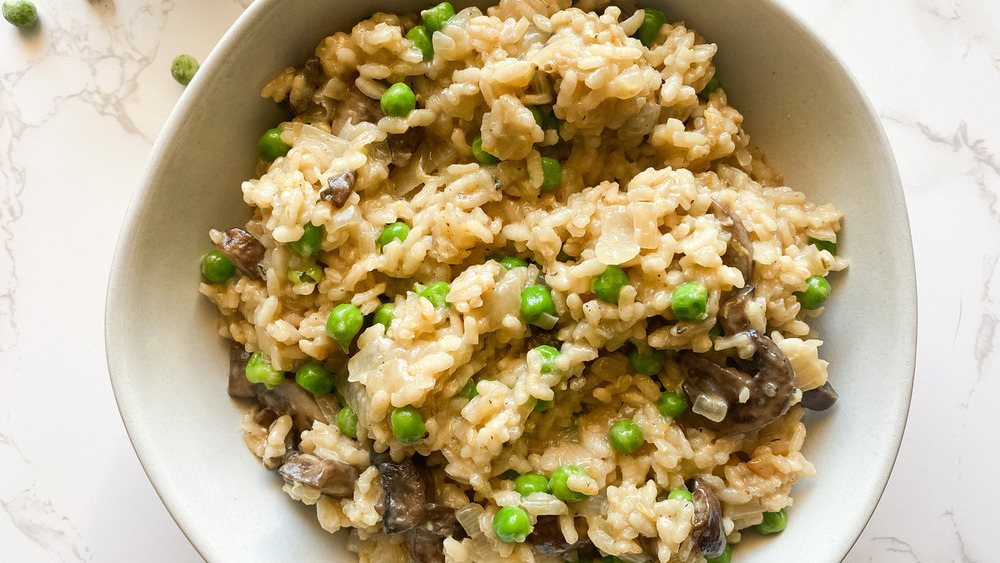 Ingredients
2 tablespoons olive oil
1 teaspoon minced garlic
1 yellow onion, diced
8 ounces baby bella mushrooms, sliced
½ teaspoon dried thyme
2 cups vegetable broth
1 cup Arborio rice
½ cup shredded Parmesan cheese
1 cup frozen peas
Zest of 1 lemon
Juice of ½ lemon
1 tablespoon unsalted butter
Salt and pepper, to taste
Directions
Set the Instant Pot to the sauté setting. Add the olive oil, diced onion and garlic. Allow to cook until onion is translucent, about 4 minutes.
Add the mushrooms and dried thyme. Allow to cook until mushrooms have softened, about 4 minutes.
Add the vegetable broth and rice. Stir to combine. Close the lid of the Instant Pot. Set the valve to sealing. Place on high pressure for 6 minutes.
Add the end of the 6 minutes, quick release the steam valve. Remove the lid, add the peas, Parmesan, butter, lemon zest and lemon juice. Stir to combine. Season with salt and pepper to taste.
Nutrition
| | |
| --- | --- |
| Calories per Serving | 798 |
| Total Fat | 30.4 g |
| Saturated Fat | 11.9 g |
| Trans Fat | 0.2 g |
| Cholesterol | 40.5 mg |
| | |
| --- | --- |
| Total Carbohydrates | 105.3 g |
| Dietary Fiber | 10.0 g |
| Total Sugars | 9.8 g |
| Sodium | 1,569.3 mg |
| Protein | 28.4 g |