Egg Salad Without Mayo Recipe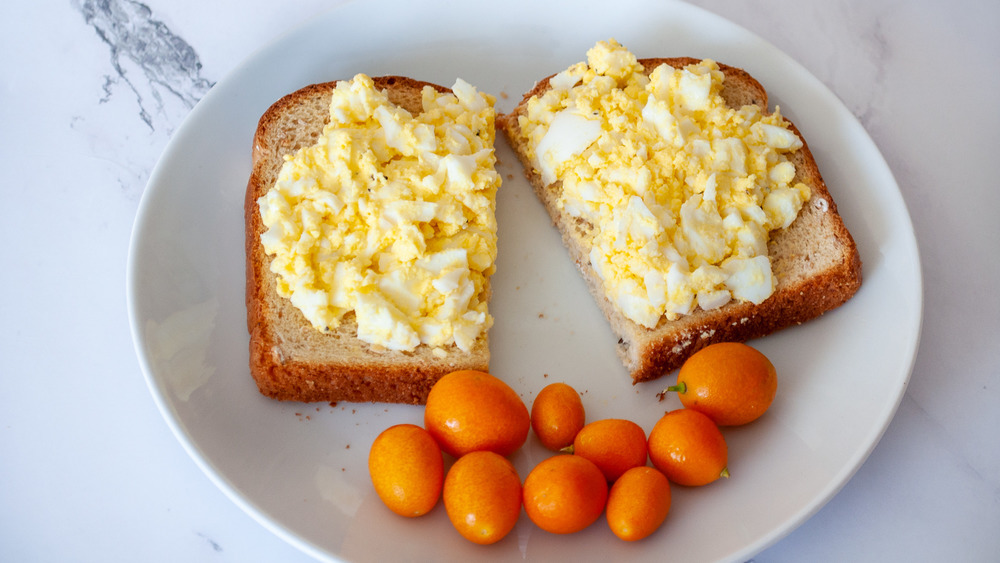 Laura Sampson/Mashed
If you think egg salad without mayonnaise is like bread without butter, pizza without cheese, or cheese without crackers, then read on and take heart: it turns out you can make a delicious egg salad sans mayo, and you can trust this recipe from someone who knows eggs at a professional level. "We have chickens so one thing we always have on hand is eggs," says chef and food writer Laura Sampson of Little House, Big Alaska. 
So why try for a new spin on a classic dish? It was a family matter, Sampson told us. "Everyone was sick of regular egg salad and quiche so we tried this twist on egg salad and it was a hit." Also, this is a healthier take with no sacrifice in flavor. You'll also appreciate that the recipe calls for less than 10 minutes of hands-on effort, assuming you already have hard-boiled eggs on hand. And if not, hard-boiled eggs take all of 9 minutes to make. 
As hard-boiled eggs are the centerpiece here, let's talk about those right quick, because far too many folks are anything but quick when cooking them, which is to say overcooking their eggs.
A few words on hard-boiled eggs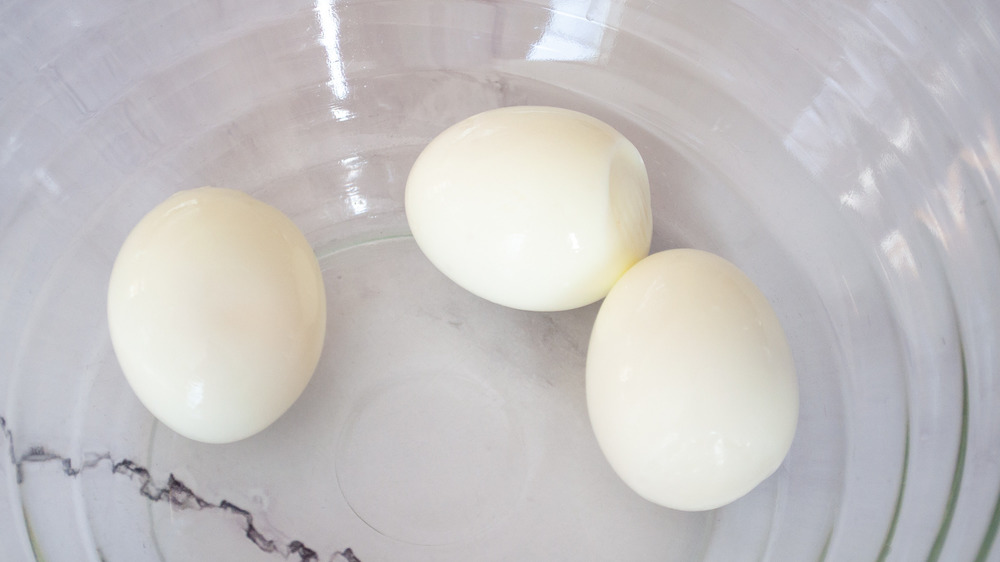 Laura Sampson/Mashed
There's a decent chance you're overcooking your hard-boiled eggs and not even knowing it. Ask yourself this question: do you love hard-boiled eggs and put them in everything from sandwiches to salads to wraps? If not, then there's a good chance you're overdoing it.
To make a perfect hard-boiled egg, there are three things to do: start with room temperature eggs, cook the eggs at a rolling boil for 9 minutes, and reduce their heat as quickly as you can by running them under cold water as soon as those 9 minutes have elapsed. And that's it.
Gather your ingredients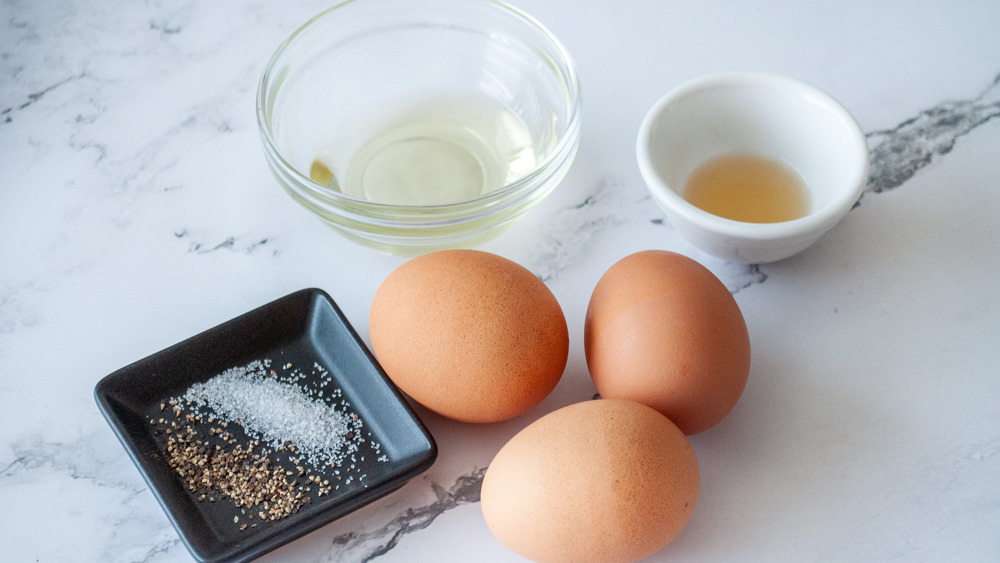 Laura Sampson/Mashed
Leave aside the mayo, and instead grab 3 teaspoons of light olive oil, 1 teaspoon of apple cider vinegar, 1/4 of a teaspoon of salt, a pinch of black pepper, and 3 (absolutely perfectly cooked) hard-boiled eggs.
And don't be afraid to put your own twists on things here. "You can double the vinaigrette ingredients if you like," Sampson says, adding that you should "try to use a light oil like a light olive oil or another favorite. Nothing too heavy-tasting in the recipe or it masks the rest of the flavors. [And] try different kinds of vinegar, such as red wine vinegar, for different flavors."
Make the vinaigrette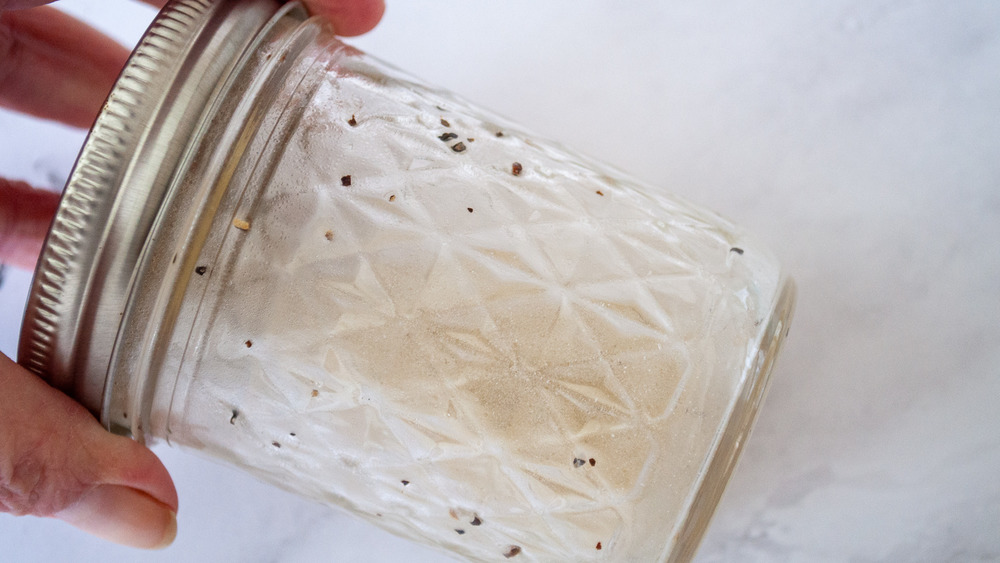 Laura Sampson/Mashed
Add the oil, vinegar, salt, and, pepper to a small jar and shake it until they are all well combined. Alternately, you can mix these ingredients in a small bowl. Either way, you can also make a large batch and reserve this vinaigrette for use here and for other dishes, as it's a perfect light salad dressing or a great drizzle for sandwiches, and it will keep well in a jar in the fridge for a number of days — just make sure to stir or shake well before each use.
Mash the eggs and mix in the sauce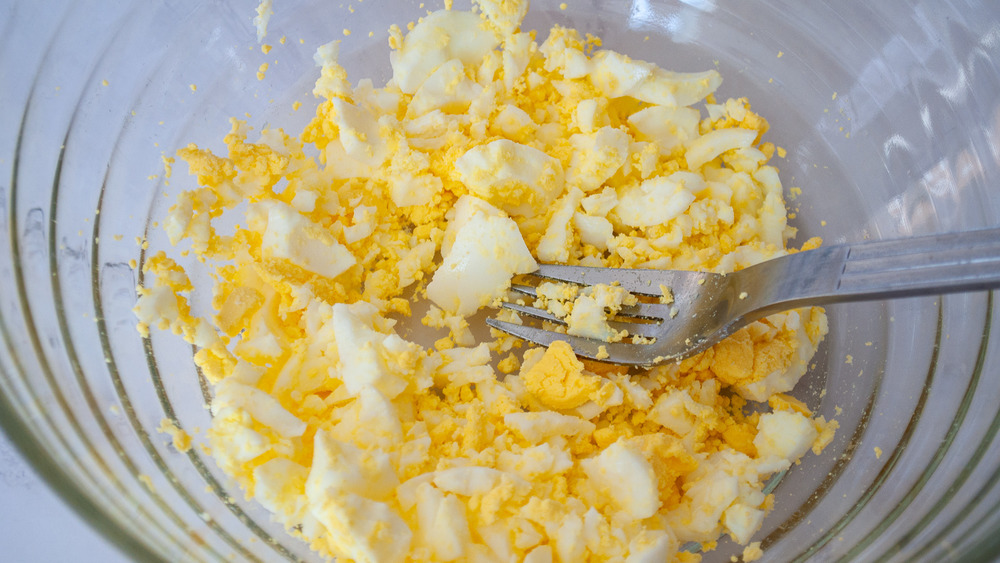 Laura Sampson/Mashed
Peel the eggs and put them in a mixing bowl, and then mash them with a fork until the eggs are well broken down. Now add the vinaigrette over the top of the eggs and stir everything together to combine. And then grab the salt and pepper and add them as desired to taste.
There! Your mayo-free egg salad is now ready to be enjoyed. The only question is how, exactly, that is best done. Don't worry, we have some ideas for you.
Egg salad serving ideas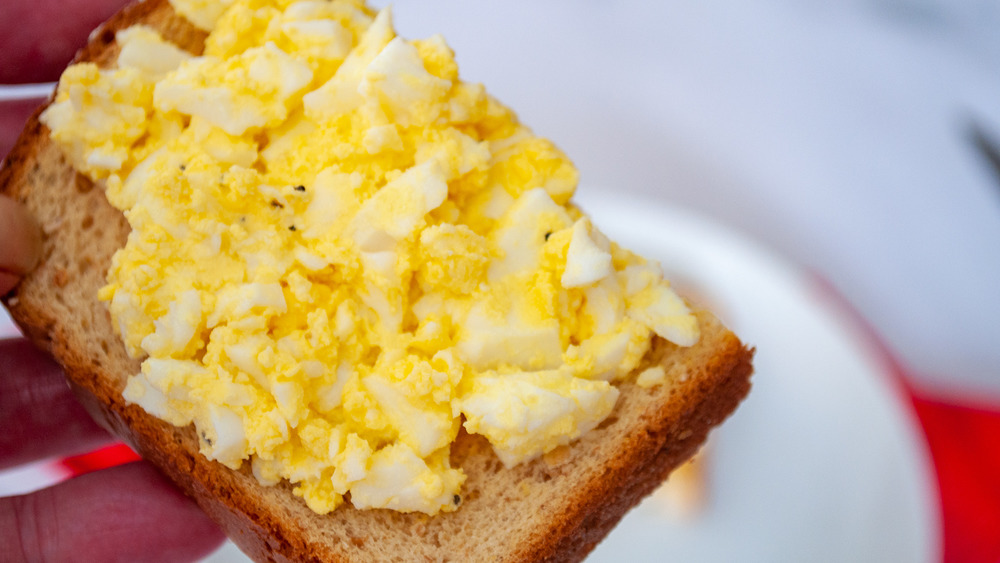 Laura Sampson/Mashed
Laura Sampson and her family usually use this egg salad "served as two open-faced sandwiches, or as regular sandwiches," but you can also toss it into a flatbread or pita or serve it over the top of a green salad, and you can add in bacon, tomatoes, chives, and more. 
But for a real treat, try another recommendation from Sampson: "I love to add alfalfa sprouts to them," she says, adding "other sprouts work well too!" The pleasing crunch of sprouts is the perfect balance to the eggs, especially atop a thick slice of toasted bread.
Egg Salad Without Mayo Recipe
We've created a recipe for egg salad without the mayo!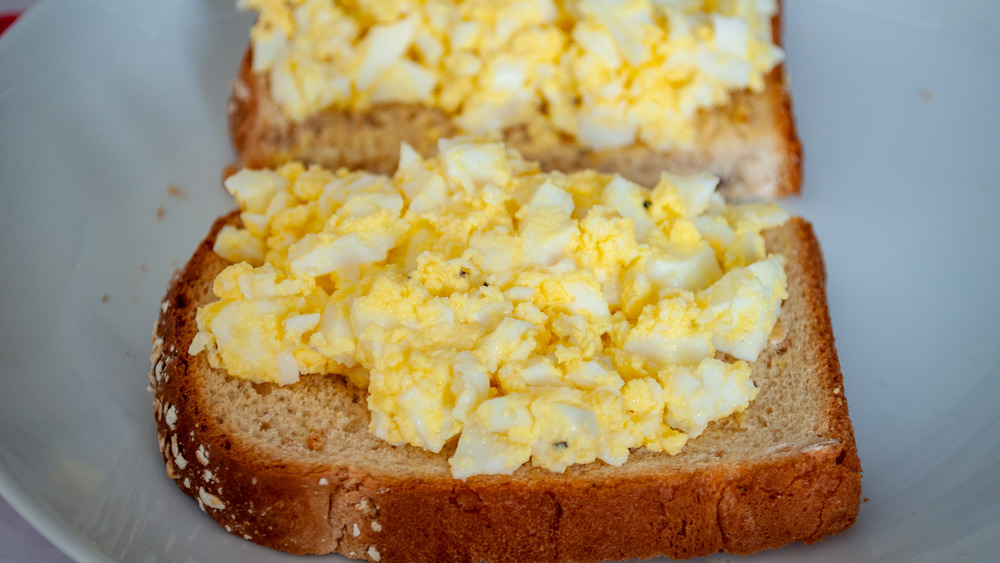 Ingredients
3 teaspoons light olive oil
1 teaspoon apple cider vinegar
¼ teaspoon salt
pinch of black pepper
3 hard-boiled egg
Directions
Add the oil, vinegar, salt, and pepper to a small jar and shake until well combined.
Peel the eggs, put them in a mixing bowl, and mash with a fork.
Pour on the vinaigrette and stir to combine, then add salt and pepper to taste and serve on toast or however you'd like.
Nutrition
| | |
| --- | --- |
| Calories per Serving | 153 |
| Total Fat | 13.1 g |
| Saturated Fat | 2.9 g |
| Trans Fat | 0.0 g |
| Cholesterol | 223.8 mg |
| | |
| --- | --- |
| Total Carbohydrates | 0.7 g |
| Dietary Fiber | 0.0 g |
| Total Sugars | 0.7 g |
| Sodium | 161.2 mg |
| Protein | 7.6 g |