Costco's Shamrock Shaped Ravioli Are Perfect For St. Patrick's Day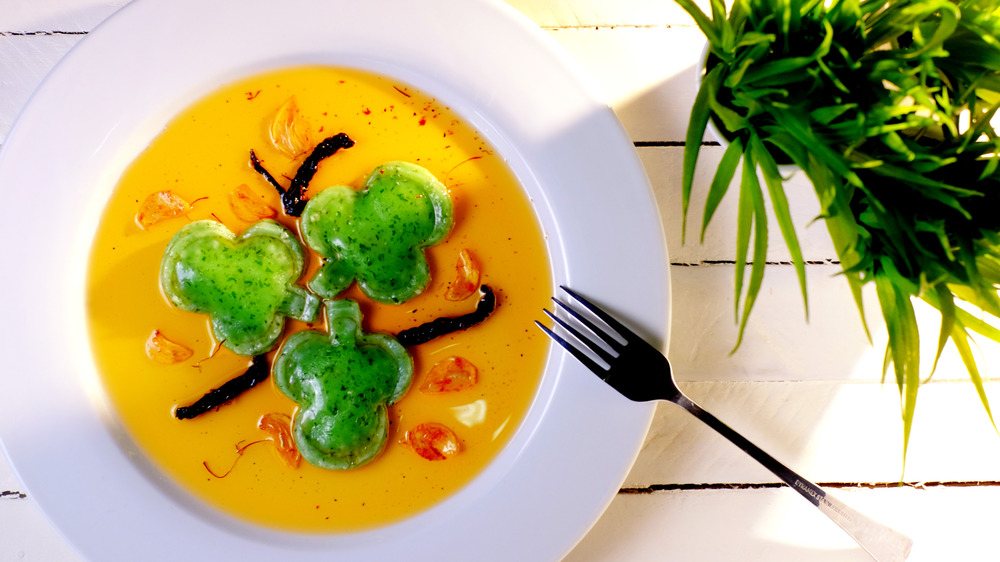 Shutterstock
When it comes to St. Patrick's Day, some people might not be so keen to chow down on some of the classic Irish staples. Though Irish stew, corned beef, and cabbage might suit some, others might be much more excited about the latest Costco find that's perfect for your celebration — especially for the kids (via The Spruce Eats). Not to mention, the Irish cream Junior's cheesecake at Costco is another shortcut and delicious way to end the meal, though it isn't very traditional.
Apparently, a Costco fan account on Instagram, @Costcodeals, spotted shamrock-shaped pasta at the big-box retailer on Tuesday, February 23rd. In less than a day, the posted photo received more than 1,500 likes. It's probably safe to say this is going to be a very popular option this year for a celebratory, themed dinner at home. The caption read, "How fun are these @nuovopasta #shamrock #ravioli 2/20oz packs for only $8.99!" Two 20-ounce packs of Nuovo Pasta Cheese Ravioli for $8.99 is quite a steal, so you might even want to buy an extra pack to have on hand to enjoy even after St. Patrick's Day.
How customers feel about Costco's shamrock shaped ravioli
Costco customers and fans of the Instagram account seem to agree. They quickly replied to the post and many people tagged their friends and family. One person tagged someone and simply said, "Welcome to the club." Another person tagged someone else and added, "We need!" One asked their tagged friend, "Did you see these?" One fan celebrated: "We got ours!"
According to the blog Red Tricycle, packs of Nuovo's shamrock-shaped ravioli include pasta filled with imported aged Irish cheddar, white cheddar, shredded mozzarella, ricotta, and parmesan cheese.
The overwhelming consensus, however, was that these playful cheese ravioli pasta packs were perfect for kids. The tags continued as one comment said, "Your kids need these," after tagging a friend. Another tagged comment said, "I feel like your kids would [heart emojis]." But whoever is eating the ravioli, chances are it's going to be great. So stop by your local Costco and pick some up before St. Patrick's Day. They just might sell out faster than you realize.