TikTok's Baked Feta Pasta Is Healthier Than You Thought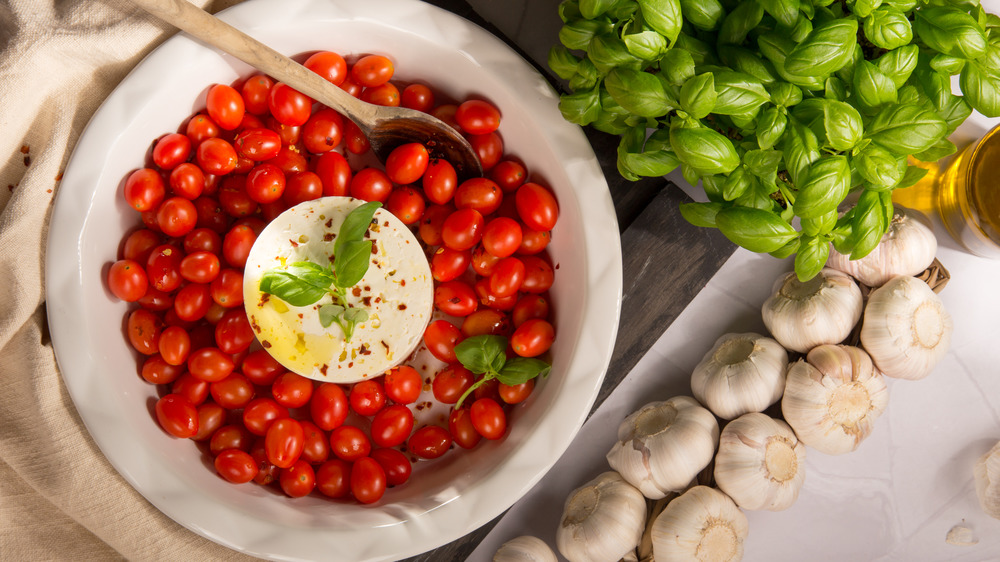 Shutterstock
TikTok has introduced an endless variety of content to the world. Aside from some pretty cringe-worthy choreographed dance moves, the platform has also blessed its users with adorable pet videos, celebrity gossip, useful skincare hacks, and of course, plenty of tasty recipes.
Recently, a TikTok trend featuring a now-famous baked feta pasta casserole made its way to phone screens around the globe. The original version came from Jenni Häyrinen, a food blogger whose recipe for uunifetapasta (oven-baked pasta in Finnish) caught the attention of millions. According to the blogger herself, the video became so popular that feta cheese sales skyrocketed by 300 percent in Finland, and shops were struggling to keep ingredients in stock! That's some recipe. In actuality, it's quite simple to throw together. All you need are cherry or grape tomatoes, olive oil, chili pepper, an entire block of feta cheese (!), fresh basil, garlic, salt and pepper to taste, and a pasta of your choice.
So, what's the deal with uunifetapasta? What makes it so awesome? And better yet, can it be considered healthy? A trusted dietician helps break things down.
What makes baked feta pasta healthy?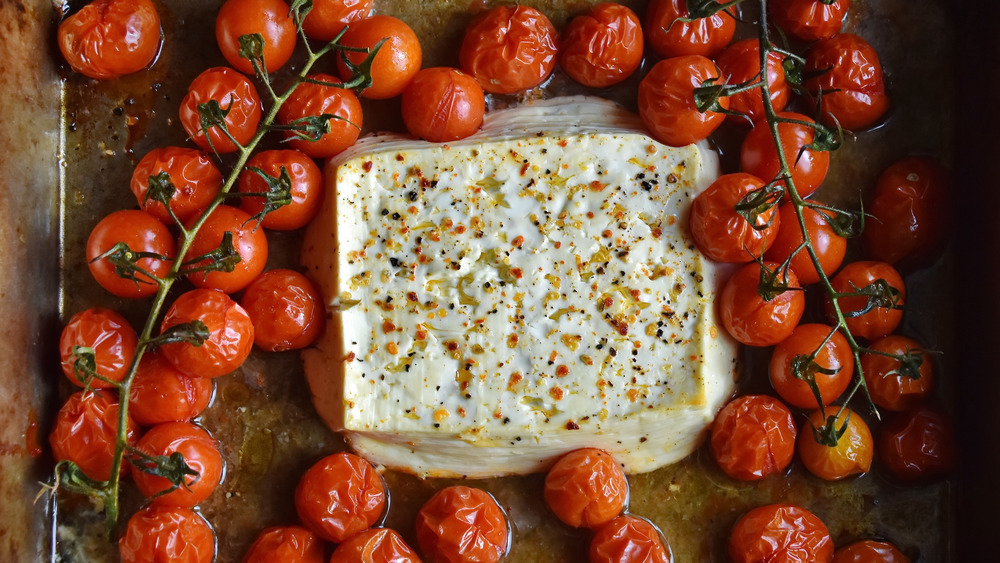 Shutterstock
Dana Angelo White, MS, RD, ATC explained the several health benefits of the key ingredients in the baked feta pasta dish on Food Network's Healthy Eats site.
First things first: tomatoes. According to Healthline, tomatoes are jam-packed with nutrients, including vitamins C and K, potassium, and the antioxidant lycopene. Lycopene has been linked to reduced risk of heart diseases and cancer. And a study conducted by the National Library of Medicine shows that when tomatoes are cooked in olive oil, it's believed that even more lycopene is made available to the eater. Speaking of olive oil, it provides heart-healthy monounsaturated fats (per Healthy Eats) and is also a good source of vitamins E and K. So, go ahead and pour it on — just enjoy it in moderation. 
Garlic and basil are also featured in the viral feta pasta recipe. Garlic is a well-known immunity booster, anti-inflammatory, and blood pressure regulator, according to Cleveland Clinic. Basil on the other hand has been shown to reduce the risks of cancer, diabetes, heart disease, and arthritis, reports WebMD. And what about the star of the show? According to White, feta offers five grams of protein per ounce as well as 15 percent of the daily calcium recommendation.
At the end of the day, it's still a pasta dish. Cooked pasta is the last element that's added, but if you're looking for a healthier alternative, bean-based pasta, roasted spaghetti squash, or spiralized zucchini noodles taste just as great, according to Healthy Eats. Either way, it makes for an excellent meal that can be both nutritious and delicious. And yes, it's absolutely worth the hype!