The Complicated Dish Kate Hudson Cooks When Hosting Dinner Parties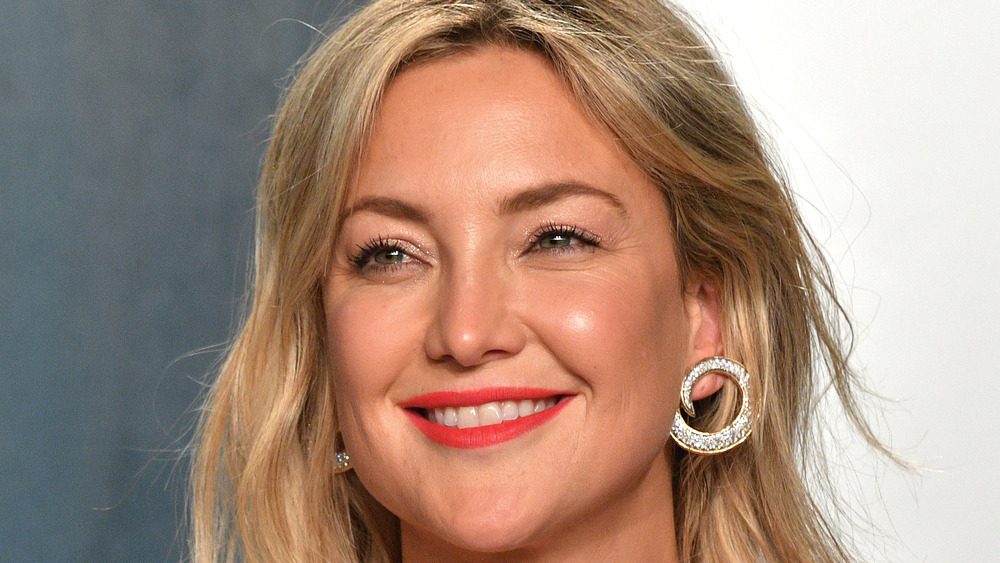 George Pimentel/Getty Images
We may receive a commission on purchases made from links.
Kate Hudson knows a lot about entertaining and hosting dinner parties. Maybe she gets it from her famous mom and Hollywood icon, Goldie Hawn, or maybe it is just a part of the Southern California way, but according to Chatelaine, Hudson shares that her approach to the perfect party is "nothing too perfect, nothing too fussy, just the right amount of attention to detail to look great, but not so stuffy you can't enjoy yourself." The How to Lose a Guy in 10 Days actress has even penned a book aptly titled Pretty Fun which she dedicated to her "Ma and Pa" for inspiring her to create and celebrate traditions.
One tradition Hudson recently shared with Mary McCartney while appearing on an episode of the brand new discovery+ show, Mary McCartney Serves It Up, is her go to dish she cooks up when she hosts a dinner party. What's surprising about Hudson's choice is that it's one of those dishes that rests on both ends of the difficulty and ease spectrum. Confusing yes, but Hudson's go-to dinner party dish can also be, well, a little complicated, of course, that is unless you are a seasoned pro like her. What is this mystery dish? Per Food Network, it just so happens to be mushroom risotto.
Making risotto requires attention and patience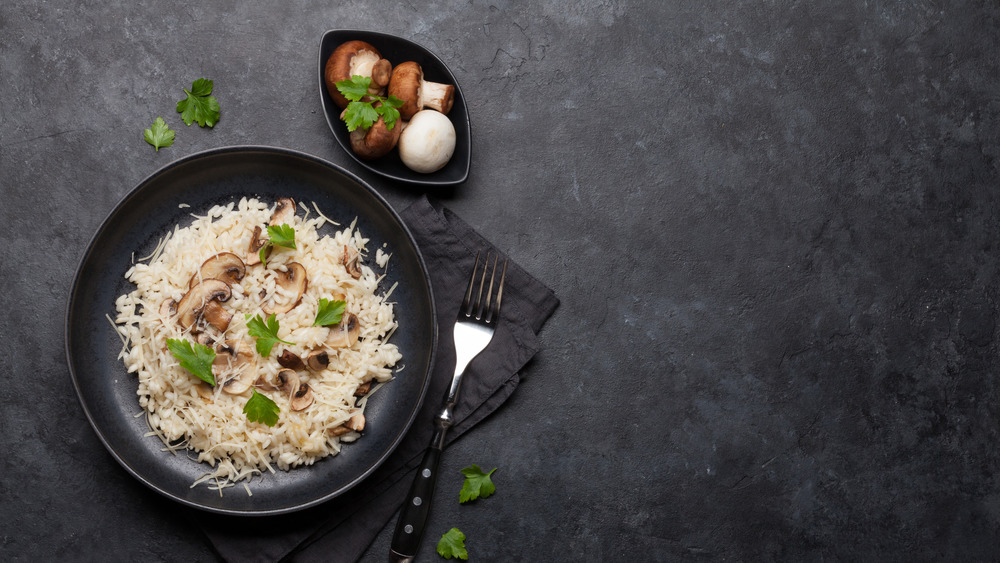 Shutterstock
What makes this dish complicated for entertaining? Glance through Chowhound's forum and you will find that most people do not think risotto is a difficult recipe to make, however, it isn't easy either. This stems largely from the amount of time and attention risotto requires. One user shared, "The only thing you need to realize is you should be able to stand over the pot and stir it frequently. It will take about 20 minutes to cook, depending on the quantity and will require 95 percent of your attention that entire time." Which means less time for socializing with guests unless you prepare it ahead of time.  
If you haven't had a chance to tune in to McCartney and Hudson's conversation, you should. There's a lot that goes down in the almost three-minute video exchange that is posted on Facebook. McCartney begins the virtual conversation by asking Hudson about the first foods she remembers cooking. Hudson tells McCartney that it was traditional Jewish foods like Matzah balls and brisket made with her grandmother.
Hudson then goes on to reveal several nuggets to feast upon, including the challenges of eating healthy on set and that no one leaves New Orleans without a few extra pounds, but she also notes when it comes to New Orleans food, it's totally worth it. We also learn Hudson's guilty pleasure is none other thanfFrench fries. Watching her and McCartney chat is almost like getting an invitation to one of her dinners.