Cobb Salad Recipe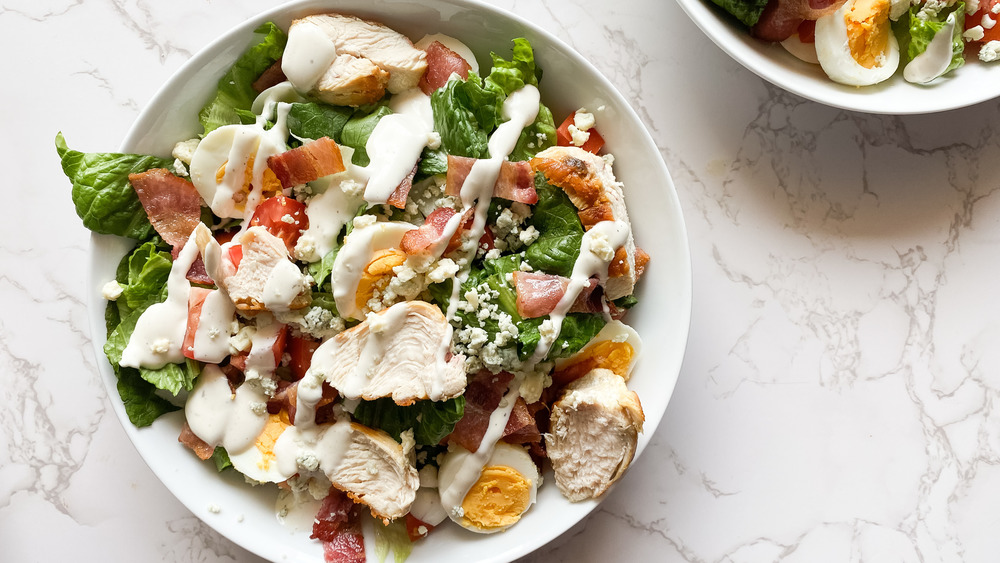 Kristen Carli/Mashed
Cobb salad is one of those items you probably only associate with a great lunch spot. But you don't have to go to a restaurant in order to enjoy this all-star lunch or dinner staple, and this recipe is insanely easy to throw together. We got this gem from Kristen Carli of Camelback Nutrition & Wellness in Scottsdale, Arizona. Carli is a Registered Dietitian Nutritionist and recipe developer who also creates plant-based fare over on her blog, Mostly Green. She tells us, "This is a classic Cobb salad. It's a great lunch for a weekend!"
This Cobb salad has got everything you could ask for in a well-balanced meal — greens, protein (namely, bacon), and creamy dressing. This recipe yields four servings so be ready to share, or box up the remaining three servings (dressing on the side) for lunch or dinner the next day. 
Gather the Cobb salad ingredients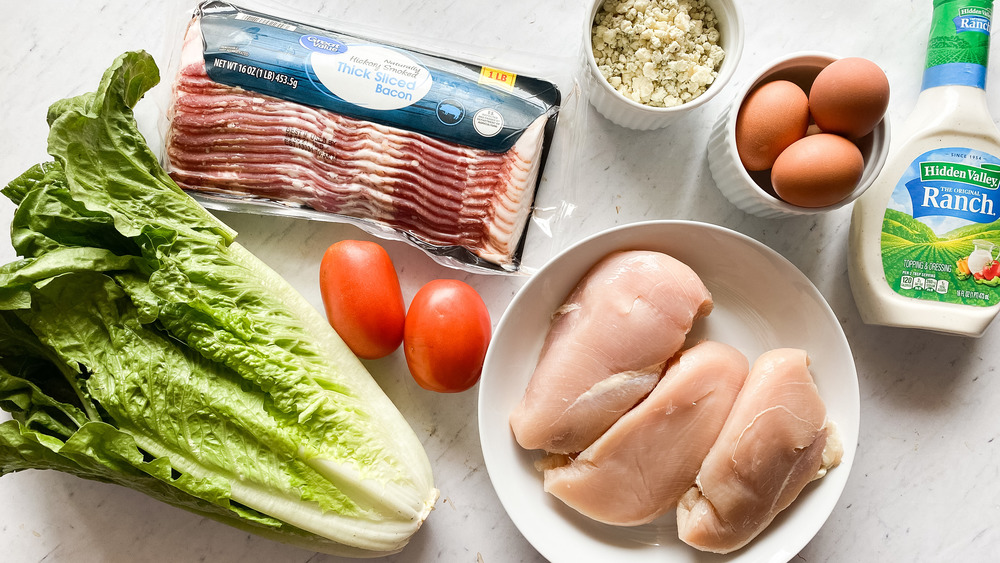 Kristen Carli/Mashed
We're big proponents of getting all your ingredients prepped and ready, prior to commencing the cooking/salad assembling. That way everything you need is easily accessible. 
For this Cobb salad recipe, you'll need six strips of bacon (that you're gonna cook in the next step); three boneless, skinless chicken breasts (which will also be cooked later on in the recipe, obviously); one head of romaine lettuce, chopped; two Roma tomatoes, diced; four hard boiled eggs, sliced; six ounces of crumbled blue cheese; and about 12 ounces of ranch dressing (more if you REALLY like your ranch).
Go ahead and preheat the oven to 425 degrees Fahrenheit after you've assembled all the ingredients. Need help boiling the eggs? Here's a pro tip from Carli: "Place [the eggs] in a saucepan filled with cold water, bring to a boil, cover and then turn off heat. Allow to sit with lid on for 15 minutes."
Cook the bacon for the Cobb salad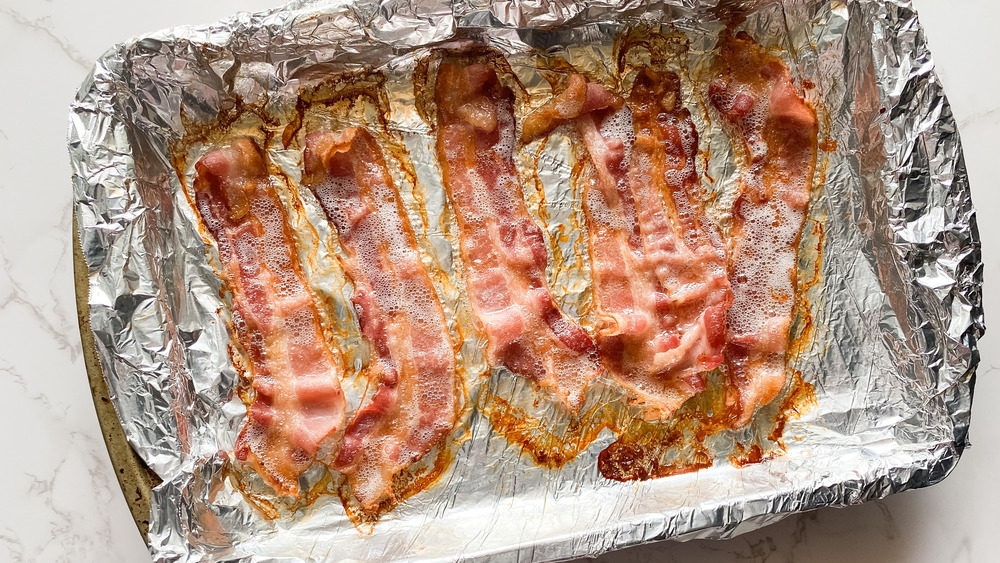 Kristen Carli/Mashed
This probably goes without saying but, you gotta cook that bacon before you serve it over the Cobb salad. If you're traditionally a pan frying bacon person, you might love this oven-baked version. It's a lot less messy and not gonna leave a giant trail of splatter across the stovetop in its wake.
Place the six bacon strips on a baking sheet lined with aluminum foil (definitely no need to grease the foil since bacon will provide plenty of its own grease to prevent pan stick-age) and cook them in the oven for about 12 minutes, more or less depending on your desired level of crispiness and your oven's cooking speed. Take the bacon out and use tongs to place each slice on a plate lined with paper towels, then allow the bacon strips to cool for a bit.
If you want more bacon for your Cobb salad, you can certainly bake more slices but we wouldn't recommend crowding too many on a standard sheet pan.
Sear the chicken breasts for the Cobb salad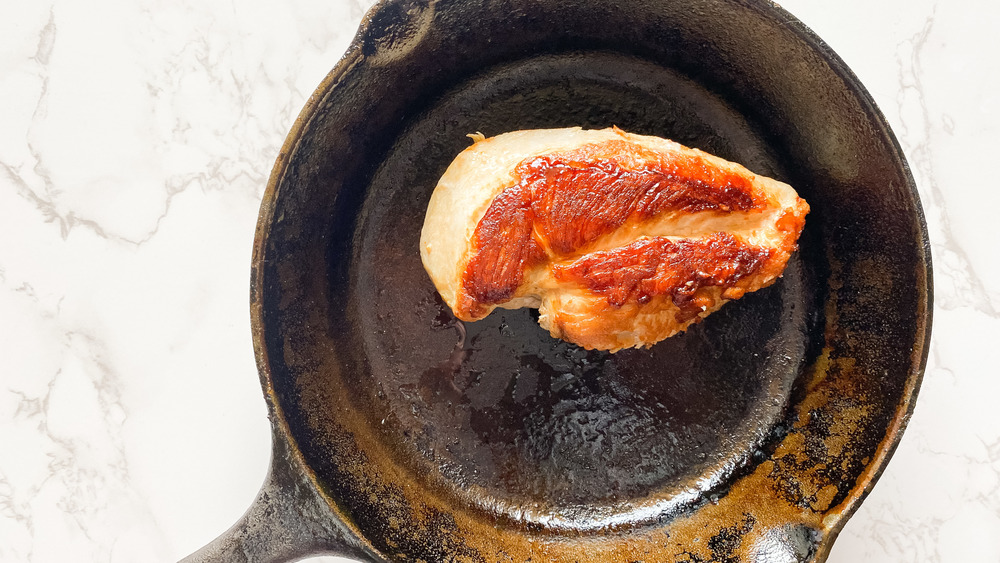 Kristen Carli/Mashed
Next up, you need to cook the other main meat component of this Cobb salad, the chicken breasts. The chicken breasts can be seared pretty effortlessly. In a small cast iron skillet, cook the chicken on medium-high heat for about four minutes per side, until the chicken is cooked through. When all the breasts are done, slice them into medium to large pieces. Depending on how well seasoned your cast iron is, you might want to coat it with a touch of oil prior to placing the chicken down. Definitely make sure the skillet is hot before you add the chicken.
Also, it might speed up the cooking time if you pound the chicken out a bit prior to searing but it isn't necessary. Just make sure when you cut into the chicken that no part of it is still pink. Use a meat thermometer if you really want to be safe.
Chop the lettuce for the Cobb salad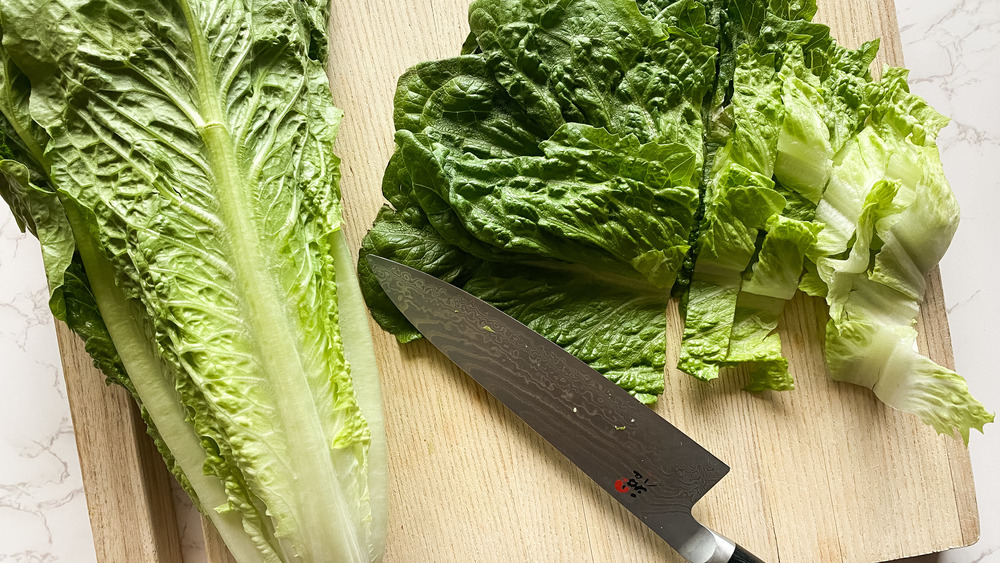 Kristen Carli/Mashed
After the chicken breast and bacon slices are cooked, you're getting pretty close to commencing the cobb salad assembly line so it's time to ready the lettuce. This Cobb salad recipe calls for one head of romaine lettuce, and it's gotta be chopped. The chopped part is clutch. Some might say that when it comes to salad, the more shredded the lettuce, the better.
You can use a sharp chef's knife and a cutting board to do the job, or you can bust out your kitchen shears, place the head of lettuce in a large bowl, and go to town. We think kitchen shears (the "good scissors" of the culinary world) are a highly underrated meal prepping tool that takes so much work out of chopping. You can also buy the pre-washed, pre-chopped bagged romaine if you want to make this step even easier — you might just need to buy two bags to get four full servings.
Slice the bacon for the Cobb salad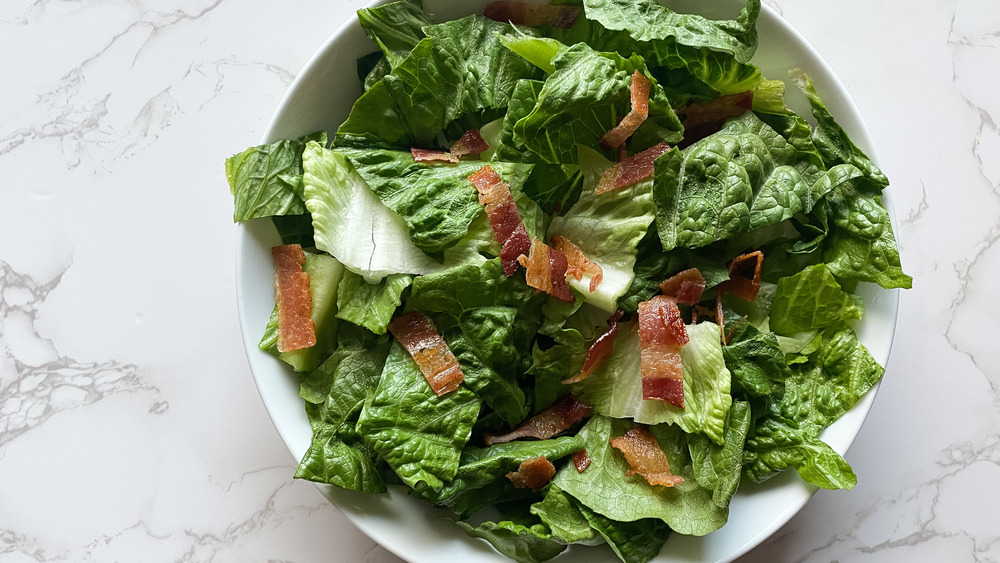 Kristen Carli/Mashed
In this next step, where the Cobb salad recipe calls for you to cut the bacon slices into 1/4-inch strips. Again, did we mention how much we love kitchen shears? They can be utilized here too. Use a paper towel to blot out any remaining grease on each strip, then gently snip the slice so you've got a nice heap of homemade bacon bits, which will taste far superior to the store-bought, freeze-dried kind. But also, why would you not take any excuse to cook real bacon? Our dedication to cooking bacon, even if you want healthy ways to cook bacon, is unwavering. We've also go the untold truth of bacon for your reading pleasure. 
So now the bacon and chicken should be cooked, cut, and sliced accordingly, and you can move on to the next part of the recipe, assembling the salad for consumption.
Assemble the Cobb salad in bowls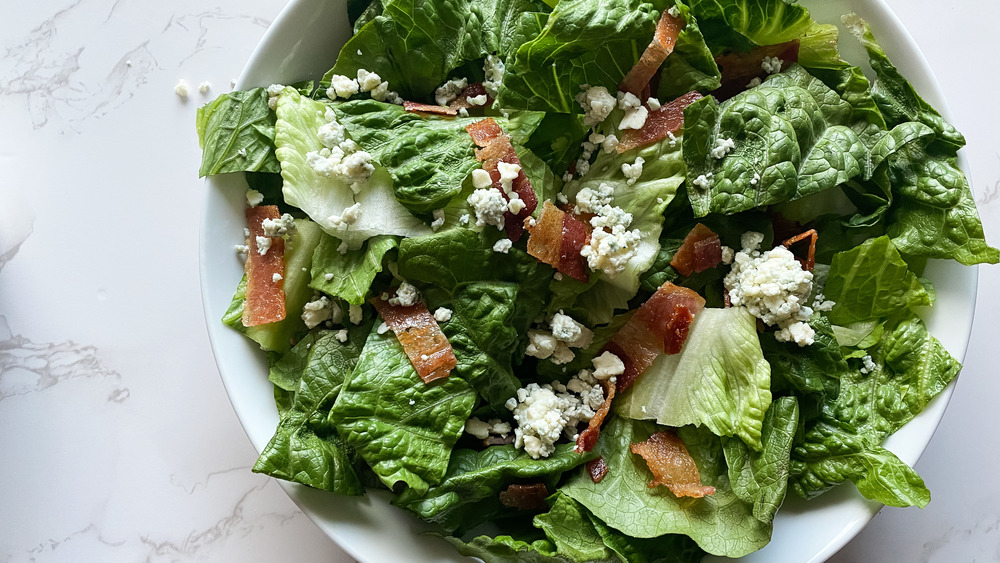 Kristen Carli/Mashed
Now it's time to make the actual salads (you're probably really hungry by now if you've been sniffing that bacon). Assemble the Cobb salads by plating the chopped lettuce, diced tomatoes, bacon pieces, sliced eggs, cheese, and chicken, evenly between four bowls. In regards to just how long you should let the chicken and bacon cool before serving, it's up to you. Carli maintains, "I love serving both the chicken and bacon warm, but you do not need to." Some people are big on their entire salad being cold but no shame in the warm protein atop cold lettuce game if that's what you're vibing. 
Some traditional Cobb salads line the non-lettuce ingredients up pretty uniformly but that certainly isn't a requirement, definitely not for this Cobb salad recipe. If you want to spread them out evenly over the lettuce then mix it all together after you add the dressing, you do you.
Drizzle the cobb salad with ranch dressing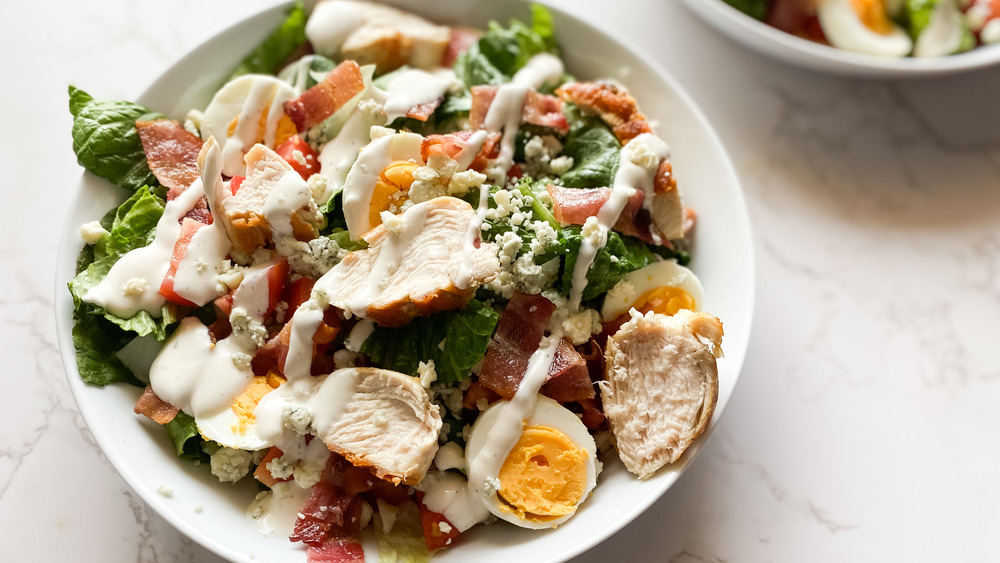 Kristen Carli/Mashed
The final step is to drizzle the salad with ranch dressing. There are so many options when it comes to ranch dressing. Carli likes Hidden Valley Ranch or Sir Kensington's brand, but you might have a favorite of your own. We've definitely got opinions when it comes to fast food ranch dressing. If you've ever wondered where the flavor of ranch dressing even originated, we've got that intel too. Okay, so we are bacon AND ranch enthusiasts at Mashed. There could be worse foods to be obsessed with, right?
If you're meal prepping these salads for eating over the next couple of days, we'd recommend putting them in an airtight container and waiting until you're reading to eat them before adding the ranch dressing. The last thing you need in your life right now is a soggy Cobb salad. 
Cobb Salad Recipe
Salads aren't always the most exciting meal, but toss in some bacon, eggs, creamy ranch, and this Cobb salad with big flavor is anything but boring.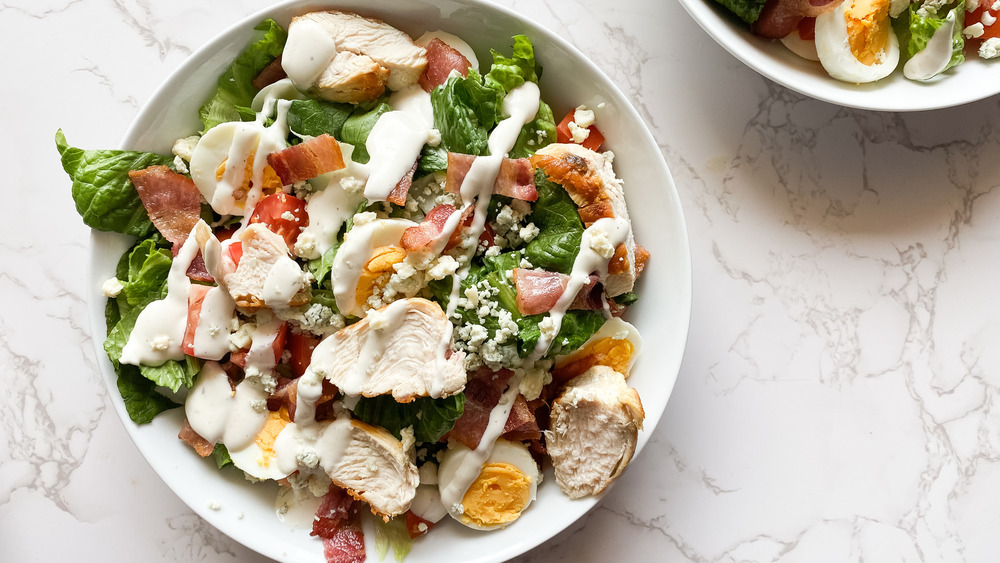 Ingredients
6 strips bacon
2 boneless, skinless chicken breasts
1 head romaine lettuce, chopped
2 Roma tomatoes, diced
4 hard boiled eggs, sliced
6 oz crumbled blue cheese
12 oz ranch dressing
Directions
Preheat oven to 425 degrees Fahrenheit. Place bacon strips on a foil-lined baking sheet and cook in oven for about 12 minutes.
Remove bacon from oven and place on a paper towel-lined plate.
In a small cast iron skillet, cook chicken for about 4 minutes per side, until chicken is cooked through. Slice into medium to large pieces.
Slice bacon into ¼" pieces.
Assemble salads by plating chopped lettuce, tomatoes, bacon, eggs, cheese, and chicken. Dress with ranch dressing.
Nutrition
| | |
| --- | --- |
| Calories per Serving | 947 |
| Total Fat | 75.7 g |
| Saturated Fat | 21.8 g |
| Trans Fat | 0.5 g |
| Cholesterol | 331.2 mg |
| | |
| --- | --- |
| Total Carbohydrates | 13.2 g |
| Dietary Fiber | 3.7 g |
| Total Sugars | 7.8 g |
| Sodium | 1,666.5 mg |
| Protein | 53.5 g |