Oatmeal Pancake Recipe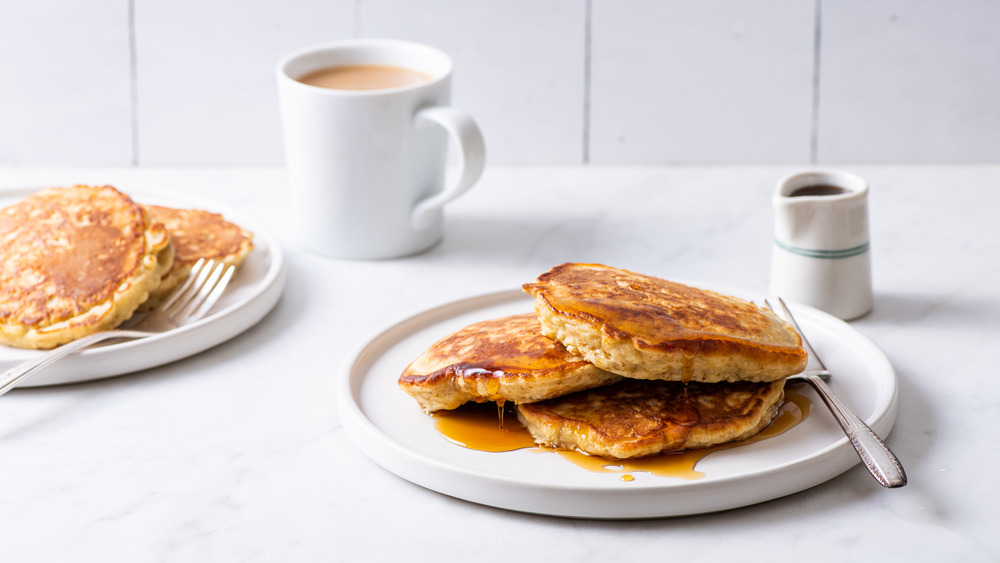 Alexandra Shytsman/Mashed
Is there anything more symbolic of cozy weekend mornings than fluffy pancakes drizzled with syrup? That's a rhetorical question — the answer is of course not, as nothing else quite measures up to the comfort of a perfect pancake. 
These delicious oatmeal pancakes, from recipe developer and photographer Alexandra Shytsman of  The New Baguette, are a healthy and unexpected twist on the original. They're made the typical way, by mixing up basic ingredients like flour, eggs, and milk, except for one special upgrade: rolled oats. Adding oats to your pancake batter makes pancakes that are slightly heartier than the traditional kind made only with flour. They're a bit healthier, too, since oats are an excellent source of fiber and protein, as well as iron, vitamin B1, and magnesium (via Healthline).
These oatmeal pancakes have a fluffy texture, a slightly nutty flavor (thanks to the oatmeal), and they're not too sweet. These cakes are also a great vessel for fun add-ins, like blueberries, banana slices, apple chunks, or chocolate chips, so feel free to play around with individual variations as soon as you get comfortable with the basic recipe.
Gather your ingredients for oatmeal pancakes
Alexandra Shytsman/Mashed
These oatmeal pancakes are made with basic ingredients that you most likely already have on-hand. In the dry ingredients category, this recipe calls for flour, baking powder, a pinch of salt, and of course some old-fashioned rolled oats. You could use quick-cooking oats, but you may end up with grainier textured pancakes.
For the wet ingredients, you'll need some milk, eggs, oil, maple syrup, and vanilla. We like to use oat milk, but you can use any dairy or non-dairy milk you have, so long as it's unsweetened and unflavored. That way, it won't mess with the flavors you're building elsewhere in this pancake recipe. You can use any neutral-tasting oil, too, like avocado or canola. We like using unrefined coconut oil to give these pancakes a slightly coconut-infused flavor in the background.
Soak the oats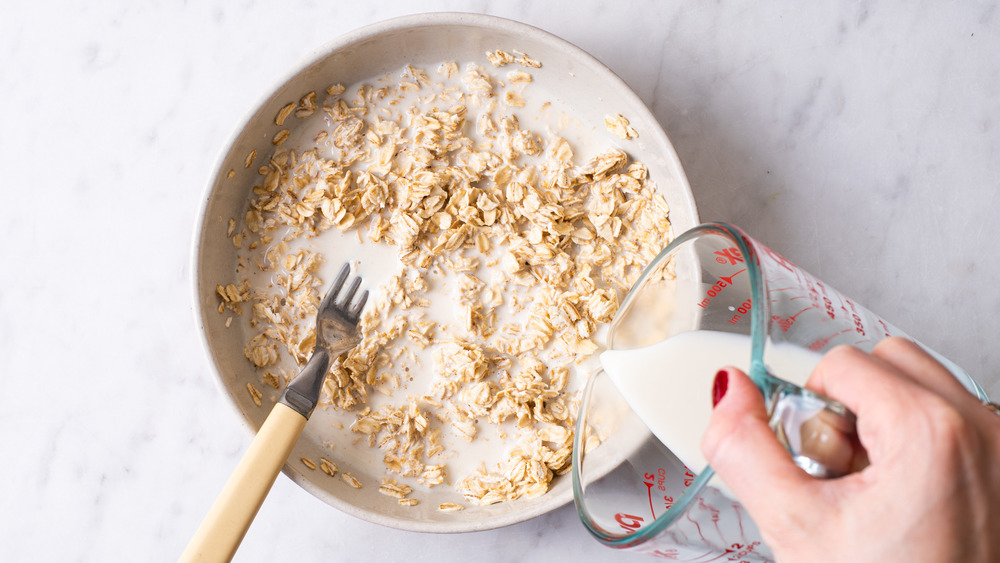 Alexandra Shytsman/Mashed
Step one for making these oatmeal pancakes is to soak the rolled oats. Soaking is important because it starts to break down, hydrate, and soften the oats, allowing them to better incorporate into the batter later on. In fact, the oats are nearly undetectable in the pancakes, texture-wise. So, if you're feeding these to some oatmeal-haters, they likely won't suspect a thing, so long as you soak the oats ahead of time.
To soak, simply place your oats into a medium bowl and stir in the milk. Let this mixture stand for about 10 minutes while you make the rest of the batter, starting with the dry ingredients for your oatmeal pancakes.
Combine the oatmeal pancake dry ingredients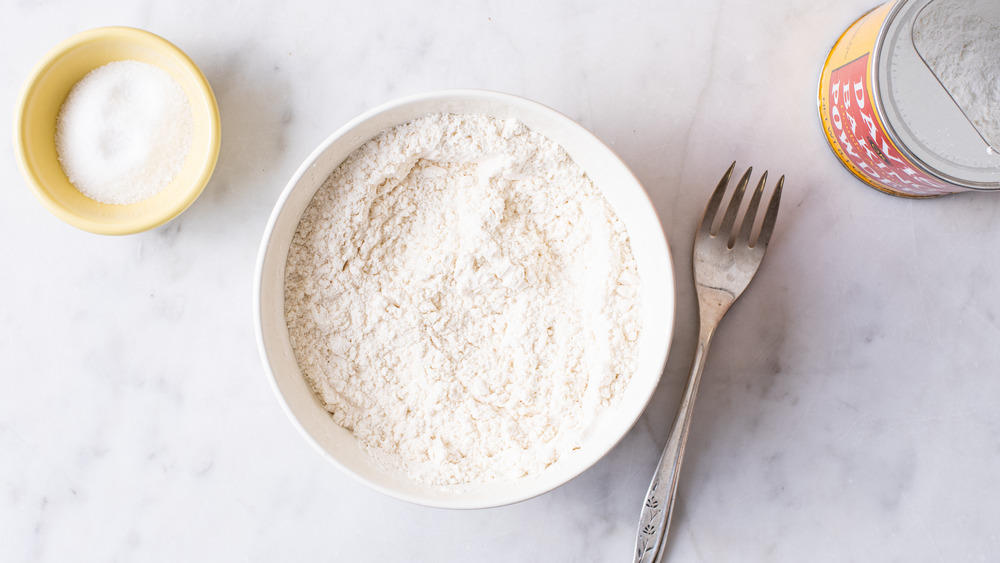 Alexandra Shytsman/Mashed
While the oats are soaking, you can take just a few minutes to prepare your dry ingredients. In a bowl, stir together the flour, baking powder, and salt. Baking powder is a leavening agent, so, along with the eggs, it will help these pancakes rise and become delightfully fluffy. The salt, meanwhile, will balance out the sweetness of the pancakes.
To make these pancakes a little healthier, you can swap the all-purpose flour for whole wheat pastry flour, which should be just as light and fluffy in your finished pancakes, but has all the benefits of whole-grain flour in terms of its fiber, protein, and mineral content. Alternately, you can use half all-purpose and half regular whole wheat flour.
Mix the wet ingredients for oatmeal pancakes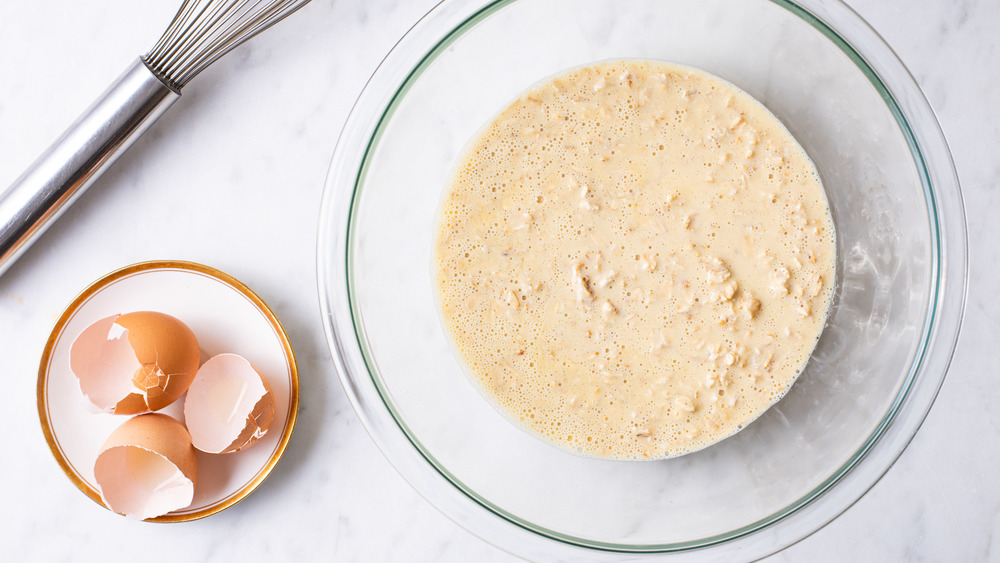 Alexandra Shytsman/Mashed
After the oats have rested for 10 minutes, add the eggs, oil, maple syrup, and vanilla to the same bowl, and whisk to combine. We love adding vanilla extract to pancakes to give them a nice floral aroma and a hint of natural sweetness.
A lot of pancake recipes call for granulated sugar in the batter. We prefer maple syrup for simplicity's sake. Since we'll be eating our pancakes with it anyway, we've already got it out on the counter. Why reach for an additional ingredient from the pantry if we don't have to? Date syrup is another good idea if you're looking for a maple syrup alternative. Both maple and date syrups are way less refined than white sugar and are thus a slightly healthier choice.
People like their pancakes in varying degrees of sweetness. Use just a single tablespoon of maple syrup for minimally sweet pancakes or up to 3 tablespoons if you've got a bit of a sweet tooth.
Combine the wet and dry ingredients for oatmeal pancakes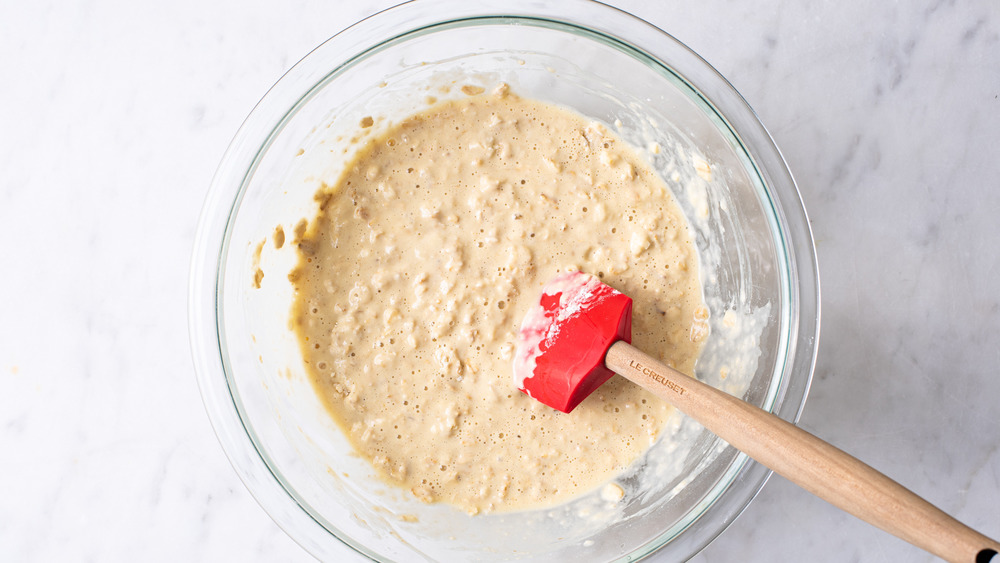 Alexandra Shytsman/Mashed
When you're ready to cook the pancakes, fold the wet ingredients into the dry ingredients. A flat rubber spatula is the best tool for the job, so use it if you have one. Be sure not to overmix the batter, which may result in too much gluten development and overly dense pancakes. Instead, mix just until there are no dry bits of flour visible.
When the batter is done, start preheating a griddle or a non-stick skillet to cook the pancakes. A cast-iron skillet works well, too. To speed up the process, we like to use two skillets at once. This batter makes about eight pancakes, but if you're feeding a crowd, you can easily double this recipe.
Cook the oatmeal pancakes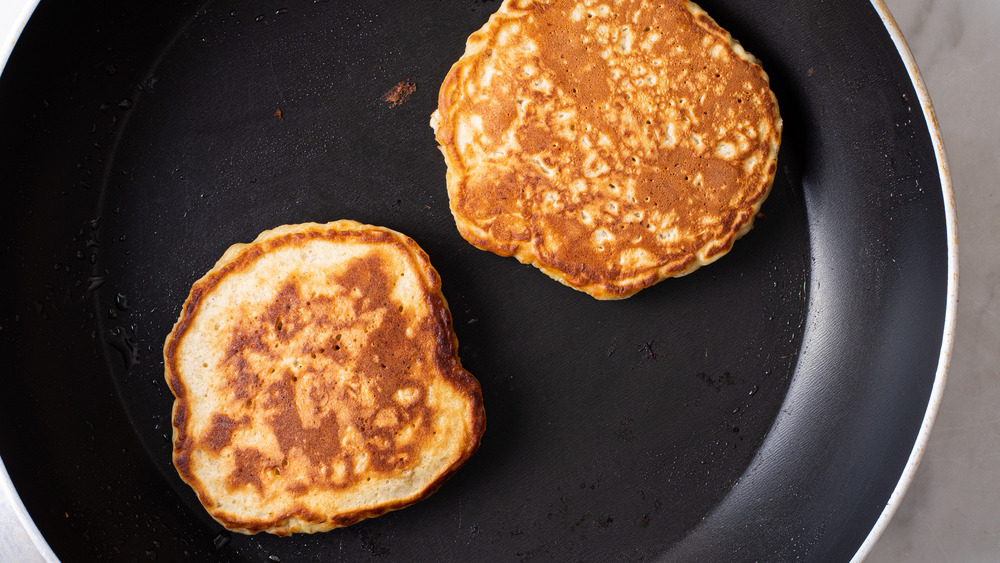 Alexandra Shytsman/Mashed
The amount of oil you need to add to your pan depends on just how non-stick it is, so use your own judgment. Generally, though, you want only a light coating of fat in your pan for cooking pancakes. We recommend cooking these over medium-low heat so the insides have a chance to cook through before the outsides get too dark.
You'll know it's time to flip them when you see lots of bubbles on the surface and the pancakes start to look dry around the edges. This usually takes about 3 minutes.
If you want to add berries and sliced fruit, press them into the still-wet pancakes right after portioning them into the skillet. You can stir add-ins into the batter, too, but there's a chance they'll sink to the bottom of the bowl and then won't get evenly distributed in the batter, so waiting until the batter has met the pan is likely to be your best bet.
Oatmeal Pancake Recipe
These oatmeal pancakes have a fluffy texture, a slightly nutty flavor, and they're not too sweet. These are breakfast pancakes you'll be making every weekend.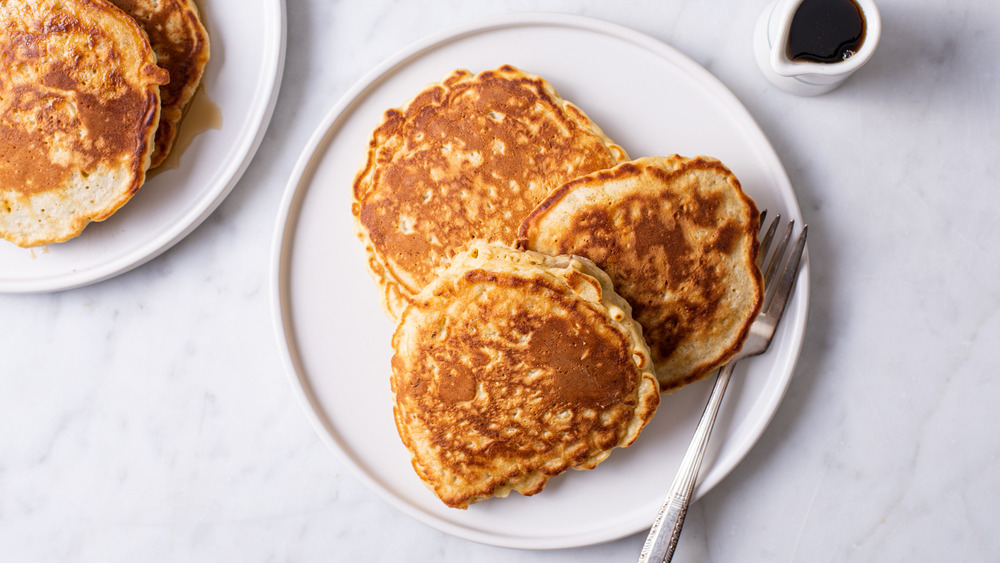 Ingredients
1 cup old-fashioned rolled oats
1 cup milk, dairy or non-dairy (unflavored and unsweetened)
⅔ cup all-purpose flour
2 teaspoons baking powder
¼ teaspoon fine sea salt
2 eggs, beaten
2 tablespoons avocado, canola, or melted coconut oil, plus more for cooking the pancakes
1 tablespoon maple syrup, plus more for serving
1 teaspoon vanilla extract
Optional Ingredients
Blueberries
Banana slices
Chocolate chips
Directions
In a large bowl, whisk together the oats and milk. Let stand for 10 minutes to soften the oats.
Meanwhile, in a separate bowl, whisk together the flour, baking powder, and salt.
To the oat milk mixture, add the eggs, oil, maple syrup, and vanilla. Whisk to combine. Then fold in the flour mixture, just until no dry flour remains. Do not overmix.
In a large nonstick skillet or griddle, heat enough oil to lightly coat the surface over medium-low heat. Scoop ¼ cup of batter into the skillet, making 2 to 3 pancakes at a time. Cook until the pancakes are bubbly on the surface and golden brown on the bottom, about 3 minutes. Flip the pancakes and cook the second side for 1 to 2 minutes more. Transfer to a serving platter and repeat with the remaining batter.
If you want to add fruit or chocolate chips to your pancakes, press them into the still-wet batter just after portioning them into the skillet.
Nutrition
| | |
| --- | --- |
| Calories per Serving | 147 |
| Total Fat | 6.2 g |
| Saturated Fat | 4.0 g |
| Trans Fat | 0.0 g |
| Cholesterol | 43.0 mg |
| | |
| --- | --- |
| Total Carbohydrates | 18.3 g |
| Dietary Fiber | 1.2 g |
| Total Sugars | 3.3 g |
| Sodium | 161.0 mg |
| Protein | 4.8 g |