Cuban Sandwich Recipe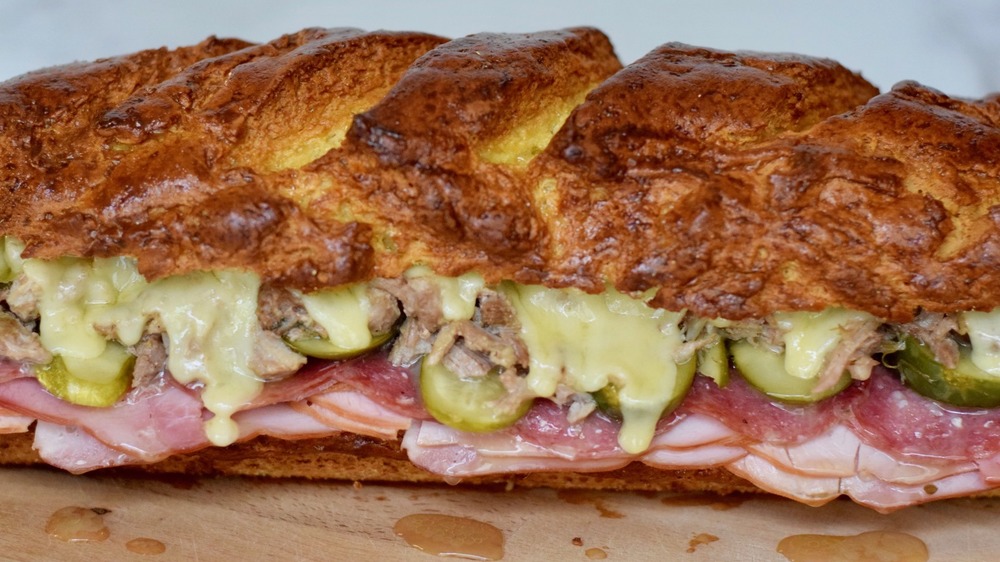 Tara Rylie/Mashed
The history of the Cuban sandwich is hazy to say the least. Some folks say the original version came from the Taino Tribe in Cuba, others claim it was created when Spaniards arrived on the island, bringing with them new meats such as pork and salami. What we do know is that the Cuban sandwich rose in popularity in the mid-1800s, when the Cuban tobacco industry arrived in Florida, starting in Key West and eventually moving north to Tampa. Immigrant workers wanted a quick and affordable lunch, and a Cuban Sandwich gave them just that with a taste of home (via Thrillist).
Piled high with meat and cheese and stuffed with pickles, it's no wonder this dish became a beloved sandwich throughout cafes and diners in the US. But however easy it may sound to throw together, to make a Cuban the right way, there's a few ingredients you must stay true to. Chef Tara Rylie of RylieCakes walks you through how to make a Cuban sandwich in just under thirty minutes while also covering what's traditional, what's not, and what substitutes work just as well!
Choosing the right bread for a Cuban sandwich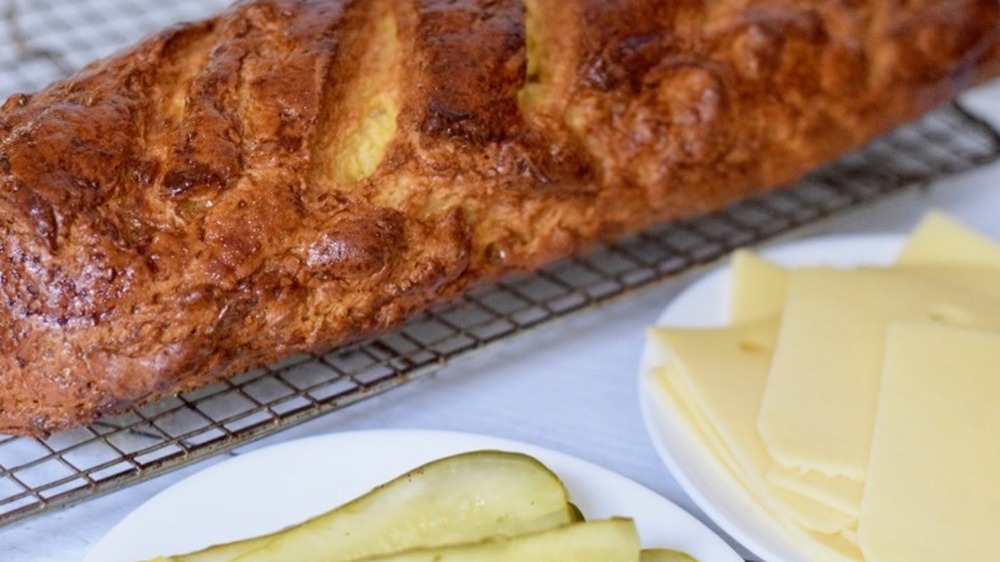 Tara Rylie/Mashed
Technically speaking, every true Cuban sandwich should use traditional Cuban bread. Cuban bread has different ingredients and a different baking method than similar breads such as Italian or French, Ryle explains. 
For starters, a moist palmetto leaf must be placed on top of the dough before baking to give Cuban bread its authentic flavor. Though this sounds dreamy, it's not easy to recreate at home and unless you live in Florida, though even in the Sunshine State, bakers who use the palmetto technique can be hard to come by.
However, thanks to their texture, either Italian bread or French bread can both be used in place of Cuban bread to make a Cuban sandwich. Though a bit more doughy, these breads do the trick and toast nicely, making your Cuban just as tasty.
Pulled pork, ham, and the optional salami are key for a great Cuban sandwich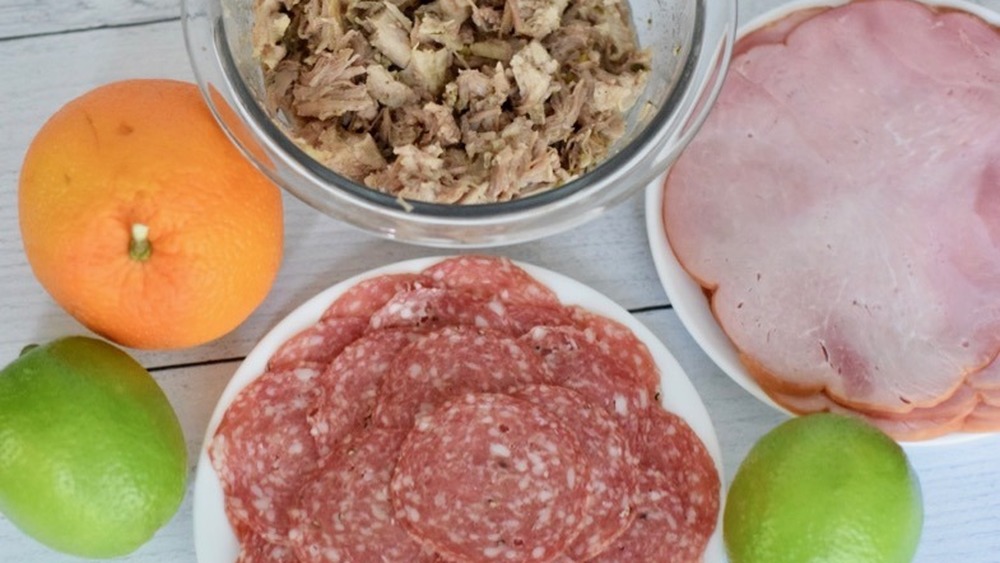 Tara Rylie/Mashed
Let's talk meat. Some form of roasted pork, be it sliced or pulled, must be in a Cuban. The most important thing to note here is that the pork should be marinated in mojo, a sauce traditionally made from fresh orange juice, lime juice, oregano, garlic, and salt. Many delis sell Cuban roasts already wrapped in banana leaves. We found that this is the easiest way to make Cuban roasted pulled pork with all the right flavors.
Ham is also a must for a Cuban but salami is debatable. Because of the large Italian population in Tampa, a Tampa Cuban is always made with salami in addition to the traditional pork and ham. In Miami, there is no salami. Truth be told, it's a pretty big rivalry between the two cities: salami or no salami. We chose to use it here as it adds an even further depth of flavor and pairs so beautifully with Swiss cheese.
Pile high all the toppings for your Cuban sandwich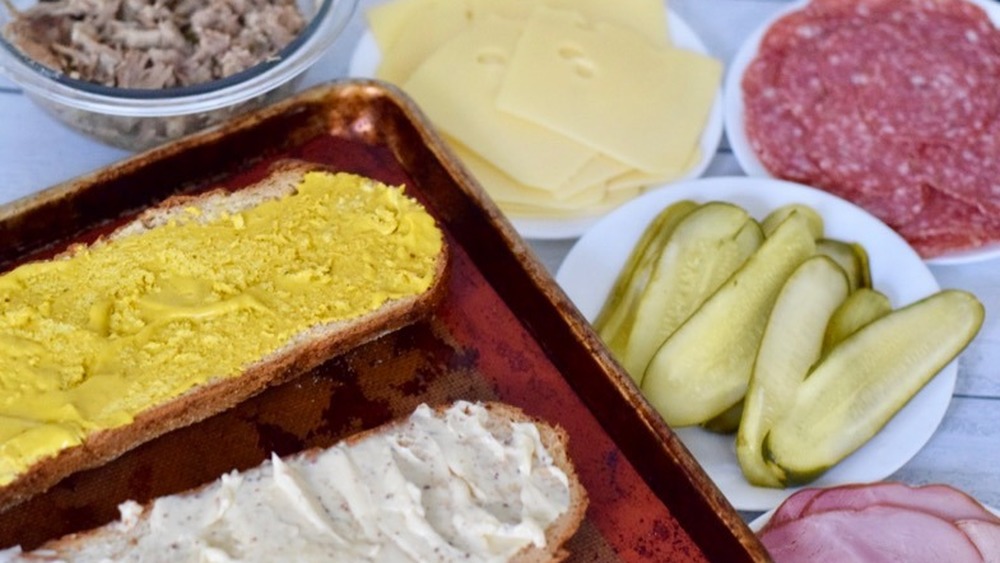 Tara Rylie/Mashed
So, let's make a Cuban already! Start by cutting your bread loaf in half lengthwise and then go ahead and place it on a half sheet pan. Spread mustard liberally on bottom portion and mayonnaise liberally over top portion. 
Then layer your ham slices over the mustard-covered bottom slice of bread. Next, layer your salami over the ham. Then, layer your pickles over the salami slices and the pulled pork over your pickles. If you have extra juices from the pulled pork, go ahead and spoon those over the pork here, this will make your Cuban extra juicy. 
Finally, place your swiss cheese slices over the top of the pickles, overlapping them slightly for an extra cheesy sandwich.
The many ways to toast your Cuban sandwich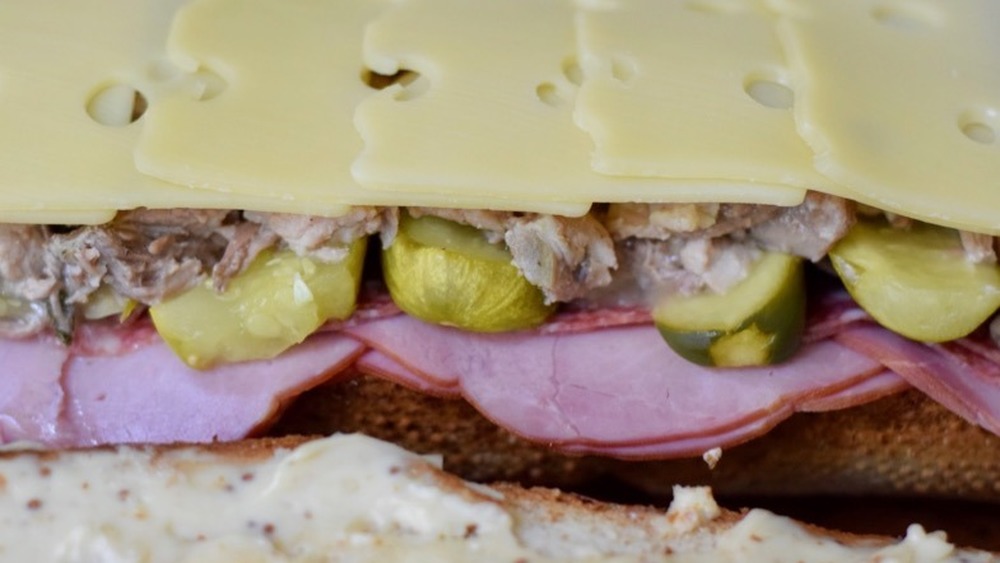 Tara Rylie/Mashed
There are several ways to toast a Cuban sandwich and it really doesn't matter which way you choose, as long as you toast it and serve it hot! We chose to broil our Cuban, as this method is most accessible for at-home chefs. Plus, the beauty of broiling is that you can do one large Cuban all at once, as we've done here, and then cut it into generous serving slices.
Most cafes and restaurants use a panini press which, is probably the ultimate toasting methods but you can also heat up butter in a cast iron skillet, place your sandwich in the pan and then weigh it down by placing another cast iron skillet on top of it. This will toast your Cuban just as well, though it takes a few extra pans. Cubans can be served cold in a pinch, but we just the love the taste and texture of melting cheese and warm, soft bread.
Cuban Sandwich Recipe
With salami, forest ham, pulled Cuban pork, melted Swiss cheese and some Cuban, French or Italian bread, you too can make a delicious Cuban sandwich at home.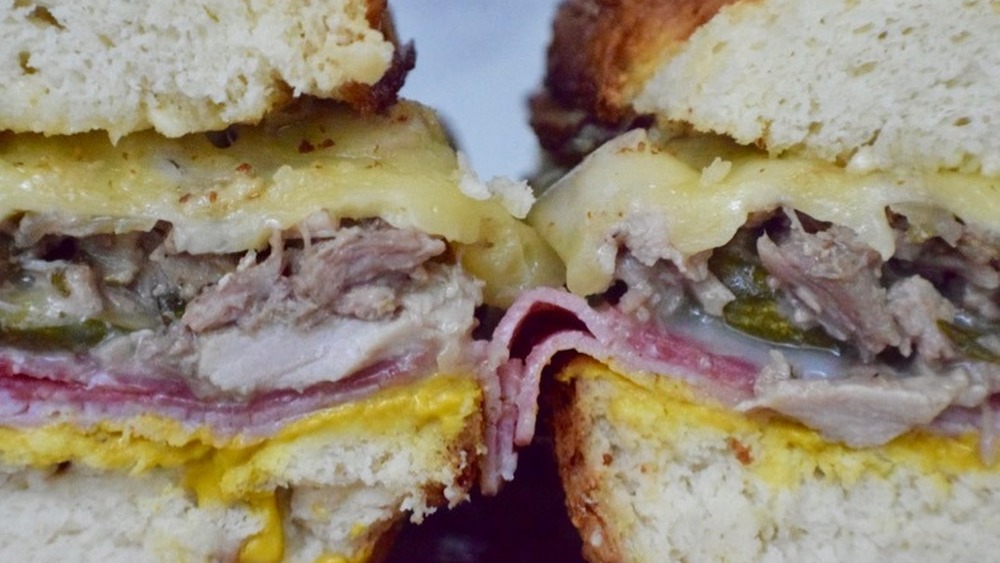 Ingredients
1 loaf Cuban, French, or Italian bread
⅓ cup yellow mustard
⅓ cup mayonnaise
½ lb black forest ham slices
¼ lb salami slices
10 slices (8 oz) pickles
½ lb pulled Cuban pork
½ lb swiss cheese slices
Directions
Cut loaf in half lengthwise and place on a half sheet pan.
Spread mustard on bottom portion and mayonnaise over top portion.
Layer ham slices over bottom portion of bread loaf. Layer salami slices over ham.
Layer pickles over salami slices and then layer pulled pork over pickles. If you have extra juices from the pulled pork, spoon those over the pork here.
Place cheese slices on top of pickles.
Broil open sandwich in oven for 2 to 3 minutes until cheese is melted and mayonnaise is starting to turn golden brown.
Remove from oven and place top portion of bread onto sandwich and press down lightly.
Cut Cuban into 6 thick slices and serve warm.
Nutrition
| | |
| --- | --- |
| Calories per Serving | 593 |
| Total Fat | 36.7 g |
| Saturated Fat | 13.6 g |
| Trans Fat | 0.1 g |
| Cholesterol | 105.6 mg |
| | |
| --- | --- |
| Total Carbohydrates | 31.1 g |
| Dietary Fiber | 2.5 g |
| Total Sugars | 1.1 g |
| Sodium | 1,363.0 mg |
| Protein | 33.1 g |