Instant Pot Baked Potato Recipe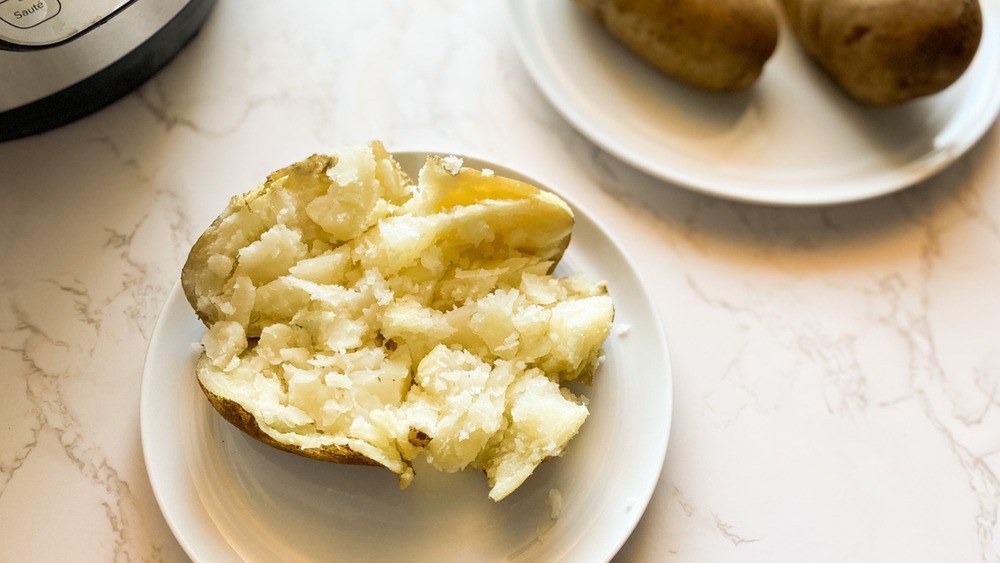 Kristen Carli/Mashed
Ever wish you could enjoy the soft deliciousness of a healthy baked potato without the time investment needed to bake one in the oven — for what feels like forever? Registered dietician Kristen Carli has your back with her Instant Pot baked potato trick, which she says produces results that "taste exactly the same as it would if you were to cook in another method." She does concede, "You may lack the crisp you would achieve in the oven." But you also gain valuable time, with Carli noting, "A baked potato in the oven can take 45 minutes to an hour depending on the size of the potato." 
And isn't the melt-in-your-mouth quality of a baked potato what you're after anyway? Carli guarantees the Instant Pot is your ticket, telling Mashed about her couldn't-be-easier Instant Pot baked potatoes recipe, "These come out perfect every time." To her mind, this is "the joy of working with the Instant Pot!" So get yours ready to rock and sharpen your taste buds for a treat.
Grab your potatoes and set up the Instant Pot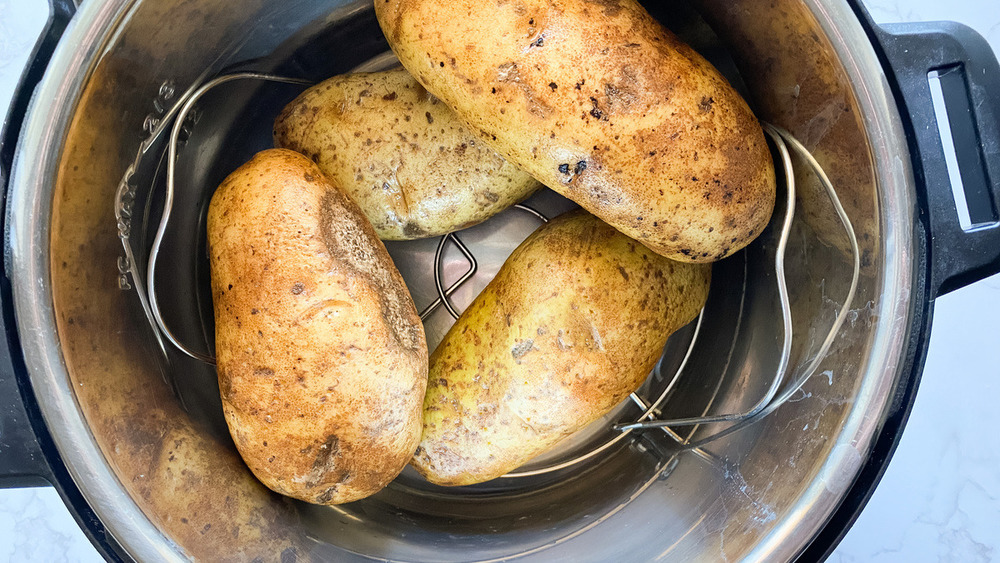 Kristen Carli/Mashed
You literally need one ingredient for this recipe: russet potatoes (and water). We asked Carli why she chose this spud specifically, and she told us, "I used russet potatoes because they are the classic potato to use for a traditional baked potato." However, she notes, "You could, of course, use any kind of potato." Just be aware that, as Carli told us, "If you choose a variety that is much smaller, you would want to decrease cooking time."
Meanwhile, making Instant Pot baked potatoes could not be easier. You will simply place the trivet — which, as Carli explained, "is a metal insert that keeps the food up from the bottom of the pot and helps to prevent burning for any time you are cooking without a lot of liquid in the bottom of the Instant Pot" — inside the pot. You'll pour a cup of water inside.
Next, poke the taters a few times using a fork, and go ahead and stack 'em in the Instant Pot.
Cook the Instant Pot baked potatoes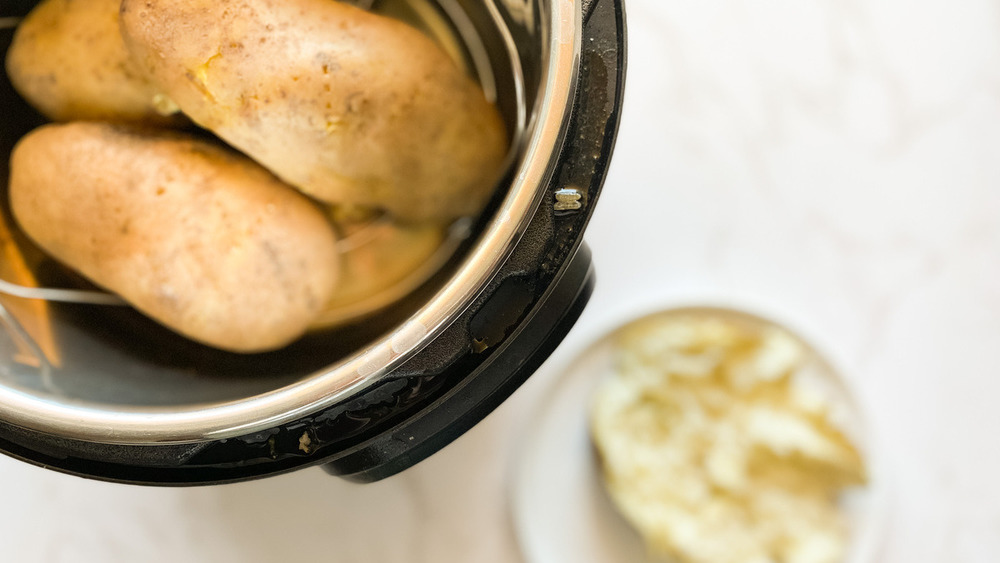 Kristen Carli/Mashed
Once your Instant Pot baked potatoes are snugly nestled inside your Instant Pot, go ahead and close the lid and the vent — to the sealing position. You will set your Instant Pot to the "pressure cook" setting for 20 minutes. That's it! When the 20 minutes is up, quick release your Instant Pot and serve.
Carli shared with Mashed, "I love to make these as an easy starch side to dinner." She told us, "My husband serves his loaded with all the fixings on the side with barbecue chicken and a side salad. I serve mine with steamed broccoli, sour cream, salt, and pepper." 
Of course, you could easily bulk these baked potatoes up to serve as a main. There really is no wrong way to enjoy a baked potato, and now that you know how to turn them out in 20 minutes, you can enjoy this satisfying starch far more often.
Instant Pot Baked Potato Recipe
Ever wish you could enjoy the soft deliciousness of a healthy baked potato without the time investment needed to bake one in the oven?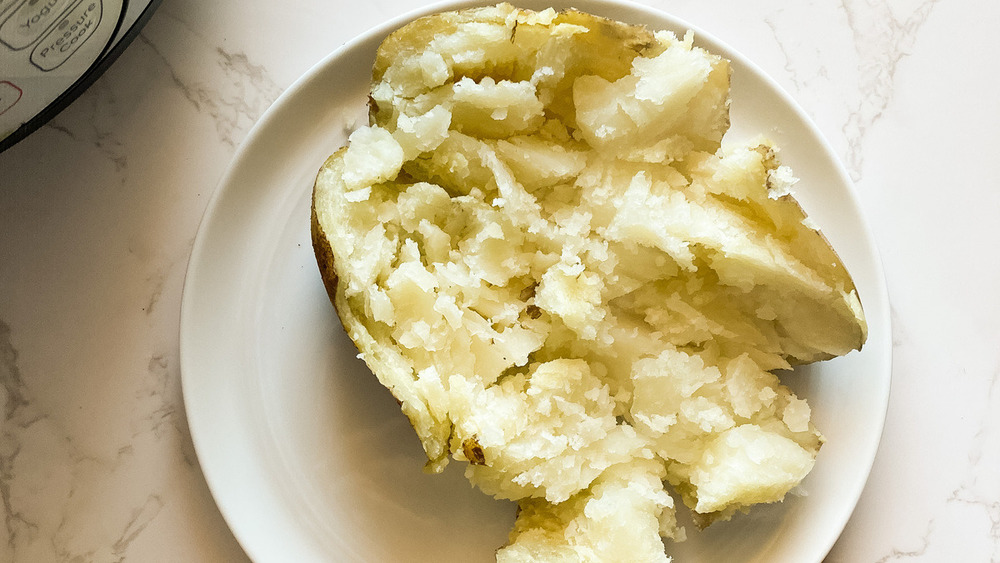 Ingredients
4 russet potatoes
1 cup water
Directions
Place trivet inside Instant Pot. Pour 1 cup water into Instant Pot.
Poke potatoes a few times with a fork. Stack in Instant Pot.
Close the lid. Close the vent to sealing position. Place the Instant Pot on the pressure cook setting for 20 minutes. Then quick release.
Nutrition
| | |
| --- | --- |
| Calories per Serving | 194 |
| Total Fat | 0.2 g |
| Saturated Fat | 0.1 g |
| Trans Fat | 0.0 |
| Cholesterol | 0.0 mg |
| | |
| --- | --- |
| Total Carbohydrates | 44.3 g |
| Dietary Fiber | 3.2 g |
| Total Sugars | 1.5 g |
| Sodium | 14.6 mg |
| Protein | 5.2 g |