Simple Chicken Marinade Recipe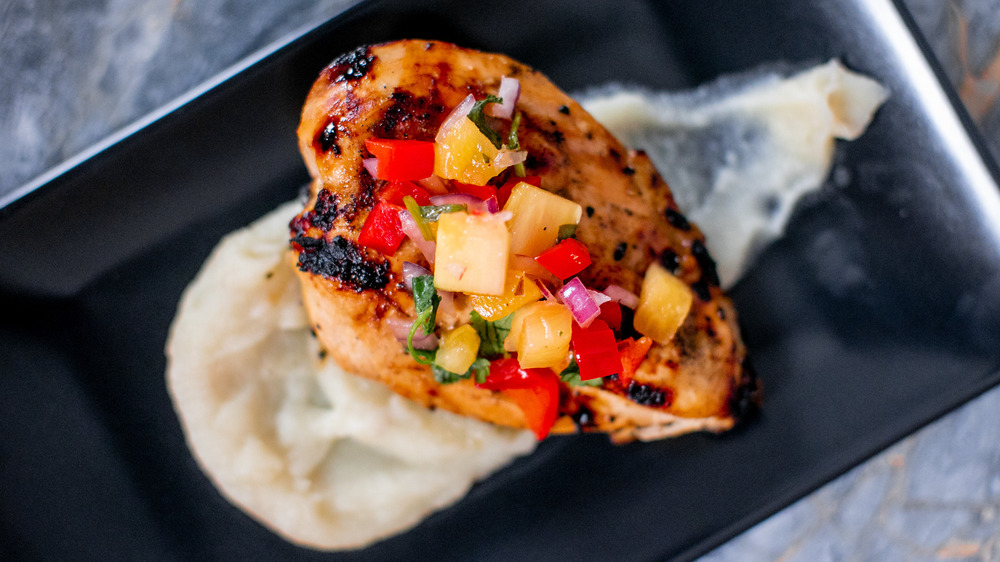 Nathaniel Lee/Mashed
Even for experienced cooks, there are nights when you just want something that's easy and quick for dinner. Look no further than Nathaniel Lee's recipe for a classic chicken marinade. On his blog, Beginner Food, Lee creates recipes that are both simple and elegant. He takes a few ingredients and skillfully turns them into culinary masterpieces that are beautiful to admire and yummy to eat, and this particular marinade of his creation is no exception to the rule. 
This recipe for Lee's chicken marinade really couldn't be easier, and it's incredibly versatile, to boot. The marinade is a base, meaning that you could adjust ingredients for other meats like turkey or pork. "The home cook can add anything they want," Lee told us. "Different herbs, spices, different vinegars, alcohols, or fruit juices, and maintain the properties of a marinade with brining qualities." Once the chicken has been marinated, you can then cook it as you like, of course avoiding a few common pitfalls along the way. 
Since the marinade is acidic, the chicken technically begins to cook while it's sitting in the marinade itself, as the meat reacts to the acids. This all means that your cooking time will be less — particularly on the grill or under the broiler — making this a speedy dinner for any night of the week.
Gather together the ingredients for the chicken marinade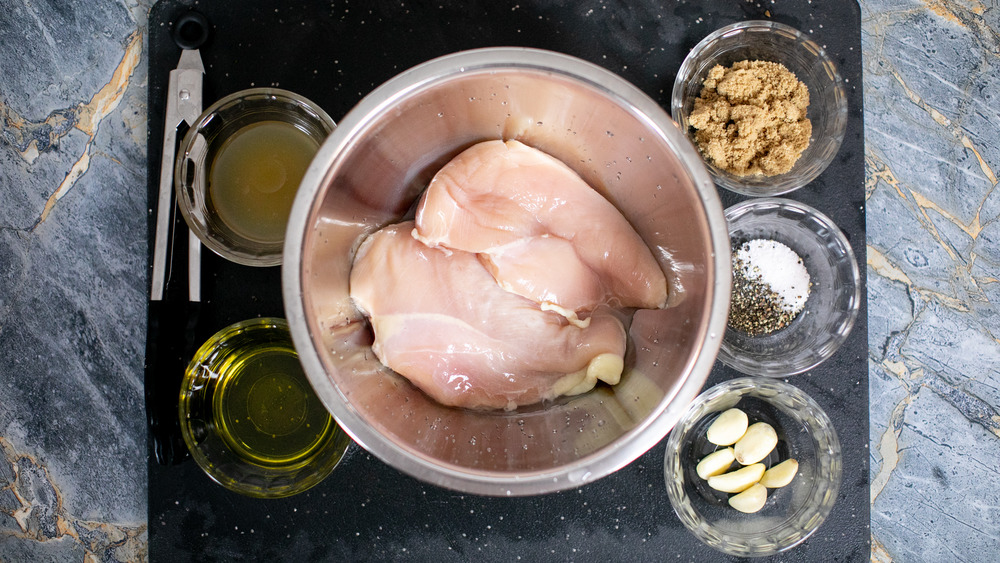 Nathaniel Lee/Mashed
It's very likely that you have the ingredients for Lee's chicken marinade already on hand. They include garlic, olive oil, vinegar, brown sugar, salt, and pepper. Simple, right? But it packs a ton of flavor.
Lee sounds a lot like Mashed's version of Alton Brown as he explained to us what a marinade actually does. First, he wants us to forget what we think we know about a marinade. "They don't really tenderize the meat. Marinades mostly add flavor and penetrate only the first few millimeters of the meat it comes in contact with." That effect typically comes courtesy of acid, by the way, which is generally some type of vinegar. (Lee uses apple cider vinegar for this marinade recipe.) 
Salt, meanwhile, is important because it breaks down meat's myosin fibers. Myosin tends to contract when cooked and then force the meat's juices out, leading to sadly dry chicken. Salt ultimately prevents that from happening, so that the meat effectively retains its juices longer and at higher temperatures. Now that science class is over, let's cook!
Mince and press the garlic with a chef's knife for the chicken marinade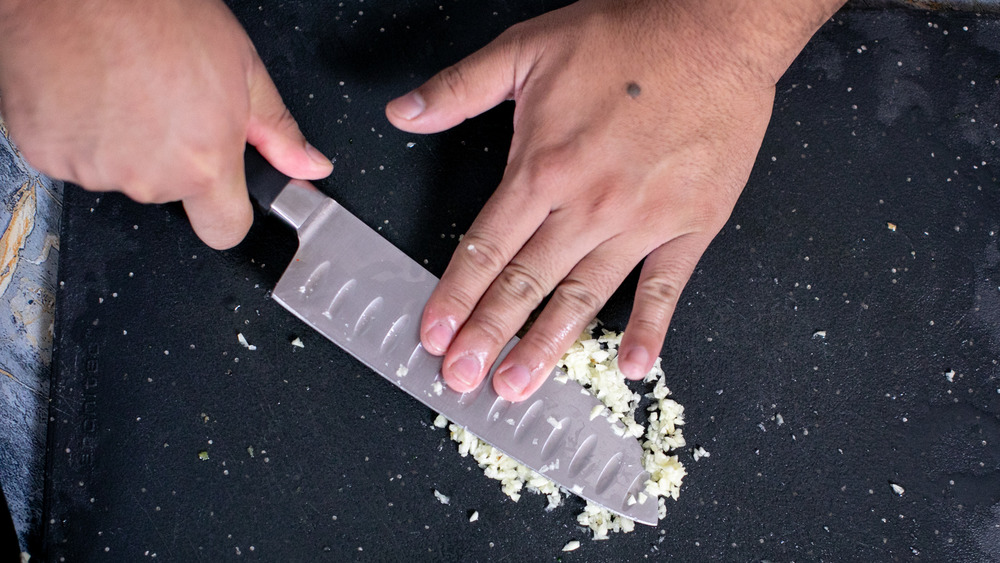 Nathaniel Lee/Mashed
The first step is mincing the garlic, followed by pressing down on the garlic to release its oils. This is a neat chef trick and is a component of making different types of salad dressing, so take a minute to get this technique down and you'll be set for the rest of your cooking life. 
Mince the garlic, then gather it together into a little pile. Sprinkle a little kosher salt on the garlic and, using the back of a chef's knife, press down on the garlic and rub it into the cutting board. The large grains of kosher salt help grind the garlic down and release those aromatic and flavorful oils. If there are still some garlic bits left behind after this process, use the blade end to carefully grind the salt and garlic into a rough-cut paste.
Pound the chicken breast flat for the chicken marinade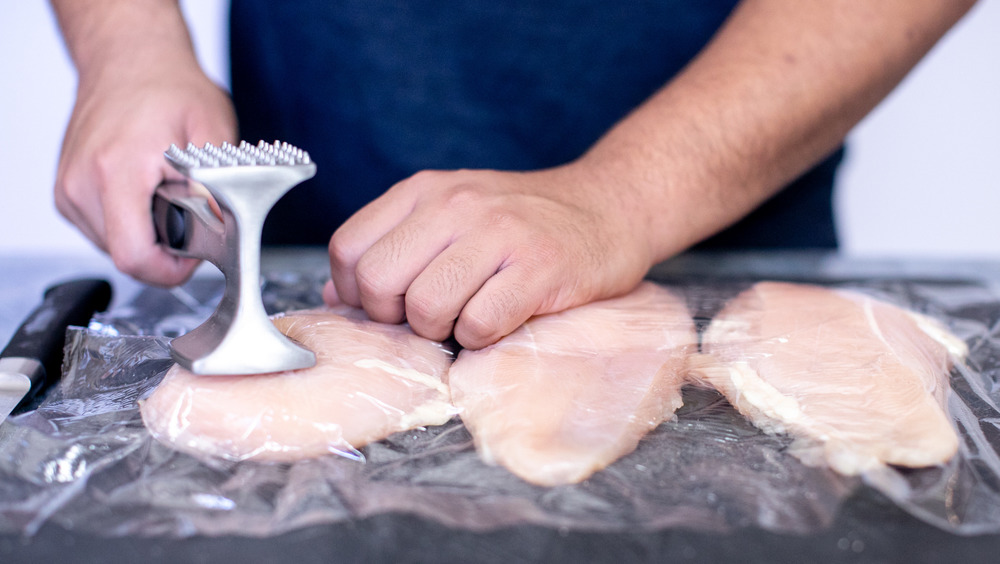 Nathaniel Lee/Mashed
Lee told us that he often sees marinade recipes calling for poking holes in the chicken with a fork. He's not in favor of that method because it allows too much liquid to seep in and out. "Flattening is a better option," Lee told us. "You're evening the surface area, which allows you to cook the meat through. This means less time on the grill that results in even doneness. No dry sides and no undercooked middle." 
To flatten the chicken, first lay out plastic wrap on your cutting board. Put each chicken breast on the plastic wrap (you can do this one chicken breast at a time as well), then cover it with another sheet of plastic wrap. If you have a meat tenderizer, use the flat end to gently pound the chicken to an even thickness. Don't overdo it, though, as chicken breast is delicate and you could rip holes in it if you get a little overenthusiastic with the tenderizer. If you don't have a meat tenderizer, you can also flatten the chicken with a saucepan.
Combine the marinade ingredients with the chicken and refrigerate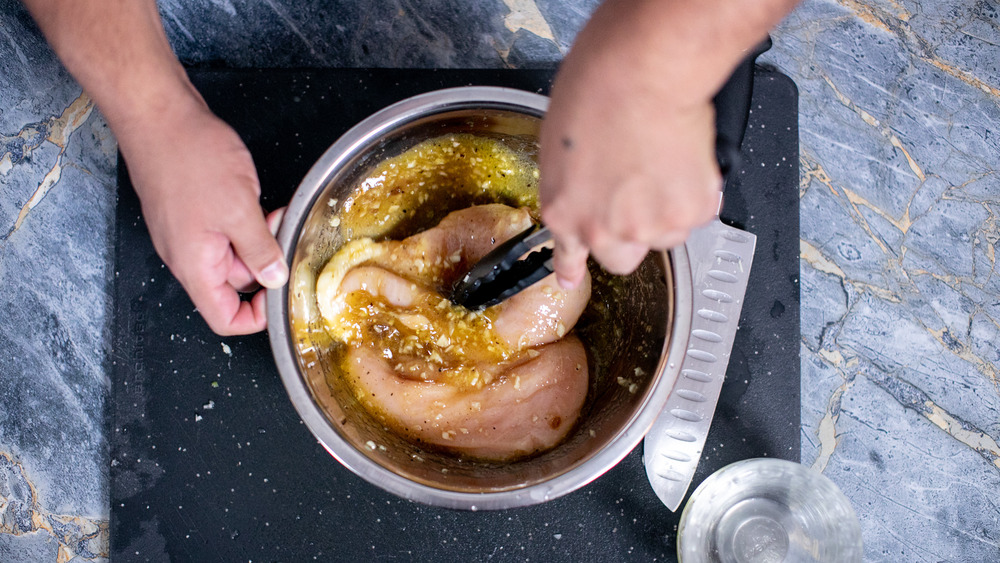 Nathaniel Lee/Mashed
Once you've flattened the chicken, put all of the other marinade ingredients — the garlic, olive oil, vinegar, light brown sugar, salt, pepper, and citrus juice (if using) — into a mixing bowl that can hold all of the chicken at once. Whisk the marinade together. Then, using tongs, lower one chicken breast into the bowl. Make sure the chicken is completely coated with the marinade by turning it over a few times. Repeat this with the remaining chicken pieces. 
Alternatively, you could mix the marinade together in a large plastic storage or freezer bag, then drop each chicken breast in, one at a time, seal the bag, and massage the marinade into the chicken by hand. Whatever method you choose, refrigerate the chicken for 30 minutes and no more than 12 hours. After that time, the chicken will be too softened and can turn mushy once it's cooked.
Cook or grill the marinated chicken and serve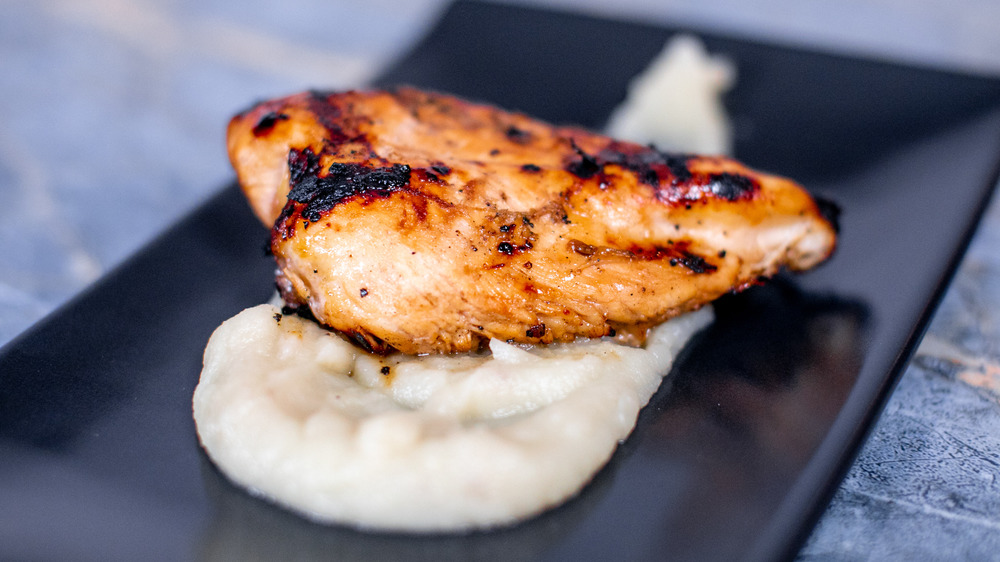 Nathaniel Lee/Mashed
However you choose to cook the chicken — in the oven, under the broiler, on a grill — cook it for 5 minutes, turn it over, and cook another 5 minutes. If you're baking the chicken, be aware that the sugar in the marinade could burn in an oven that's higher than 350 degrees Fahrenheit, so keep a watchful eye on the pieces. 
Before taking the chicken off the heat source, check its internal temperature with a meat thermometer. The chicken will be done when its temperature registers 150-155 degrees Fahrenheit. Let the chicken rest 5 minutes before serving. Its internal temperature will continue to rise and the juices will withdraw back into the meat itself. If you've added a citrus juice to the marinade, you can garnish the cooked chicken with some chopped red onion, red or yellow bell pepper, parsley, and a bit of the fruit from the citrus juice. Lee likes to plate his cooked chicken with a fresh pineapple salsa and a simple parsnip puree. However you choose to serve your chicken, this marinade will quickly and easily turn ho-hum meat into complete and utter chicken elegance, so give it a try when you want a simple dinner.
Simple Chicken Marinade Recipe
Want an incredibly tasty piece of chicken but tight on time? This easy marinade recipe will quickly take chicken to delicious heights with pantry ingredients.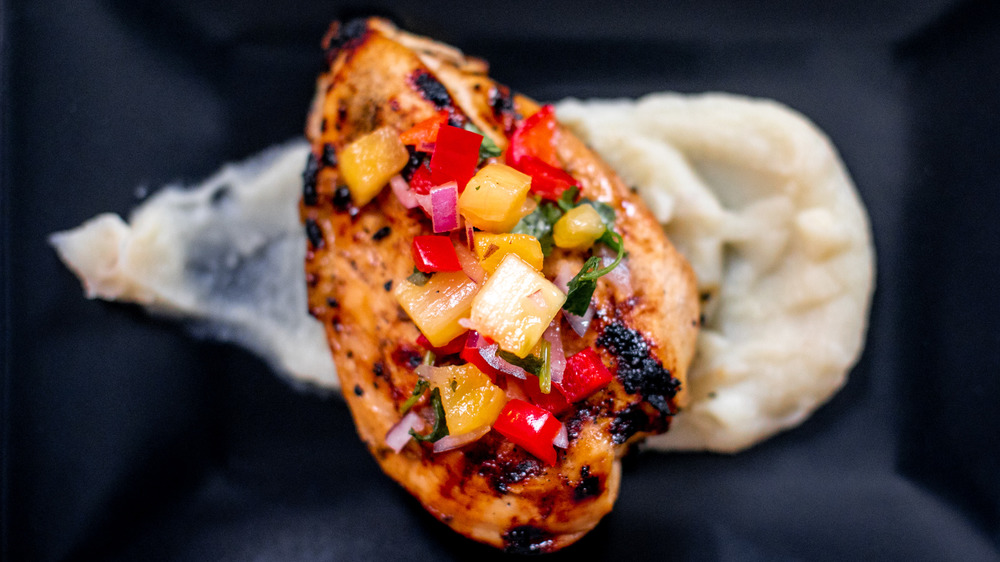 Ingredients
2-3 chicken breasts
6 cloves garlic
¼ cup olive oil
¼ cup vinegar (apple cider or white balsamic)
¼ cup light brown sugar
2 teaspoons salt
2 teaspoons black pepper
Optional Ingredients
2 tablespoons citrus juice
Directions
Mince the garlic, then using the back of a chef's knife, rub it into the cutting board to release its oil.
Pound chicken flat between two pieces of plastic wrap. Alternatively, poke holes into the chicken with a fork.
Mix garlic, olive oil, vinegar, light brown sugar, salt, pepper, and citrus juice (if using) in a metal mixing bowl or freezer bag. Add tenderized chicken, making sure each piece is completely coated with the marinade.
Refrigerate for at least 30 minutes and up to 12 hours.
Heat a sauté pan or grill to medium-high heat.
Cook the chicken breasts for 5 minutes on each side, until internal temperature reaches 150-155 degrees Fahrenheit.
Lightly cover and rest chicken for 5 minutes, then serve.
Nutrition
| | |
| --- | --- |
| Calories per Serving | 354 |
| Total Fat | 23.6 g |
| Saturated Fat | 4.8 g |
| Trans Fat | 0.1 g |
| Cholesterol | 69.6 mg |
| | |
| --- | --- |
| Total Carbohydrates | 11.3 g |
| Dietary Fiber | 0.5 g |
| Total Sugars | 8.9 g |
| Sodium | 353.8 mg |
| Protein | 23.1 g |