How Much Smashburger Employees Really Make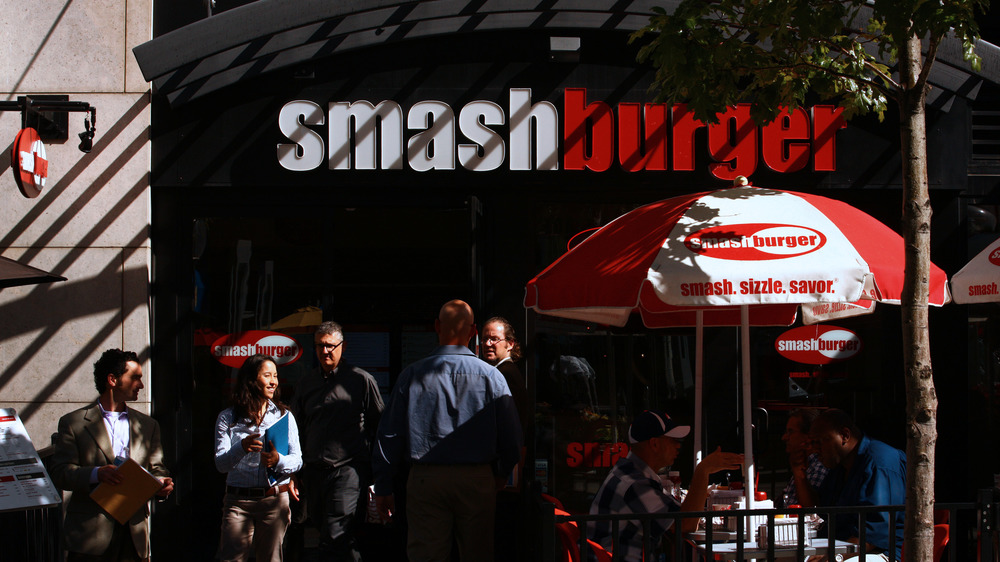 Bloomberg/Getty Images
If you consider yourself a burger connoisseur then one can't mention good burgers without placing Smashburger somewhere on the list of fast food burger joints. Though the restaurant's official website notes that it first launched in 2007, Smashburger — which was founded in Denver, Colorado — has quickly grown to become a favorite amongst many Americans. Serving up "fresh, never frozen, 100% Certified Angus Beef," as the website proclaims, the brand offers a number of delicious options that will appeal to everyone. And, they do it all while "delivering an elevated burger experience, where every bite is made to savor." According to Forbes, the restaurant got its name as a reference to how cooks press a ball of beef, spices, and poultry bits into a burger shape right on the grill.
In addition to serving up mouthwatering burgers and sandwiches, according to Restaurant Business, the growing chain even began offering all-day breakfast at participating locations throughout the nation in 2020. Even in the midst of the ongoing COVID-19  pandemic, Smashburger has seen a positive performance from the new rollout. 
And while the business already operates more than 200 units, Business Insider noted in February that the chain has plans to "open more than 40 new restaurants" in 2021 alone. With all of the new openings planned out for this year, more jobs will be coming with them, too. But will those new jobs offer good pay? Maybe.
General managers working for Smashburger make less than $50,000 per year.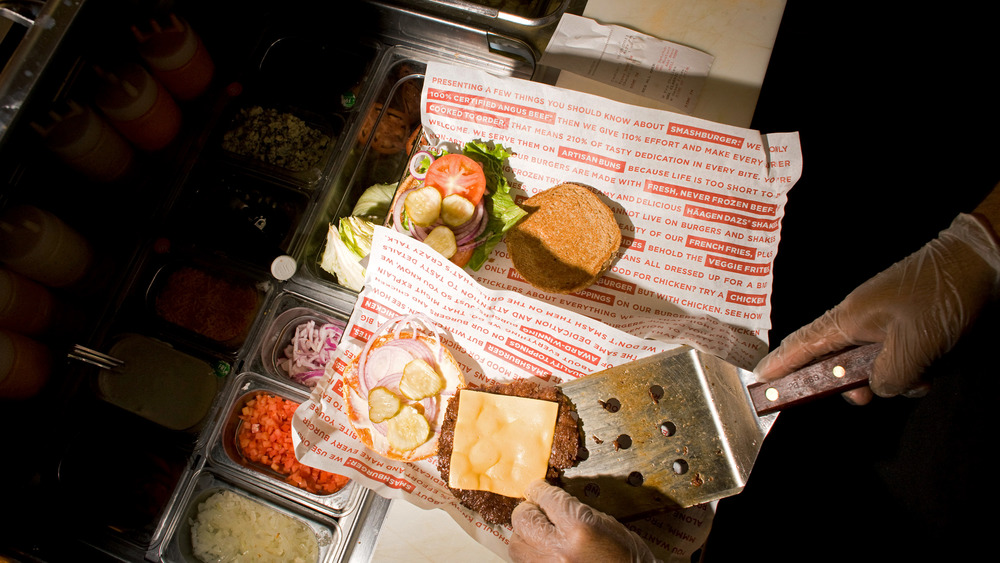 Bloomberg/Getty Images
If you're looking to nab a job at Smashburger, you may or may not be impressed with the wages that their employees earn. Indeed reports that line cooks, prep cooks, and general cooks all make an average hourly wage that falls within the $10 mark. Restaurant staff members, however, make around $13.23 an hour, while shift leaders surprisingly only bring in an average of $11.39 an hour. And don't think shift managers make an exuberant amount compared to their fellow workers. On average, they're only raking in about $11.57 an hour. So much for making all that presumably high-calorie food.
So what about the cashiers, you ask? According to Indeed, cashiers can make an average of anywhere between $10.20 and $10.71 per hour. If you're lucky enough to have experience as a manager though, you can average a little over $46,000 per year or, if that broken down to an hourly amount, about $24 an hour. Of course though, all of this depends on a number of factors including location, experience, role definitions, and more. But honestly, depending on where you might be in your life right now, these amounts might seem super impressive or insultingly low.