Costco Fans Are Divided On Its Garlicky Italian Sausage Pasta. Here's Why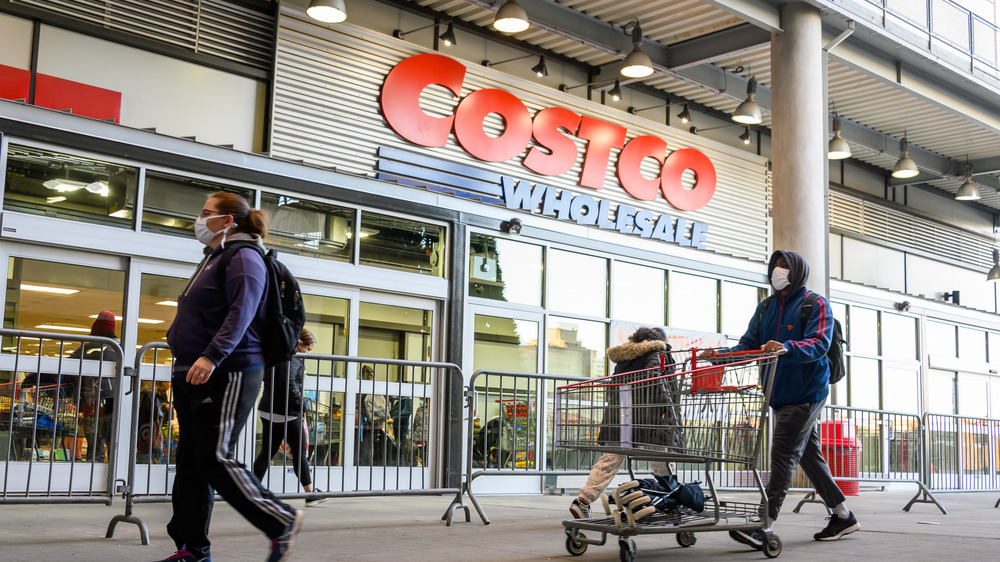 Noam Galai/Getty Images
If there's one thing that binds us all together, it's the pure joy that comes from knowing there's a tasty meal in the fridge that requires no real effort whatsoever. Costco has cashed in on that joy with their ready-made meals, often some of their most popular products, if not some of the most polarizing.
Take this recent post from Instagrammer @costcobuys, showing the brand's Italian sausage pasta in garlic wine sauce (via Instagram). Through the clear plastic top of the container, you can see plenty of sausage nuggets, a couple of grape tomatoes, some grated parmesan cheese, and a few pieces of the orecchiette pasta peaking out from underneath. It looks great, and according to the label, all you have to do to prepare it is preheat the oven to 400 degrees and wait an hour while it cooks! Not only that, but the meal is $3 off through the 14th! However, when @costcobuys asked in their caption if anyone had tried it, the responses were very mixed.
What people have to say about Costco's garlic Italian sausage pasta
For a simple ready-made meal that's already prepped and just $4.49/pound (on sale), this Costco sausage pasta has garnered some critical feedback. Some commenters called it "just okay" or "so-so," however, most seemed to have strong opinions about the dish, one way or another.
In the positive column, the post has over 1,400 likes, and plenty of positive comments, including: "It's so good! Even my picky 3 year old liked it!" and, "It's SUPER good!! So flavorful!" and just: "Insanely Delicious." Of course, mixed in with all this positivity is negativity, one person calling the meal "terrible, mushy, watery, just not great sadly" and another, simply: "It's disgusting."
However, amongst the opinionated comments were some interesting, repeated critiques of the garlicky Italian sausage pasta: having an insufficient number of tomatoes, being too salty, and also, to some, too greasy. Luckily, the commenters also gave recommendations for solving these problems, which is great in case you decide to try it and find the dish isn't quite to your taste. Those recommendations include: adding more tomatoes, more pasta, or some fresh greens to help balance out the rich flavor of the dish. According to blogger Grecobon, who is a huge fan of the Costco pasta, if you're buying multiple containers, this dish can even be saved in the freezer: "Just remove it from the freezer the night before and allow to defrost in the fridge overnight."