Guinness Stew Recipe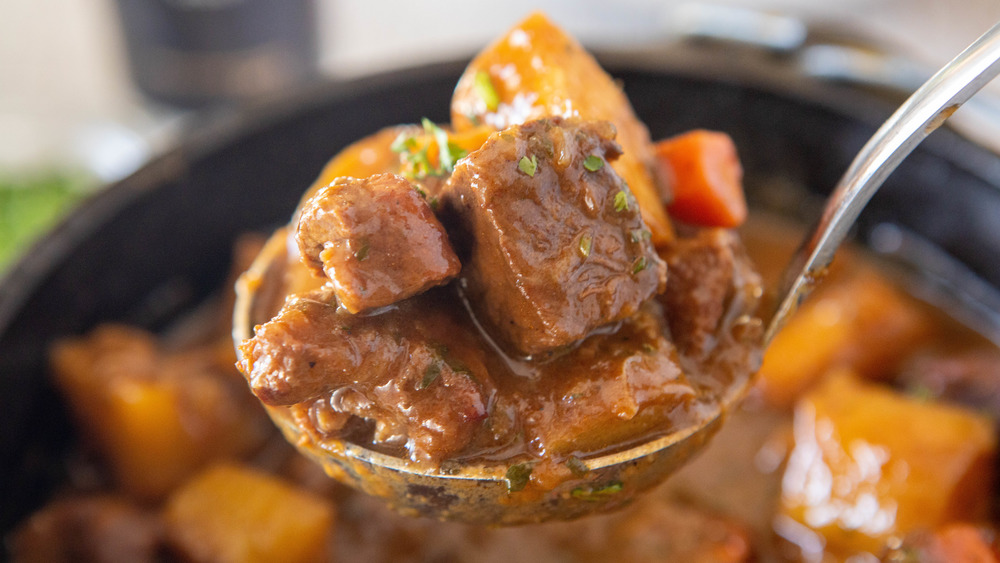 Keith Kamikawa/Mashed
Whether you're looking for an Irish-inspired recipe to celebrate St. Patrick's Day this year or just a hearty bowl of richly flavored stew to warm up your kitchen, this Guinness stew is just what you need. Tender beef chuck, sweet root vegetables, and a rich dark gravy highlight the malty Irish beer. It makes an irresistible stew that's perfect for pairing with that Irish soda bread baking up in your kitchen this week. Photographer and recipe developer Keith Kamikawa has shared all his key tips for taking those coffee and chocolate notes of Guinness and transforming them into a savory stew that you'll want to make way more often than once a year.
After a few low and slow hours in the oven, your house will smell incredible, and you'll find yourself impatiently waiting for that first spoonful. When it's finally time to pull that pot out of the oven and ladle a scoop of steaming Guinness stew into your bowl, we're betting you'll have a new St. Patrick's day tradition.
The layers of flavor in Guinness stew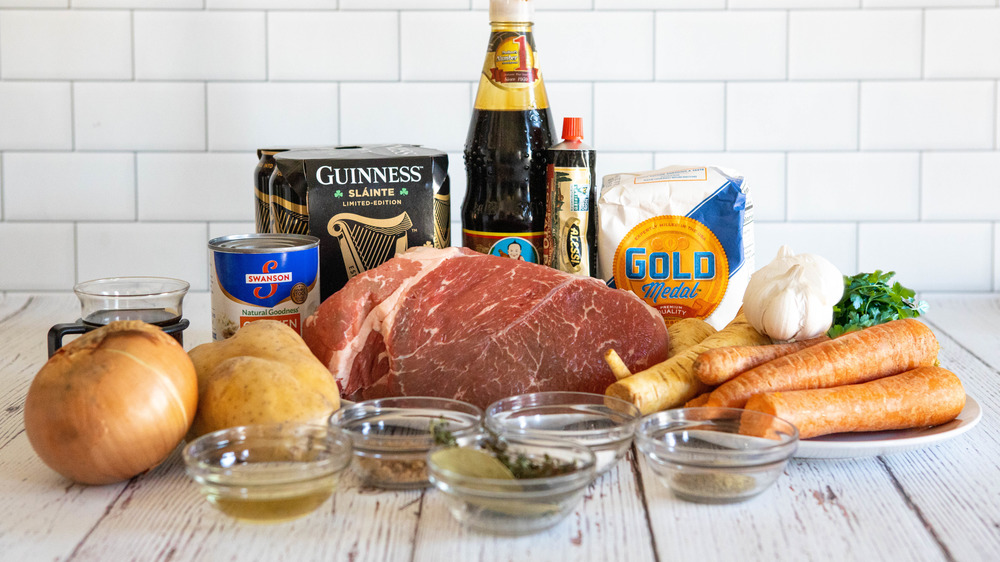 Keith Kamikawa/Mashed
A delicious stew often takes the layering of different flavors to create a balanced finish bite. For this recipe, the ingredient list includes a combination of fresh ingredients and pantry staples to develop the flavor in the gravy and make it a hearty, filling meal. Every ingredient serves an important purpose here, but you can't make Guinness stew without beginning with that essential can of beer. 
Just one can of Guinness gives you all the Irish beer flavor we need, but to round out the gravy, we'll be adding chicken stock, coffee, soy sauce, tomato paste, sugar, and herbs. These ingredients tease out those iconic Guinness flavors and create a luscious gravy that'll excite your palate.
The fresh ingredients that make this Guinness stew perfect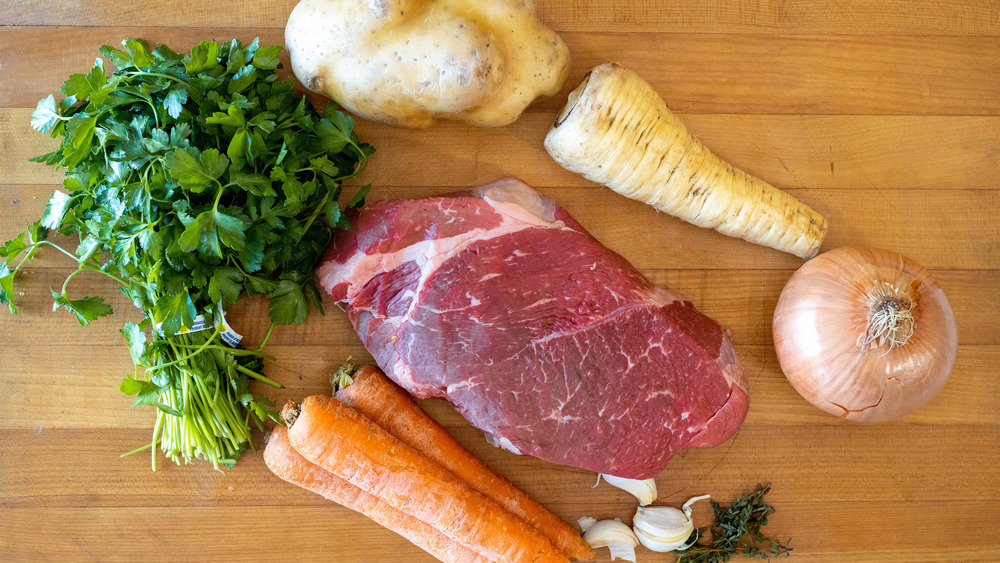 Keith Kamikawa/Mashed
To continue building those layers of flavor and to create the actual bulk of the Guinness stew that makes it so hearty, the fresh ingredients we use are key. Let's start with the beef. This recipe calls for boneless beef chuck roast, but for substitutions, Kamikawa says, "The key to cuts of beef for stew meat is that you want a fattier cut so the beef remains juicy through the cooking process. Bone-in short ribs would work (after you remove the bone post-cooking, of course) and certainly fatty brisket from the point end."
In addition to that all-important beef, onions, garlic, and thyme deliver their must-have aromatic flavors to the stew as a part of the gravy base. Later, Yukon gold potatoes, parsnips, and carrots will also be added to lend the subtle sweet earthy flavor of root veggies to the gravy. These veggies are stew classics for a reason, as each will have a beautiful creamy tenderness after cooking in the gravy. If Yukon golds aren't available to you, Kamikawa suggests any waxy potato such as fingerlings or red potatoes. Finally, don't skip the fresh Italian (or flat leaf) parsley to finish off the stew just before serving.
Prep work makes this Guinness stew recipe easy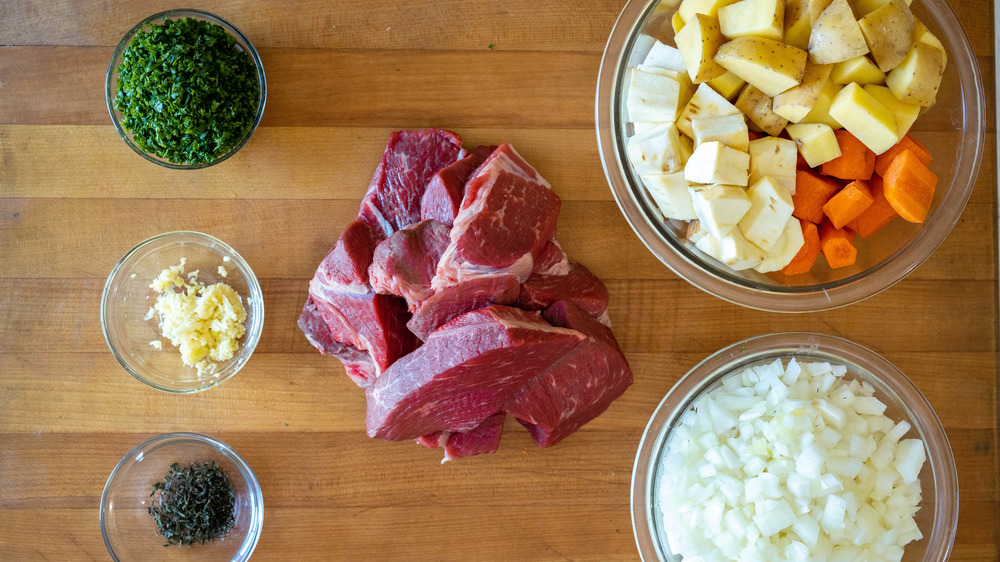 Keith Kamikawa/Mashed
A long cook like this one is always easier when you take a few minutes to get your ingredients prepped and ready before you start. Begin by slicing your chuck roast into one-inch-thick slices. The potatoes, carrots, and parsnips all get the same large dice into one-inch cubes. This allows for even cooking, so keep the sizes similar and even as much as possible.
Then, move on to giving the onions a fine dice and mincing your garlic. Finally, strip the thyme leaves from the stems, and give both it and the parsley a fine mince as well. Once your fresh ingredients are prepped and the others are measured and assembled nearby, most of the rest of the recipe is easy. Later, when you've left the kitchen to let the stew do its thing in the oven, you'll be happy to just dump and stir, no more chopping required.
Start on the stovetop with a good pan for this Guinness stew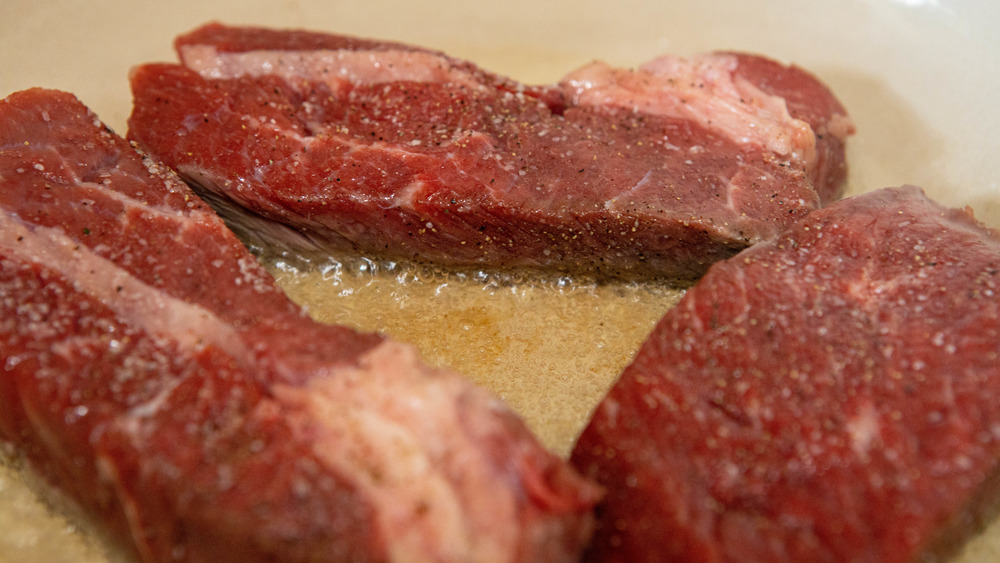 Keith Kamikawa/Mashed
One important aspect to a good braise or stew is a heavy-gauged pan like a Dutch oven or other thick-bottomed pot that is both stovetop and oven-safe. That pan will start on the stove over high heat with the vegetable oil. While that heats, get your steaks seasoned with two and a half teaspoons of salt and one and a half teaspoons of pepper.
When the pan is really hot, begin searing the steaks in batches of three. Kamikawa suggests about three minutes per side, but that it's more important to allow a golden brown crust to form on the outside of your steaks. Set all the steaks aside on a plate to collect the juices for ten minutes.
Next, begin building the base for the Guinness stew gravy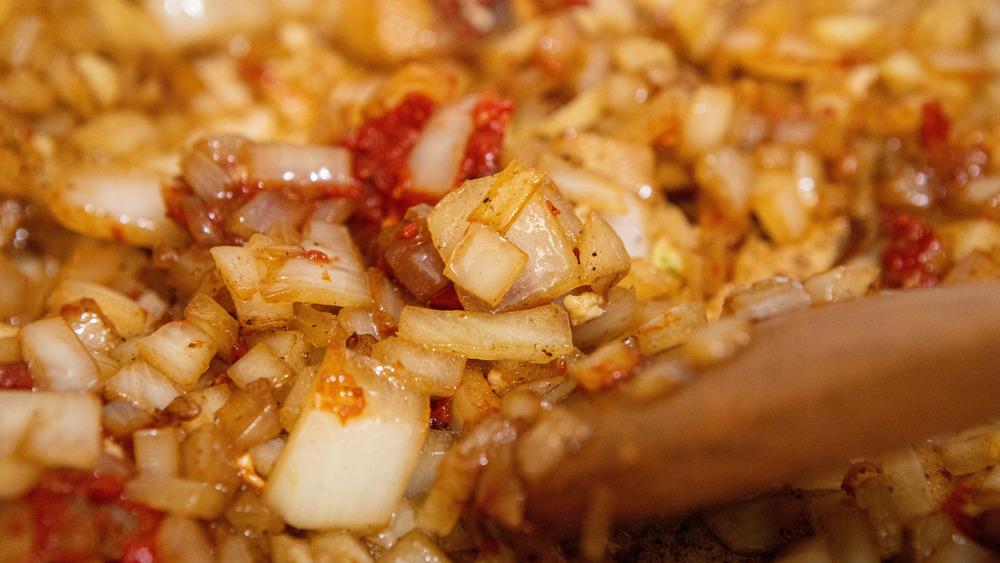 Keith Kamikawa/Mashed
Turn the pot down to medium heat and add the diced onions into your Guinness stew with another half teaspoon each of salt and pepper. Stir them occasionally, but let the onions caramelize until they're golden brown. This should take about eight minutes total. While you've been occupied with the onions, your steaks will have rested long enough. Now, cut each steak into one-inch cubes and be careful to save all the juice so it can be added back into the stew later.
Once your onions are gorgeous and golden, the tomato paste and garlic go into the pot to sauté for another minute or until the tomato paste has darkened.
Flour creates a silky, thick gravy for this Guinness stew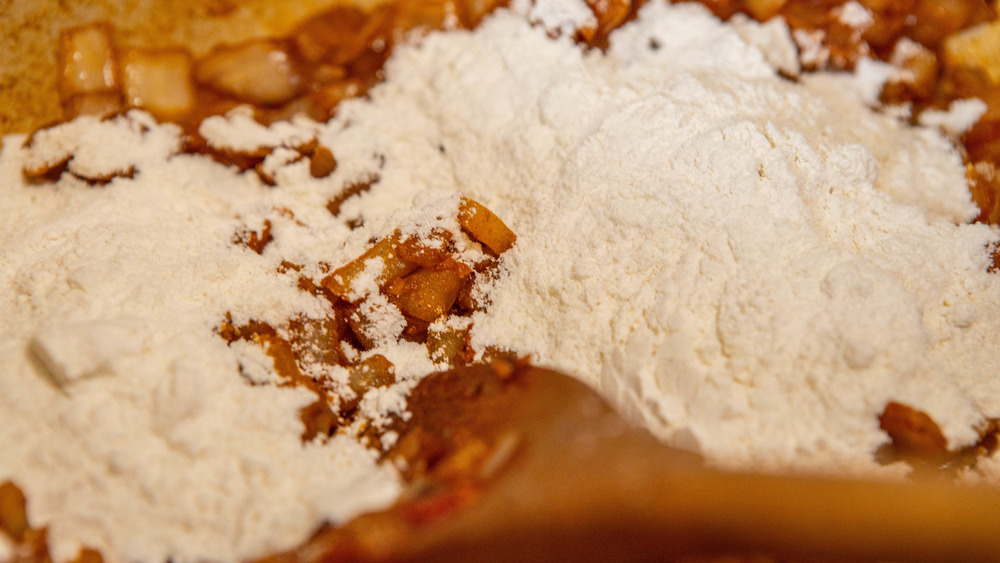 Keith Kamikawa/Mashed
Next, we add the flour to our Guinness stew. Kamikawa loves the authenticity and durability of a wooden spoon and suggests using one for this next step because "wood is safe to use for every pan from non-stick to cast iron. Of course, any modern silicon spatula works just as well."
No matter your choice of tool, be sure you're stirring constantly for two full minutes. Then, while whisking, slowly add in the chicken broth, coffee, and three-quarters of the can of Guinness. Keep whisking until the gravy is smooth. Finally, the soy sauce, brown sugar, thyme, and bay leaves go into the pot. After a quick whisk to incorporate those as well, add in the beef and all the juices too.
Let the oven do the heavy lifting with this Guinness stew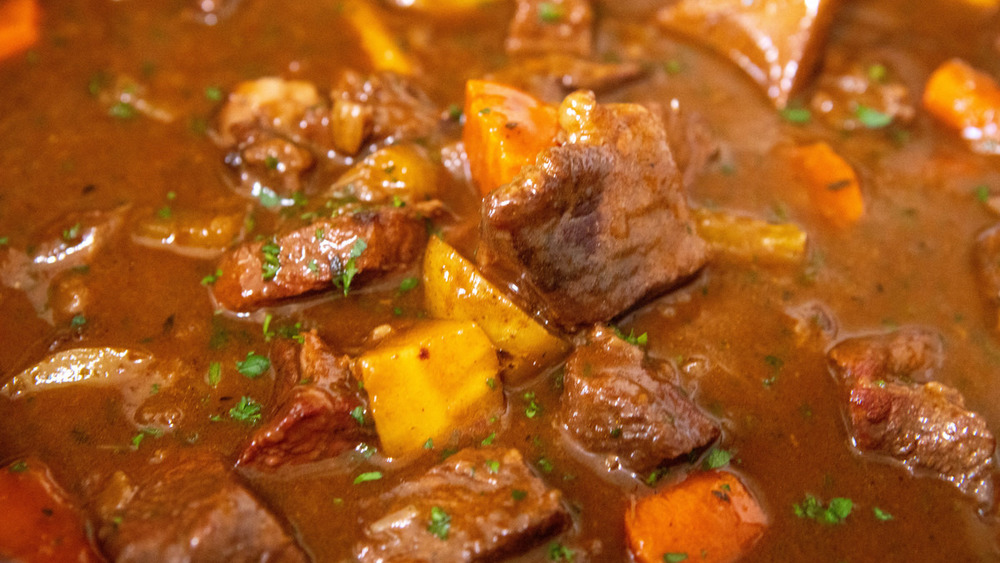 Keith Kamikawa/Mashed
In a 325-degree preheated oven, place your cooking pot on the middle rack with the lid on but cracked. Leaving it open just an inch allows the steam to escape. This is essential, Kamikawa says, "to reduce the sauce a bit and slightly brown the beef that is poking out of the top of the juices."
Other than a quick stir at the halfway mark, this Guinness stew recipe is hands off for the next two hours as the beef becomes tender and the flavors of the gravy develop. After the two-hour mark, take your stew out of the oven and remove the lid carefully. Add in the potatoes, carrots, and parsnips, and give them a quick stir. Then, the whole pot goes back into the oven, this time with the lid off, for another hour. 
After 30 minutes, give it another stir, and place it back in the oven for the final half hour of cooking. When the beef and vegetables are fork-tender, the stew is almost ready to eat.
Final finishing touches on this Guinness stew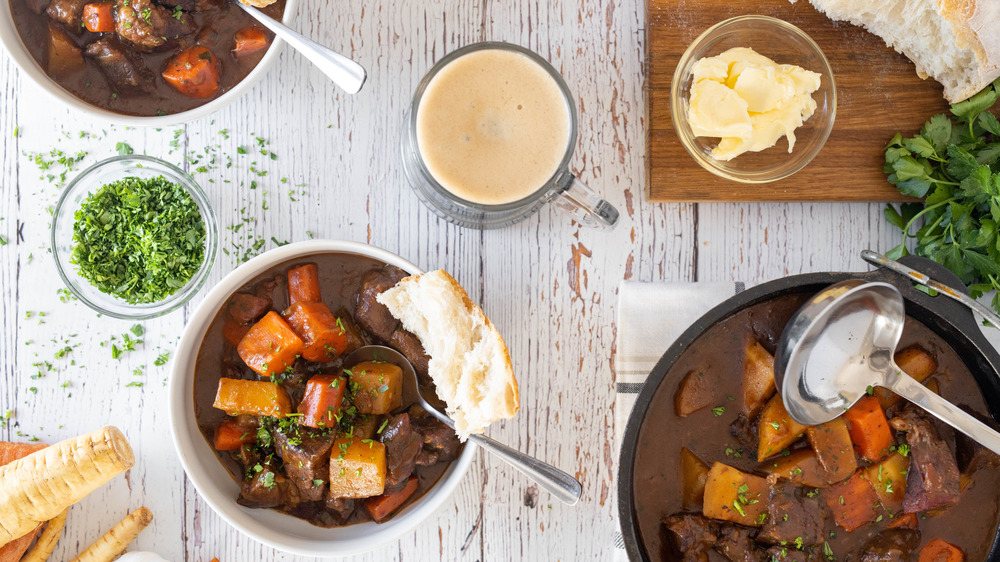 Keith Kamikawa/Mashed
Before we dig into this Guinness stew, take a moment to remove the bay leaves and carefully stir in the parsley and remaining quarter cup of Guinness. Stir gently so the beef and vegetables remain whole. This final addition of Guinness is key to replace just a little of the evaporated liquid and to amplify the flavor of the beer in every bite. Finally, season with salt and pepper to taste, and then serve yourself a big, hearty bowl.
With Guinness laced throughout the stew, Kamikawa suggests pairing the meal with a crisp and cold Strongbow cider for delicious contrast. And if you're not a fan of soda bread for dunking, give his favorite accompaniment a try instead. All it takes is a crusty sourdough boule, a slather of farm pasture butter, and a thick slice of five-year Irish white cheddar on the side to make this meal perfect in his mind, and it sounds pretty perfect to us too.
Serve up a pot of Guinness stew on St. Paddy's day ... or any day!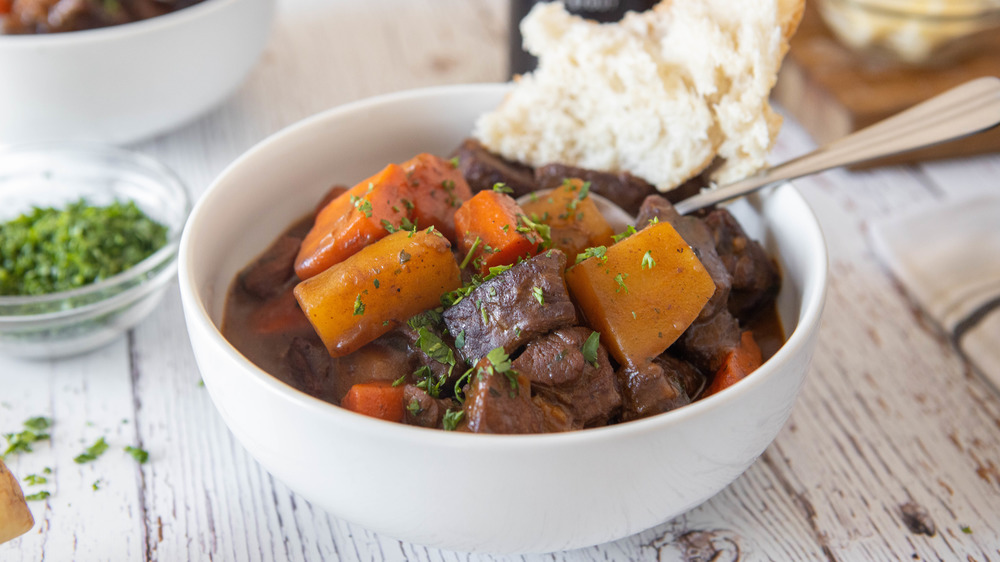 Keith Kamikawa/Mashed
We all love corned beef, but no matter how tasty, it'll have to move aside this year. This rich and hearty stew is definitely perfect to serve on St. Paddy's day.
Once St. Patrick's day has passed, however, there's no need to wait until next year to whip this up. Take your inspiration from Kamikawa when adding this stew to your menu planning: "It's perfect for the wintertime and great for weekend summer camping trips. Change up the meat to lamb or wild game, and it'll be just as awesome!"
There's no wrong way or time to serve up a robust, full-flavored stew like this Guinness beef. Whenever it makes its appearance on your table, we know you'll enjoy every bite. 
Guinness Stew Recipe
Whether you're looking for an Irish-inspired recipe or just a hearty bowl of stew to warm up your kitchen, this Guinness stew is just what you need.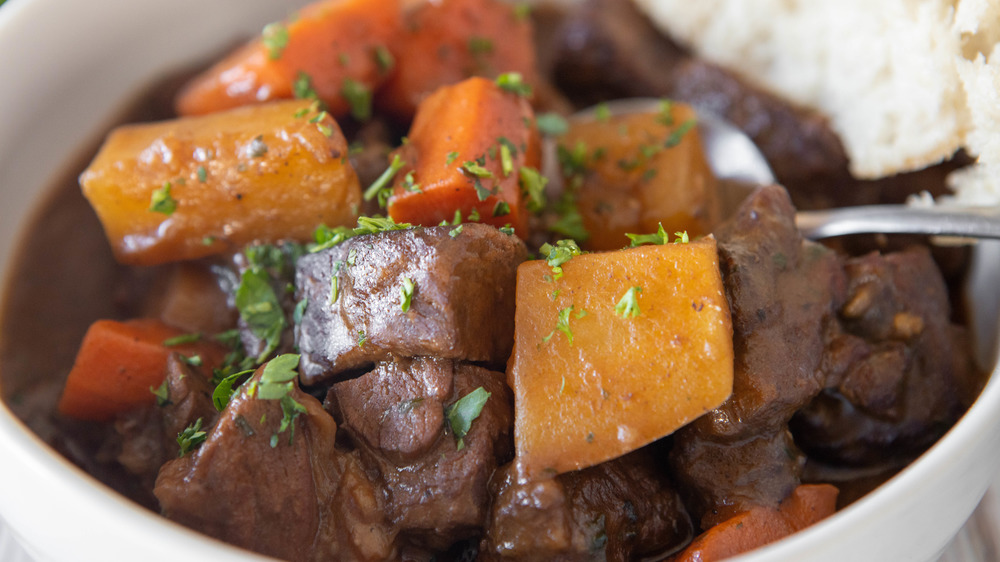 Total time: 3 hours, 30 minutes
Ingredients
3 pounds beef chuck roast, boneless
3 teaspoons kosher salt + to taste
2 teaspoons black pepper + to taste
3 tablespoons vegetable oil
1 ½ pounds onions, small dice
1 pound Yukon gold potatoes, large dice (about 1 inch)
1 pound carrots, large dice (about 1 inch)
8 ounces parsnips, large dice (about 1 inch)
1 tablespoon tomato paste
1 tablespoon soy sauce
2 tablespoons brown sugar
3 garlic cloves, minced
1 teaspoon fresh thyme, minced
2 bay Leaves
3 tablespoons fresh Italian parsley, minced
¼ cup all-purpose Flour
14 ½ ounces low-sodium chicken broth (1 can)
14.9 ounces Guinness draught (1 can)
8 ounces coffee
Directions
Cut beef into 1-inch-thick steaks, and season with 2 ½ teaspoons kosher salt and 1 ½ teaspoon black pepper.
Heat Dutch oven or thick-gauged pot on high and add vegetable oil.
When the oil is hot, sear beef steaks three at a time to form a golden crust, about three minutes per side. Set steaks aside for 10 minutes.
Lower the temperature to medium and add onions, ½ teaspoon kosher salt, and ½ teaspoon black pepper, and sauté until golden brown, about 8 minutes.
Cut steaks into large 1-inch dices.
When the onions are golden, add the tomato paste and garlic, then sauté for 1 minute until the tomato paste slightly darkens.
Add ¼ cup flour and stir constantly with a wooden spoon for 2 minutes.
Slowly add chicken broth, ¾ can of Guinness, and coffee, and whisk until the gravy is smooth.
Add soy sauce, brown sugar, thyme, and bay leaves, and whisk again. Add beef and accumulated juices and combine.
Heat the oven to 325 degrees Fahrenheit. Put the Dutch oven on the middle rack of the oven and place the lid on it, leaving a one-inch crack open.
Cook for 2 hours and stir halfway through.
Remove Dutch oven from the oven and add parsnips, carrots, and potatoes. Combine.
Return Dutch oven uncovered to the oven. Cook stew for 1 hour, stirring stew halfway through until beef and vegetables are fork tender.
Remove the stew from the oven and add the remaining ¼ can of Guinness and parsley. Carefully combine as to not break apart the beef or vegetables.
Remove bay leaves, add salt and pepper to taste, and serve.
Nutrition
| | |
| --- | --- |
| Calories per Serving | 604 |
| Total Fat | 20.2 g |
| Saturated Fat | 5.6 g |
| Trans Fat | 0.6 g |
| Cholesterol | 145.1 mg |
| | |
| --- | --- |
| Total Carbohydrates | 50.0 g |
| Dietary Fiber | 8.2 g |
| Total Sugars | 14.2 g |
| Sodium | 1,369.2 mg |
| Protein | 54.9 g |