The Great British Baking Show Conspiracy Theory Some Contestants Believe
While the tent in the idyllic English countryside looks inviting, The Great British Baking Show isn't always a baking fairy tale for contestants. Although the popular baking competition is reality television, some former contestants feel the need for entertainment, might influence those disappointing bakes and the timing of certain challenges (via Delish). Is there a conspiracy theory that prevents those stiff peaks in that meringue or are disappointed bakers just kneading some sour dough?
The Great British Baking Show has become must watch food television not just for its delectable desserts and witty banter. For some viewers, the baking fails make this show entertaining, similar to the obsession with Nailed It! In a recent article by Insider, a few former contestants assert that the production team's influence could be impacting some of that melted ice cream and poorly tempered chocolate. Since filming takes place in an outdoor tent, some contestants believe that temperature sensitive challenges often occur on the worst weather days.
The Great British Baking Show secret ingredient that stumps bakers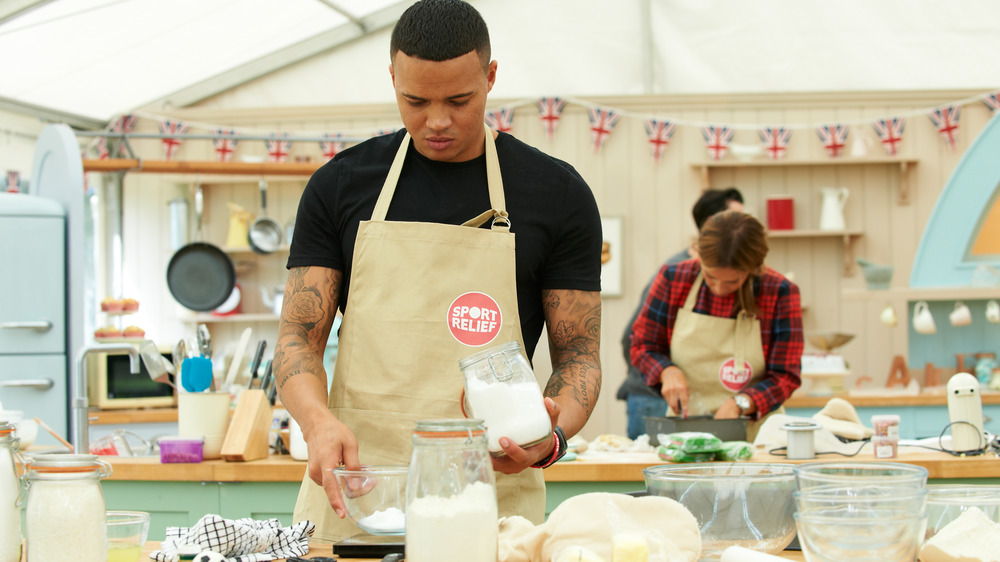 Comic Relief/Getty Images
While Paul Hollywood always looks perfectly quaffed on The Great British Baking Show, sometimes the English weather is not as kind to the bakers during their challenges. The outdoor tent might look inviting, but that location is an ingredient that many bakers are unaccustomed to using. As Antony Amourdoux shared in the Insider article, it seems that the worst weather always seems to impact challenges. Although producers might "love the drama," Amdourdoux isn't the only baker melting under the heat. Stacey Hart, from season eight said, "They want failure, and they got it," when referring to sugar desserts dissolving on scorching hot days.
Although Hollywood has rebuked the idea that production can control the English weather, the reality is that the outdoor tent kitchen can and does impact those desserts (via Metro UK). As seen in the last season, the rising temperatures were more difficult to control than that perfect pavlova. But, the unpredictable weather factor adds to the lure of this baking competition. Unlike the slammed plates and cutting quips from Gordon Ramsay on Hell's Kitchen, the mischief-maker on The Great British Baking Show is an element beyond anyone's control. Or, if a few former contestants are to believed, those show producers might need to help scientists with global warming. If they can predict the hot weather days to a baker's downfall, maybe their physic abilities could be put to better use.