Brunswick Stew Recipe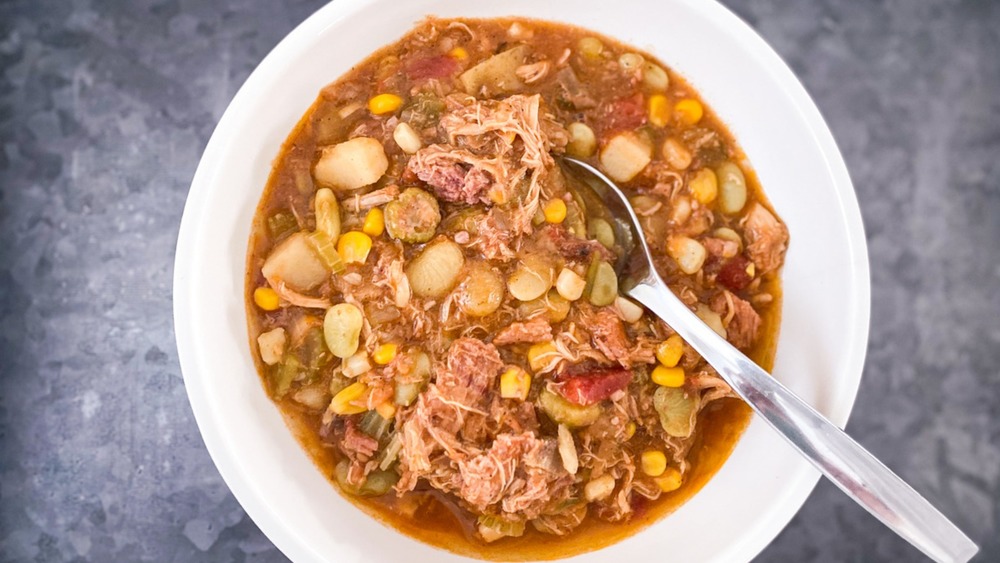 Erin Johnson/Mashed
Brunswick stew is a dish that with a backstory that Southern Living describes as "complicated." As is the case with many dishes, it bears the name of its place of origin, but the problem is, there's more than one Brunswick, and at least two of them claim this stew as their own. In fact, the state of Georgia (home to one of those Brunswicks) boasts not one but two pots alleged to be the vessels in which the first-ever Brunswick stew was cooked. A more verifiable claim is the one held by Brunswick County, Virginia, seeing as how several Virginia newspapers make reference to this type of stew being a local specialty as early as the 1840s.
Wherever this stew actually originated, there was never one official recipe. Instead, it appeared to be a hodgepodge of everything in the garden plus every little predator — squirrels, in particular — that might have been preying upon that garden. Squirrel lovers (or haters) will be relieved to know that our recipe is rodent-free. Instead, recipe developer Erin Johnson of the Probably in the Kitchen food blog makes use of the easier-to-come-by pork and chicken. There's no need to stand over a cast iron cauldron all day to cook this Brunswick stew, either. It just simmers on the stove top for half an hour before it's ready to eat.
Assemble the ingredients for this Brunswick stew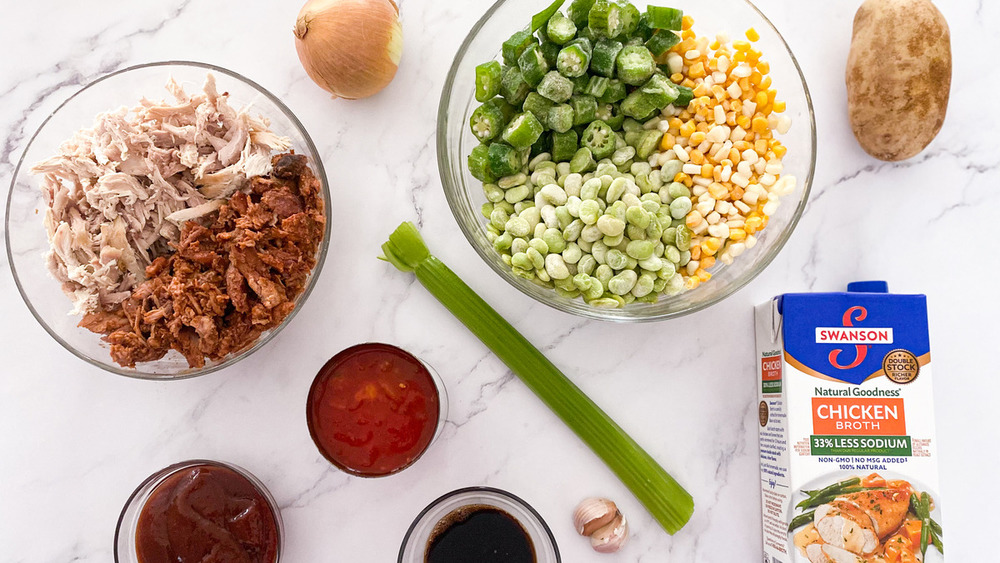 Erin Johnson/Mashed
Nothing you're going to need to make this stew is particularly exotic or hard to come by, so for anything not on hand in your pantry or fridge, a simple trip to any nearby grocery store will do. The fresh produce you'll need includes potatoes, celery, an onion, and garlic, while you'll also need a few frozen ones: corn, lima beans, and okra. You'll also need canned veggies in the form of diced tomatoes. You're also going to need stock or broth (in a pinch, water and a bouillon cube), vegetable oil, Worcestershire sauce, and barbecue sauce.
Oh yes, and the meat, of course. As Johnson told us, "I like to use a mix of pulled pork and pulled chicken, but you can use any kind of meat or combination you prefer." She says she freezes leftover pulled pork and chicken, but if this isn't something you typically have on hand, you can purchase prepared pulled pork and a rotisserie chicken.
Cook the veggies for this Brunswick stew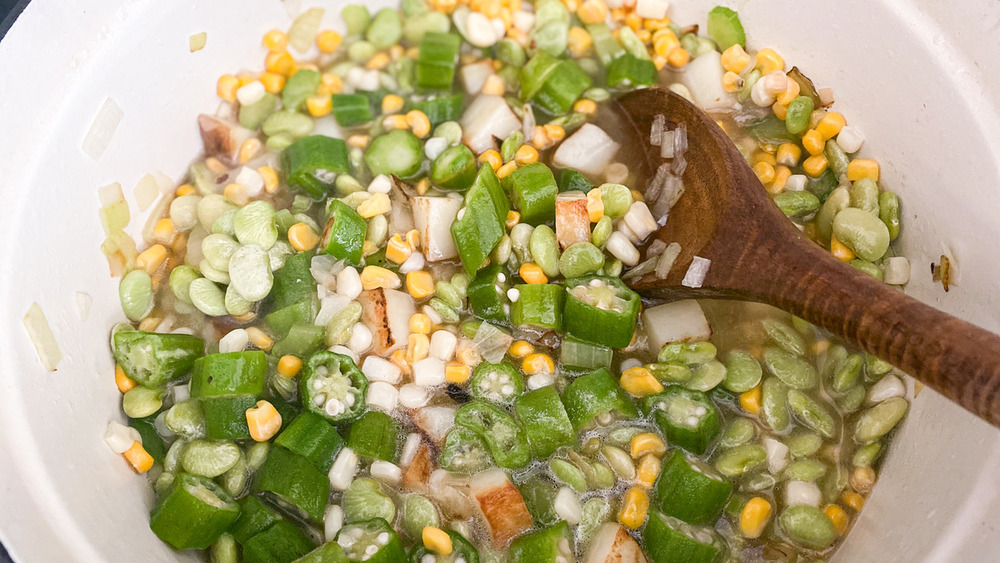 Erin Johnson/Mashed
You'll start by prepping the fresh veggies. The potatoes will need to be diced, the celery and onion chopped, and the garlic minced ... you know the drill. You'll then heat the vegetable oil in a Dutch oven or a similar type of large, heavy pot and cook the potatoes by themselves for a few minutes, just until they start to turn a nice golden color. At this point, add the onion and celery and cook for a few minutes longer until they're just starting to soften. Finally, add the garlic and all of the frozen vegetables, and stir until everything's well combined.
Add the rest of the ingredients to the Brunswick stew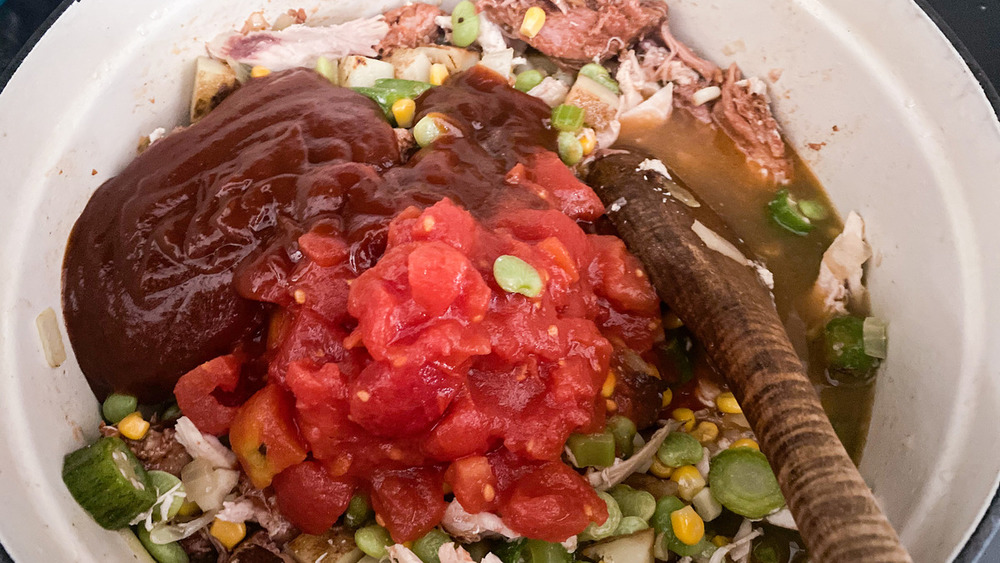 Erin Johnson/Mashed
Add the pork and the chicken to the veggie mixture, and stir it all in. Now it's time to add a little liquid — the tomatoes (complete with juice), the barbecue sauce, the Worcestershire sauce, and the stock. Once again, stir well.
Johnson says, "After you've mixed everything together, it's going to seem like there isn't enough liquid," but she goes on to explain that the frozen veggies should fix that. They will thaw as they cook, and this will release more liquid into the stew. While she says that three cups of stock worked perfectly for her Brunswick stew, you can go ahead and add another cup of broth after about 20 minutes of cooking if you still feel your Brunswick stew is looking too thick.
Season the Brunswick stew to taste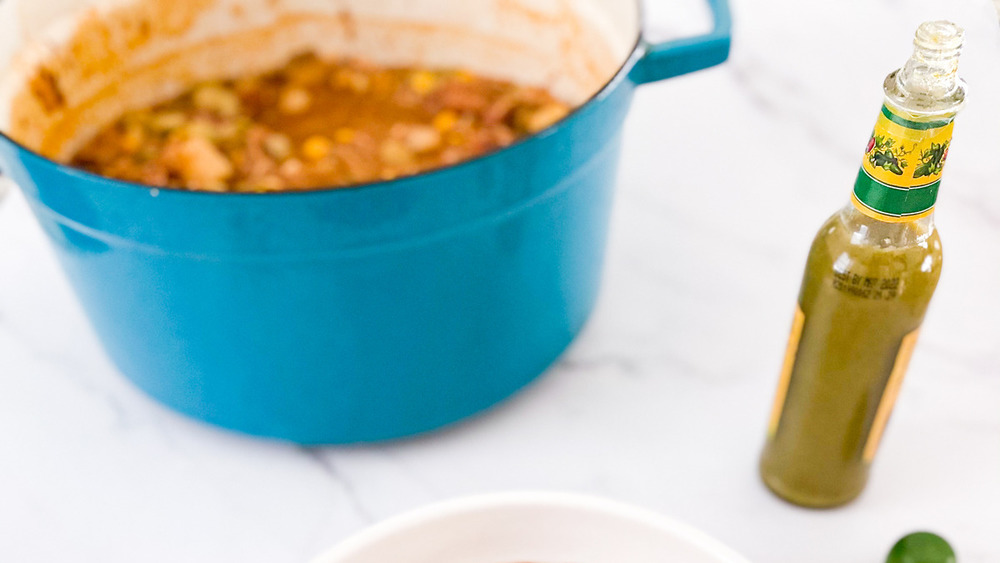 Erin Johnson/Mashed
Taste the broth once you've added everything to the pot, then add salt and pepper as needed. Johnson advises that your Brunswick stew really shouldn't need much in the way of additional seasoning, pointing out that both the pork and the chicken will be pre-seasoned since these are prepared foods.
The broth, the Worcestershire, and the barbecue sauce all have their own seasonings, as well. This last-named condiment in particular, Johnson says, will provide "a huge amount of flavor." She advises picking one you really like and tells us she prefers a barbecue sauce that's "a nice blend of sweet and vinegar."
What to serve with your Brunswick stew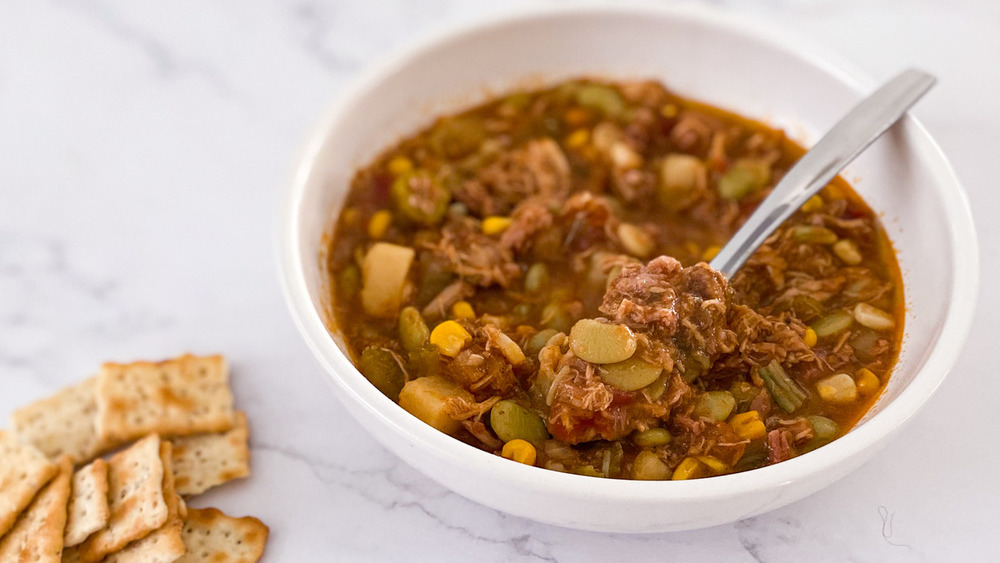 Erin Johnson/Mashed
After 30 minutes of simmering, your Brunswick stew will be ready to serve. Johnson says it's such a hearty dish that it makes for a meal on its own, telling us, "I usually throw on some hot sauce, grab a handful of crackers, and that's all." (Saltines are traditional.) She does say that, if you feel your meal needs anything besides crackers, "cornbread is the ultimate accompaniment."
Feel free to get creative with your food pairings, though. If you want some more carbs, you can always serve this dish with rice or pasta.
Brunswick Stew Recipe
There's no need to stand over a cast iron cauldron all day to cook this Brunswick stew. In fact, it's super easy to make!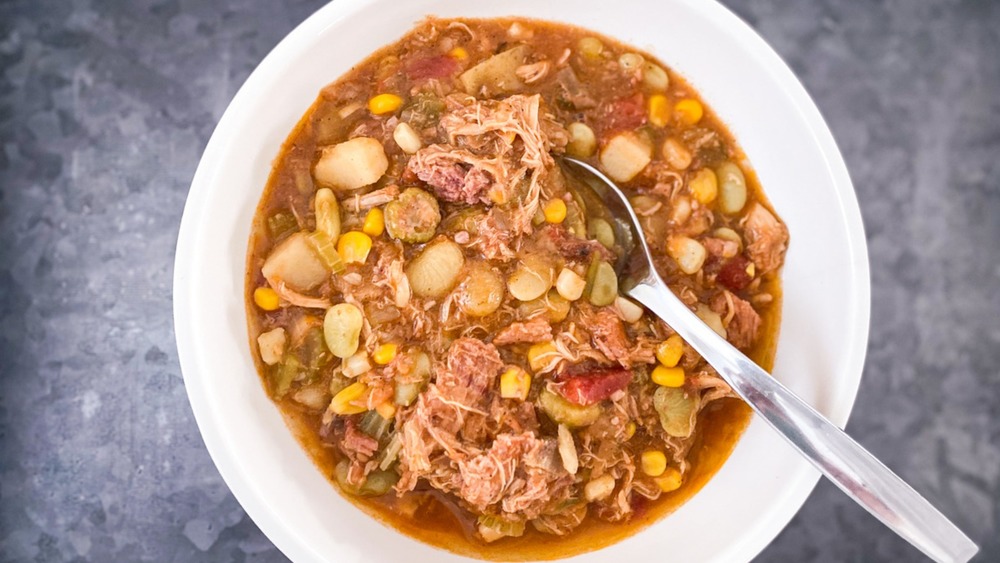 Ingredients
1 medium russet potato, diced
1 medium yellow onion, chopped
1 stalk of celery, chopped
2 cloves of garlic, minced
2 cups frozen corn
2 cups frozen lima beans
1 cup frozen okra
1 to 2 pounds shredded chicken and pulled pork
1 cup barbecue sauce
1 14.5-ounce can diced tomatoes
1 tablespoon vegetable oil
1 tablespoon Worcestershire sauce
3 cups chicken stock or broth
Directions
Heat vegetable oil in a large Dutch oven or similar heavy pot and add the potato. Cook for a few minutes, just until the potatoes start to turn golden.
Add onion and celery. Cook for 3 minutes.
Add garlic and the frozen vegetables. Stir to mix.
Add the meat. Stir to mix.
Add the barbecue sauce, tomatoes, and Worcestershire sauce. Stir to mix.
Add the broth, stir, taste, and adjust seasonings. Allow to simmer for at least 30 minutes or until the potatoes are cooked through.
Nutrition
| | |
| --- | --- |
| Calories per Serving | 769 |
| Total Fat | 36.5 g |
| Saturated Fat | 10.6 g |
| Trans Fat | 0.1 g |
| Cholesterol | 160.1 mg |
| | |
| --- | --- |
| Total Carbohydrates | 56.4 g |
| Dietary Fiber | 6.7 g |
| Total Sugars | 23.0 g |
| Sodium | 846.5 mg |
| Protein | 53.8 g |