How One Chick-Fil-A Drive-Thru Customer Stopped A Fleeing Suspect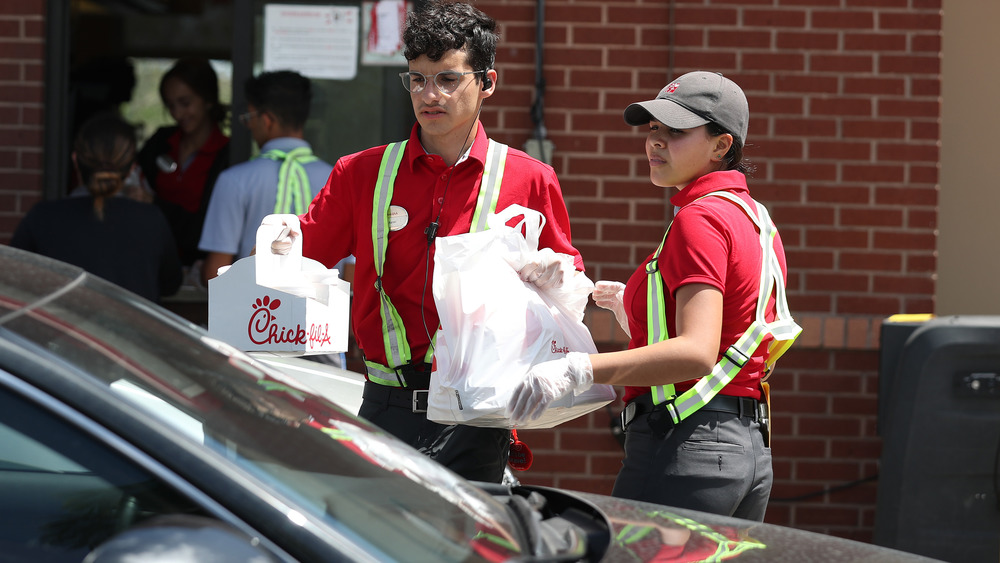 Joe Raedle/Getty Images
Think what you want about Chick-fil-A's notoriously long lines and extremely proactive drive-thru workers. ("Chick-fil-A workers see more than 3 cars in the drive thru and they start assembling like the Avengers," wrote one recent customer on Twitter.) And, like the Avengers, Chick-fil-A's employees often have to be prepared for just about anything. 
Sometimes the fast-food chain's drive-thru attracts more than just the fried chicken cravers. Like when in Madison, Alabama, a man pulled out a gun at a Chick-fil-A drive-thru, frustrated that a car ahead of him wasn't moving forward in the line (via AL.com). Or like when a man robbed a Chick-fil-A drive-thru worker in Henrico County, Virginia (via WTVR). Or when two women threw bricks at an Atlanta Chick-fil-A drive-thru out of frustration that COVID-19 protocols prevented them from eating inside (via WSB-TV).
Jacksonville, Texas is one of the latest scenes of Chick-fil-A drive-thru crime drama. This time around, the local police department has something to be thankful for.
A Chick-fil-A customer opens a door to stop a thief
On March 10, 2021, the Jacksonville, Texas police department posted a video on Facebook thanking one very proactive Chick-fil-A drive-thru customer. According to the post, the police were trying to apprehend a man suspected of stealing a vehicle when both the police and the man ended up in the fast-food chain's drive-thru line. "The suspect ran through the Chick-Fil-A parking lot. A hungry customer, who was waiting patiently for his chicken sandwich, used his door to stop the suspect," the police department celebrated. Apparently, the "hangry" customer was also hungry for justice.
The video further shows the police officer who tackled the suspect seeming to lose control of his taser. Still waiting for a chicken sand-which, the Chick-fil-A customer jumped out of their truck and moved the object out of the suspect's reach. As one Facebook comment noted, "Don't mess with a hungry Texan."