Costco Memberships Might Soon Get More Expensive. Here's Why
Bloomberg/Getty Images
Costco members are able to access bulk savings and discounts on everything from groceries and baked goods to electronics and furniture, all for just one annual membership fee of $120 for the Gold Star Executive or $60 for the Gold Star Everyday membership (via Costco). However, with recent signs indicating that Costco might soon be raising the price of their annual memberships, the benefits that members enjoy could soon become less of a deal.
According to research done by Wells Fargo equity analysts, "the membership fee looks poised to increase in the next 18 months and represents a potential catalyst for sales and earnings," per Fox Business. The Wells Fargo financial analysts noted that there is a pattern to Costco's price hikes, which usually happen once every 5.5 years. The last time Costco raised their prices was back in 2017, making 2021 the year the warehouse will be due for another price increase, according to this analysis. In 2017, the price went from $110 to $120 for a Gold Star Executive membership, while the Gold Star Everyday membership fee received a $5 increase, from $55 to $60 annually, according to Yahoo Life.
Costco membership has increased in the past year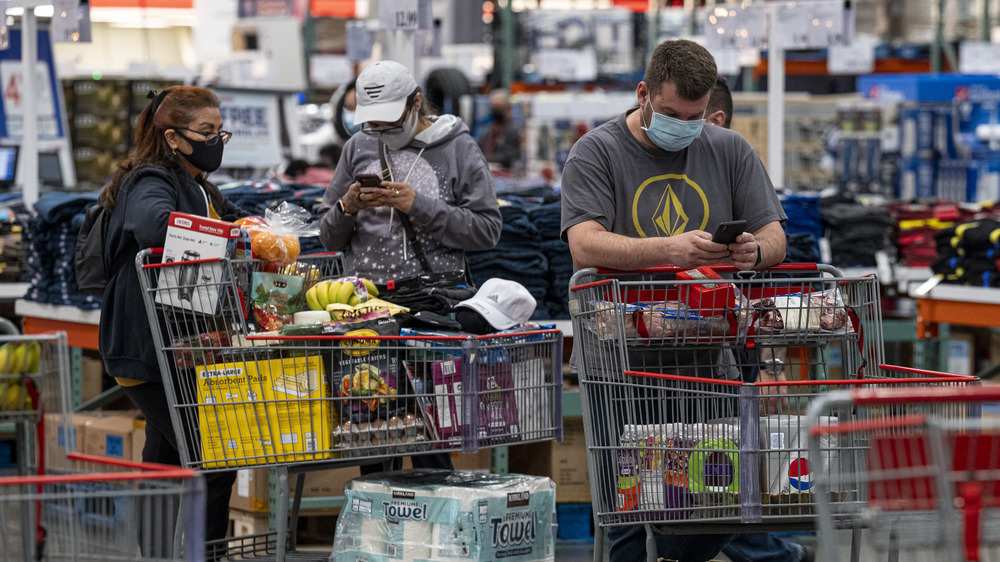 Bloomberg/Getty Images
In 2020, Costco's total number of memberships increased to 59.7 million member households, up from 59.1 million in 2019. This increase is another sign that indicates memberships might be getting more expensive soon. The company is also expanding their digital shopping and curbside pickup service, with a goal to "be more efficient at doing it to determine if this offering can become scalable and make economic sense for us," according to Costco's Chief Financial Officer Richard Galanti (via Yahoo Life). Financial analysts seemed confident that Costco will continue to grow, reporting that the company's "outlook overall remains bright, especially with the digital narrative improving" and the "return of parties and its services business," per Fox Business.
Costco continues to be a favorite for shoppers who are looking for the best deals on groceries and household essentials. The company consistently delivers low prices and great discounts on essential everyday items to their customers. For many, the regular savings on their grocery bill every month make the annual membership fee more than worth it. It remains to be seen, however, if shoppers will continue to feel that way after a membership fee increase.