28% Of People Agree That This Fast Food Restaurant Has The Best Quality Beef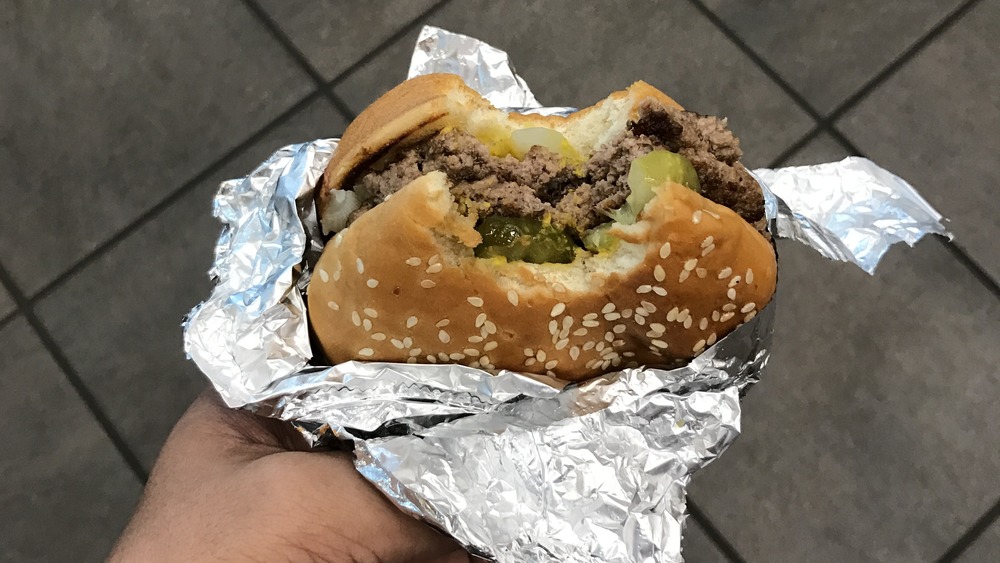 Shutterstock
Beef is a popular ingredient at most fast food restaurants. Take McDonald's, for instance. Known primarily for its classic cheeseburgers along with the Big Mac and the Quarter Pounder, the Golden Arches sells over one billion pounds of ground beef per year, according to Asking Lot. Or take Taco Bell. The fast food joint responsible for satisfying our late-night Mexican cravings goes through over 288 million pounds of beef every year (via Foodbeast) in its burritos, tacos, and crunch wraps. Add in other chains like Arby's and Burger King, and it's easy to see that here in the U.S., we love our beef.
So, if you're craving something meaty, which drive-thru should you pull up to? Mashed polled over 500 Americans on which fast food restaurant they believe has the best quality beef. While Wendy's won the top spot, with nearly 30 percent of the votes, there was another chain close behind, snagging a high 28 percent of respondents' approval.
Arby's beef is better than most
Arby's may not have beaten out Wendy's for the title of best quality beef, but the national chain was close behind with 28 percent of respondents choosing it as their favorite. According to Insider, the chain's famous roast beef is made from brisket that's pre-smoked for 13 hours at a smokehouse in Texas before it even arrives at the restaurant. There, it's slow-roasted for an additional four hours to make the juiciest, most flavorful cuts of beef. Arby's meaty menu items include the classic roast beef sandwich, the French dip, and the Beef 'n Cheddar.
Where did the other popular fast food restaurants fall? Burger King came in third place with 15 percent of the votes, followed by the "other" category with 12 percent. Write-ins included In-n-Out, Culver's, Whataburger, and Five Guys. Only 8 percent of people dubbed McDonald's as the restaurant with the best beef but it still beat out Taco Bell, which came in last place with just 5 percent of the votes.