Trader Joe's New Vegan Tzatziki Dip Is Turning Heads
Tzatziki has truly earned its reputation as a great dip thanks to its long history. According to Greek on Wheels, the sauce traces its origins back to medieval India when the Persian elite would eat raita, tzatziki's predecessor, with food that they deemed too spicy. Over time, this sauce made its way westward, thanks to the Ottoman Empire, and the modern version of the sauce evolved in Greece. While this delicious yogurt-based sauce, which is often mixed with cucumber, spices, herbs, and oils, goes great on anything you can throw at it, anyone looking to abstain from dairy has a harder time finding a version suited to their needs.
The wait has finally come to an end for anyone craving a vegan version of tzatziki, thanks to Trader Joe's new take on the dip. Instagrammer @traderjoeslist recently discovered this dairy-free dip. They posted a picture of the sauce alongside the caption "NEW VEGAN TZATZIKI DIP. Of course the day after I go to #traderjoes this yummy #vegan dip drops at Trader Joe's. Something to look forward to picking up next week! This would go great on a Sandwich or as a dip with some carrots and cucumbers." Followers definitely agree with the sentiment, flooding the post with over 8,000 likes. One fan replied, "Finally!!! I love tzatziki and always pass by it at TJs, tempted to buy it, just once, a small cheat on my imperfect vegan diet. I hope this is good. I have high hopes!"
The perfect Trader Joe's dip for tzatziki fans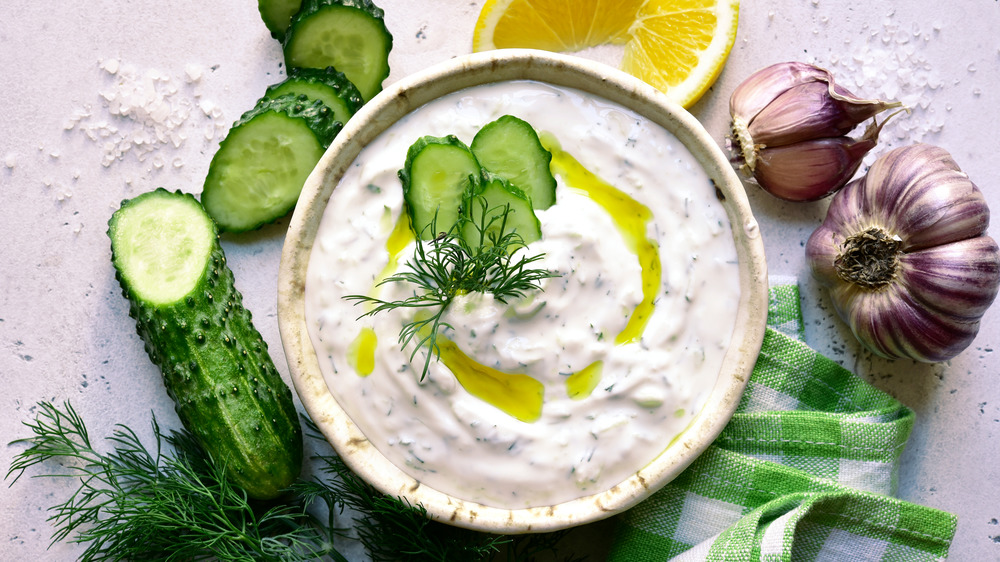 Shutterstock
Another Trader Joe's shopper commented with gratitude over the new vegan option: "Finally!!!!! Thank you, TJs!!" On the other end of Instagram, user @traderjoesobsessed separately discovered the dip and posted a picture of the goods alongside the caption, "VEGAN TZATZIKI DIP HAS ARRIVED! I can't wait to try this! You could grab some for your St. Patty's Celebration with broccoli and celery. Who is excited to try this????" The Instagrammer updated their caption to later say that they couldn't even tell the dip was dairy-free and that it wasn't too salty, either. Fans appreciated this post, awarding it over 3,000 likes and responses ranging from "oh my gosh I need this," to "Omg yay!! Can't wait to try."
Instead of yogurt, this vegan tzatziki is made with dairy free cream cheese alternative, according to the label. According to VegNews, this new vegan dip will join Trader Joe's vegan caramelized onion dip this year. If this new take on tzatziki already has your mouth watering, it's time to get a move on. Make sure to grab a container of the dip on your next Trader Joe's run and see what has caused all the commotion.