This Restaurant Offered A Discount For Your Best Macho Man Randy Savage Impression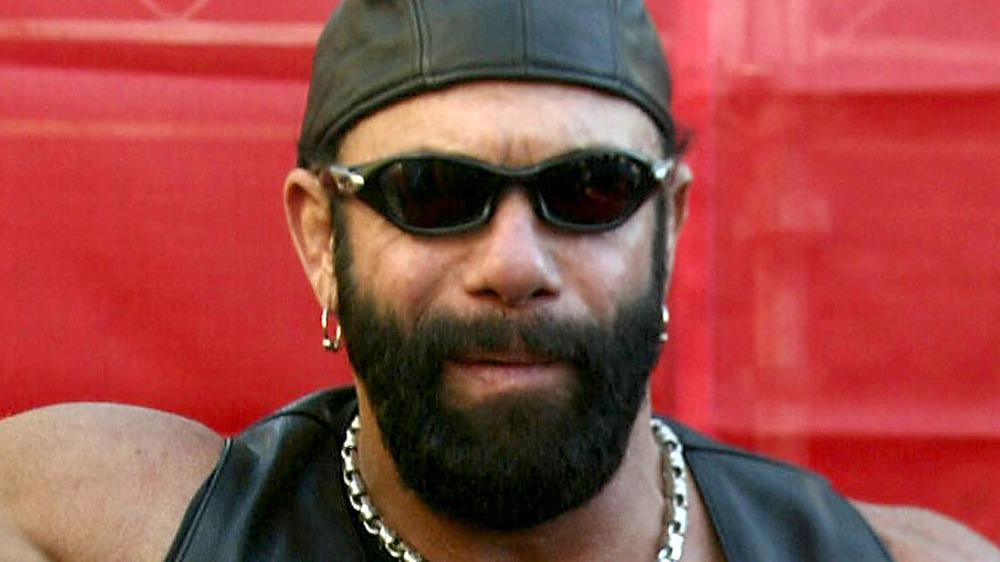 Frank Micelotta/Getty Images
Anyone who was a fan of Macho Man Randy Savage back in his wrestling days, is no doubt familiar with some of his best-known catchphrases: "Too hot to handle, too cold to hold!," "The tower of power! Too sweet to be sour," "Bow down to the kingdom of the Madness!," and of course the appropriate-for-every-occasion "You will eat my rear rockets, and like it!" Most Millennials, as well as all Gen Xers and Boomers, however, even if they never watched a single wrestling match, could quote one particular Randy Savage line in their sleep: "Snap into a Slim Jim, ohh yeahhh!"
While it's been over 20 years since the Macho Man did his last Slim Jim commercial, and nearly a decade since the car accident that caused his death, some things just stick with you forever, and will pop out of the farthest reaches of your memory at odd times, no doubt leaving you craving a Slim Jim. (That's some brilliant advertising right there, still effective years after the campaign ends). Once upon a time, though, your memories of the Macho Man could lead to something more than a midnight run to 7-Eleven. If you were in Burbank, Calif., in 2015, says BroBible, they could score you a sweet meal deal.
The non-burger stand that was really fond of impressions
The restaurant, which went by the name of Not a Burger Stand, seems to have gone out of business, although their Facebook page is still sporadically active. The restaurant offered what they described as "American comfort food influenced by Maryland and mid-Atlantic roots," and for a short while back in the middle of the last decade, you could have scored a 10 percent discount on your order if you placed said order in your best Macho Man growl: "I wanna snap into some Cap'n Crunch French toast, ohh yeahhh!" Better yet, if you went with a buddy, the chalkboard touting this promo (via Tumblr) proclaimed: "Bodyslam a friend and you both eat free."
The restaurant owner must have been quite the wrestling fan, since their Facebook photos show similar promos requesting impressions of Rowdy Roddy Piper, The Rock, Andre the Giant, Hulk Hogan, and that heel's heel, Vince McMahon. Not only wrestlers were so honored, as they also had discounts involving an eclectic assortment of pop culture icons such as Gandalf, Sam Elliott, Duckie Dale from Pretty in Pink, and sock monkeys. Why do we only find out about cool stuff like this after it's gone? In the words of one late-to-the-party Facebook fan commenting on the restaurant's page in 2020, "Aww man. I just found out that this place exists only to discover it doesn't anymore."