Penn State Students Are Mourning The Departure Of This Chick-Fil-A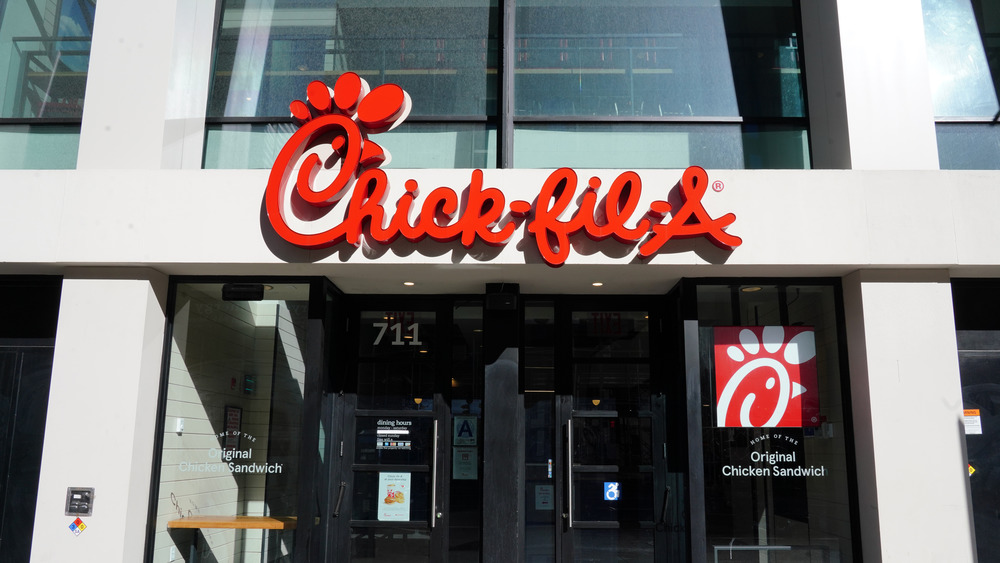 Cindy Ord/Getty Images
College life is about to change for students at Penn State University. Their campus Chick-fil-A, where they would go to grab an original chicken sandwich complete with two pickles — no more, and no less — between classes, or where they would gather as a herd to order-up waffles fries and endless milkshakes to give them studying power, will, alas, be no more. Cue the tears. Per Penn State's Daily Collegian, the Penn State University Chick-fil-A located in the HUB-Robeson Center is closing.  
The "Eat Mor Chikin" food chain, which has been named the top fast food chain in customer satisfaction for the last six years in the U.S. (via Insider), will be no more than a distant memory for Penn students when the spring semester ends. When students return in the fall, in place of Chick-fil-A will be another fried chicken chain. We know what you are thinking, "Oh Chick-fil-A, how could you leave them?"
It's not the first university where Chick-fil-A has closed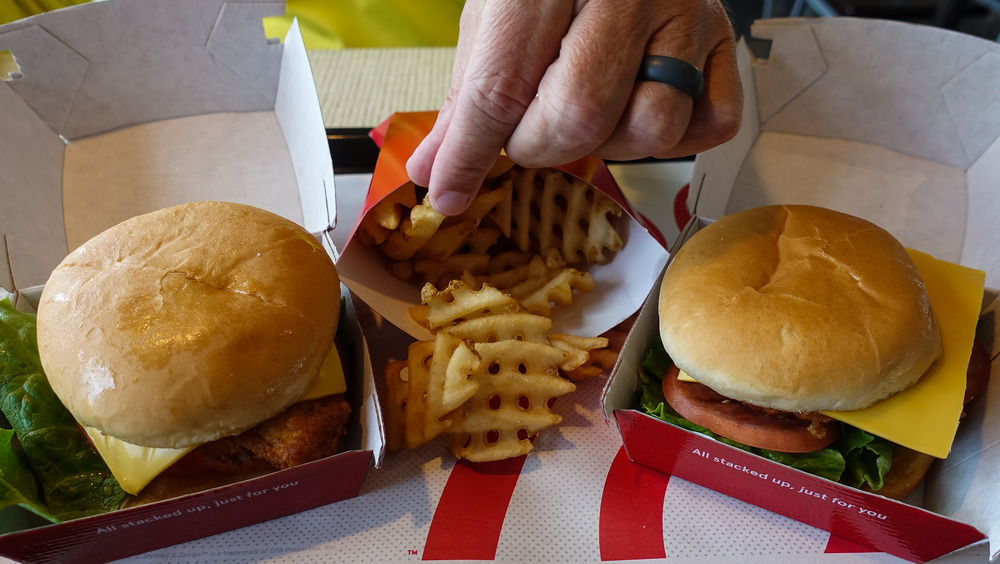 Shutterstock
According to the Centre Daily Times, in place of Chick-fil-A, students will instead find a Slim Chickens which is known for its chicken tenders and wraps. But Penn State students are fiercely loyal and seemed unimpressed. One student expressed her disapproval to the Daily Collegian saying, "We'll send a message, and we will boycott by not going to Slim Chickens." Another student lamented, "I was at the Taco Bell vigil [...] I would love to break the sign back out and attend [a Chick-fil-A] vigil and pay my respects." Yet another student shared that he wished it were Burger King they were closing instead because, "Who eats Burger King?"
While an official reason for Chick-fil-A's departure from campus has not been released, this is not the first school of higher education that has decided to go with a different chicken fast food restaurant option. In 2018, Rider University in New Jersey cut their ties with the famed fried chicken sandwich shop over social issues, saying in a statement on their website that, "Chick-fil-A was removed [...] based on the company's record widely perceived to be in opposition to the LGBTQ+ community," (via Rider University). Additionally, New York University will cut ties with their Chick-fil-A after the spring 2021 semester, citing student criticism and protest of the chain (via NYU Local). According to USA Today, Chick-fil-A has faced backlash for its documented donations to anti-LGBTQ groups prior to 2012.
For now, Penn State students will have to do without their Chick-fil-A fix. In the words of one alleged former student: "I left Penn State at such a good time," (via Twitter).