Poutine Recipe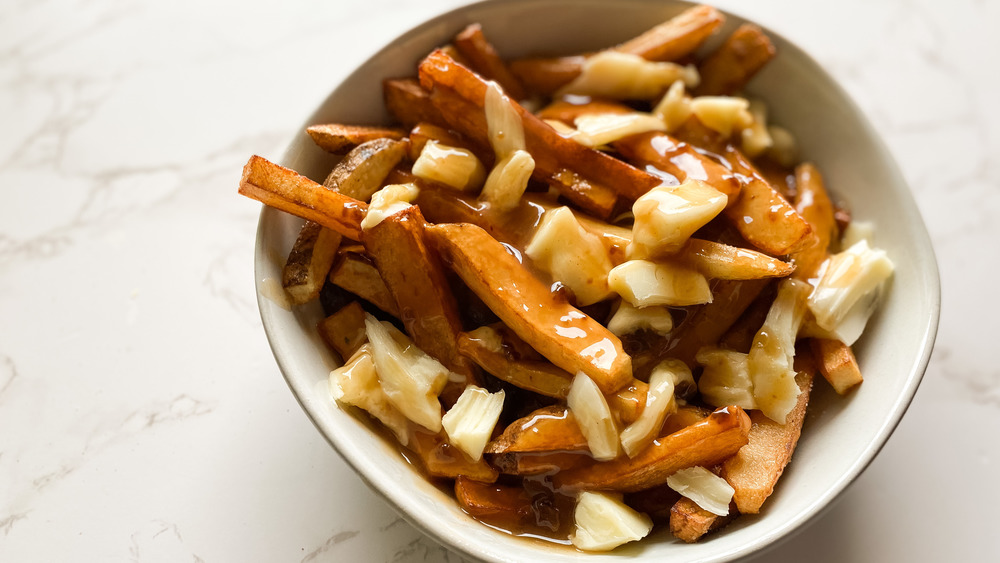 Kristen Carli/Mashed
We may receive a commission on purchases made from links.
When Nicolas Fabien-Ouellet, now Director General of the Montreal Public Markets, wrote his classic article for Erudit as a student, he stated poutine is "an unpretentious Quebecois dish originally made of fries, cheese curds, and brown gravy." In the words of chef, food writer, and registered dietician Kristen Carli of Camelback Nutrition & Wellness, poutine is "delicious and dangerous."
"This is my ideal indulgent food." Carli adds. Indeed, indulgent is the word here, but sometimes you just need a platter of fried, cheesy goodness dripping in a salty, savory sauce to hit the spot. And when you master making poutine at home, you don't need to make the trip to Quebec to enjoy it. (Not that visiting Quebec isn't a fine thing to do, especially during the annual Winter Carnaval held in Quebec City, of course.)
Poutine "is best as a snack," Carli says, but she adds: "It could be your starchy side to dinner if needed." And while it must be made and enjoyed fresh, that's really no issue. "This does not keep well, but don't worry you will not have any leftovers – it is that good."
And it's pretty simple to prep, too, so let's get right to it.
Gather your ingredients to make poutine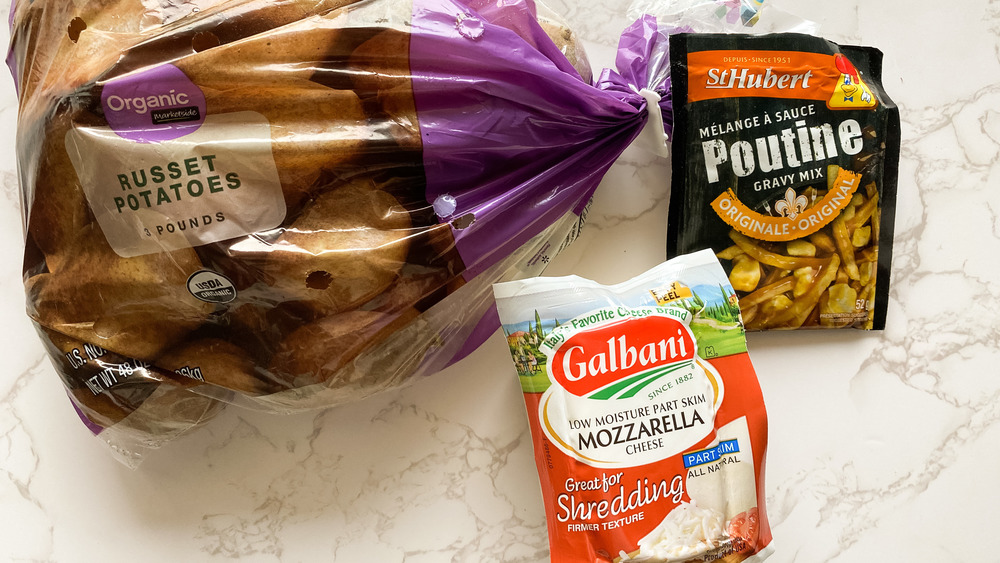 Kristen Carli/Mashed
If you don't count the oil for frying the potatoes or the water for the gravy, then there are just three ingredients needed to make a three-serving batch of poutine. Those are one and half pounds of russet potatoes, two ounces of mozzarella cheese, torn or shredded, and one packet of St. Hubert Mélange À Sauce Poutine Gravy Mix. That last one? You might not find it at your local grocery store, but you will find St. Hubert Mélange À Sauce Poutine Gravy Mix for sale online, and the packets you get today will mix up the same delicious gravy people have been enjoying since 1951.
Cut and cook the fries for poutine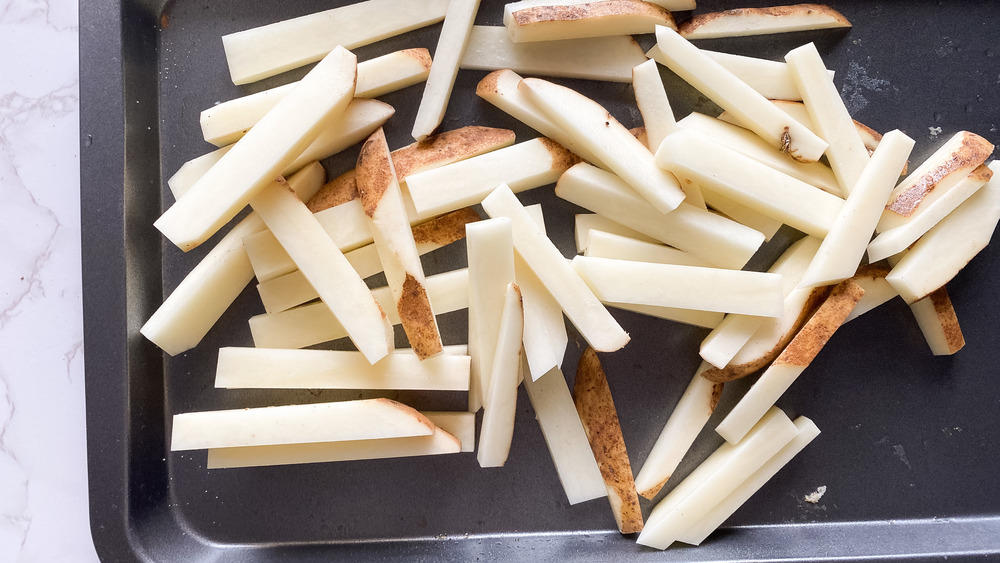 Kristen Carli/Mashed
Start off by scrubbing and washing the potatoes — no need to peel them if you clean them well. Now, slice the potatoes into fry shape, cutting long, slender pieces that are never more than a half-inch thick at the most.
Next, heat a large pot of oil for frying. Once it's hot add, one-third of the fries to oil. Allow the fries to cook and crisp up for about sex minutes. Then, remove them and place on a paper towel-lined baking sheet. Repeat the cooking with the remaining fries in two more batches so as to not crowd the oil.
Once all the fries have been cooked, sprinkle a big pinch of salt on top of the hot fries. 
Make the gravy and assemble the poutine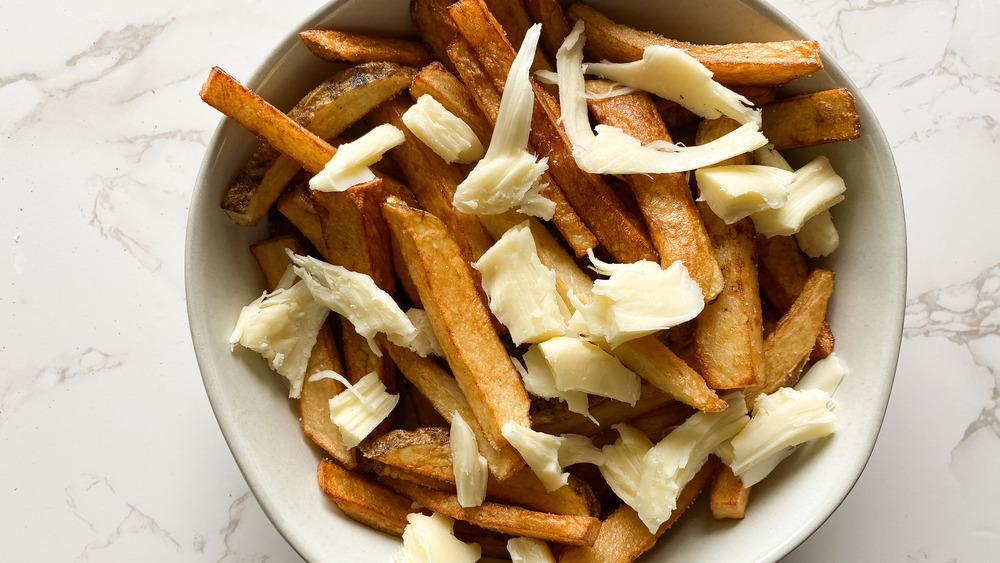 Kristen Carli/Mashed
In a small sauce pan, add the gravy packet and two-and-a-half cups of water. Whisk the water and gravy mix to combine as you heat the pan, bringing the gravy to a boil. As soon as it boils, reduce the heat to a simmer and let it simmer away for three minutes.
Meanwhile, place the finished fries in a large bowl and top them with mozzarella shreds. When the three minutes have passed, pour half of the hot gravy over the top of the cheese and fries and allow the heat from the gravy to melt the cheese.
And that's it, your poutine is ready. Enjoy it immediately.
Poutine Recipe
This classic Quebecois treat will be your next snack go-to. Whether you're Canadian or just want loaded, cheesy fries, this poutine recipe will hit the spot.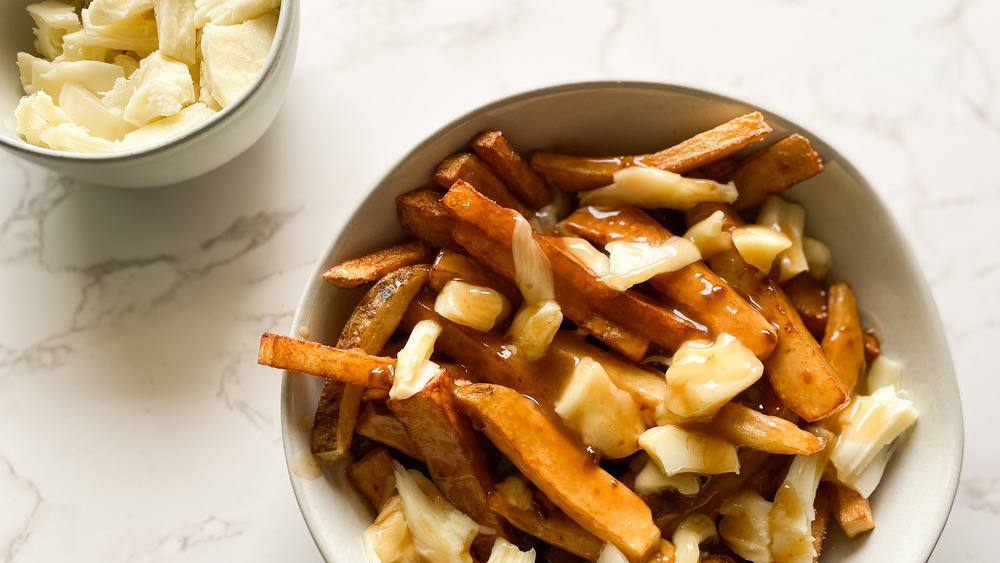 Ingredients
1.5 lb russet potatoes
2 oz mozzarella cheese, torn/shredded
1 packet (52 g) St. Hubert Melange A Sauce Poutine Gravy Mix
Oil for frying
2.5 cups water
Directions
Scrub and wash potatoes
Slice potatoes into ½ -inch fry shaped pieces
Heat a large pot of oil for frying, and once hot, add ⅓ of fries to hot oil
Allow fries to cook and crisp up for about 6 minutes, then remove and place on a paper towel-lined baking sheet
Repeat with remaining fries in 2 more batches
Once all fries have been cooked, sprinkle salt on top of hot fries to taste
In a small sauce pan, add gravy packet and 2 ½ cups of water and whisk to combine.
Bring gravy to a boil and then reduce to a simmer for 3 minutes
Place fries in a large bowl and top with mozzarella shreds
Pour ½ of the hot gravy over the top and allow the heat from the gravy to melt the cheese