Pepsi Is Giving Away This Bizarre Easter Candy-Flavored Soda. Here's How To Get Some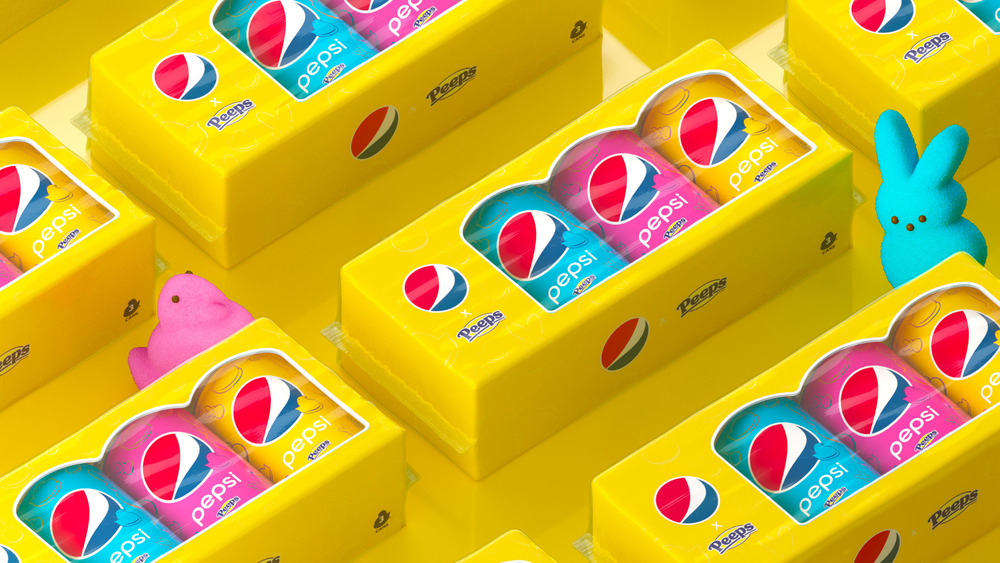 Pepsi-Cola Company
Easter is nearly here, which means that those fan-favorite marshmallow candies from Peeps will be filling grocery store shelves once more. But this year, it seems Peeps will be making a special springtime collaboration with another classic brand. Right up to the very end of March, you can win a collectors package of Pepsi x Peeps, a potentially limited-edition marshmallow soda flavor. 
In a press release sent to Mashed, Pepsi explained that to enter, you need to take a picture with you and some marshmallow Peeps — either bunnies or ducks will do — and upload it to Twitter or Instagram with @Pepsi, #HangingWithMyPeeps, and #PepsiSweepstakes included in the post. Posts on Twitter will be treated as distinct from those on Instagram, meaning you can enter your name twice. The rules, as stated here, also allow for mail-in entries without any procurement of Peeps. As of writing, this sweepstakes is the only way to acquire the Pepsi x Peeps.
The sweepstakes drawing will occur on April 7, and 3,160 people will win a three-can pack of the limited Pepsi x Peeps, with each can containing 7.5 ounces of the new flavor, and one box of five Peeps. Ten will win a grand prize of receiving the Pepsi x Peeps in a special collector's box.
Celebrating the return of the Peeps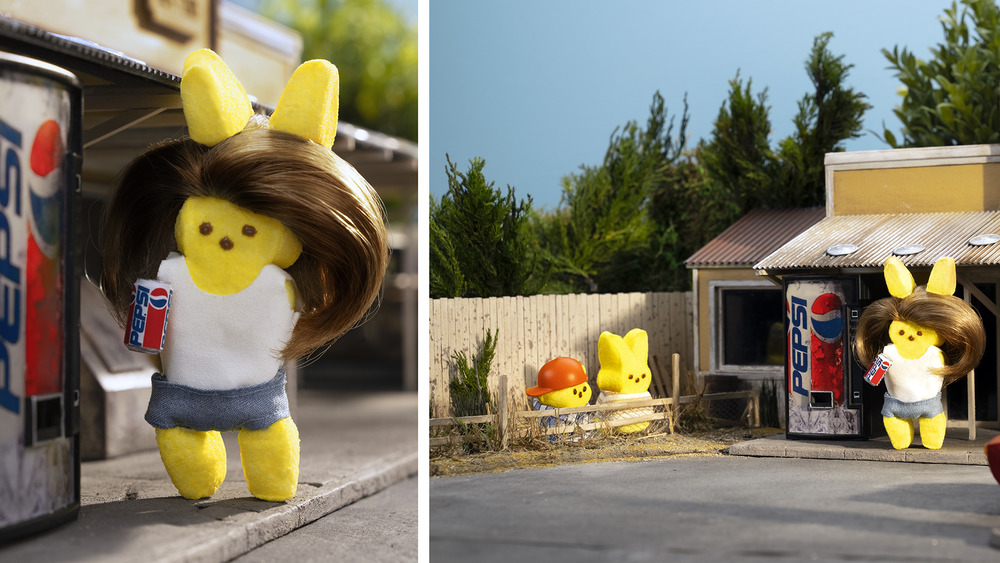 Pepsi-Cola Company
The Peep-flavored Pepsi marks another stop in the marshmallow candy's triumphant return after its factories temporarily halted Peep production due to the coronavirus pandemic.
Todd Kaplan, vice president of marketing of Pepsi, said to CNN that the idea of combining the two brands came from Pepsi: "Taste is really important to customers. They want sweet and they want to connect to things emotionally. Peeps has its own subculture we wanted to tap into." Part of this celebration included remaking classic Pepsi ads with Peeps features in the cast, like the above pictured recreation of the Cindy Crawford ad from 1992. He also hinted that if the new flavor proved popular, fans could expect it to be sold in stores.
As a piece published earlier today by Marketing Dive shows, Just Born Quality Confections, the peeps behind Peeps, was both making up for lost time and taking full advantage of the fact that it is the Easter sweet, by incorporating food influencers into its Instagram marketing, setting itself to collaborate with the mobile game Funko Pop! Blitz from April 1 through April 8, and bringing back the Peeps Crocs. And that list is no where near exhaustive. So, while Pepsi x Peeps is an exciting new flavor for Pepsi drinkers, Peeps fans may miss it for the sheer amount of Peeps-related activity that is currently occurring.