Strawberry Salad Recipe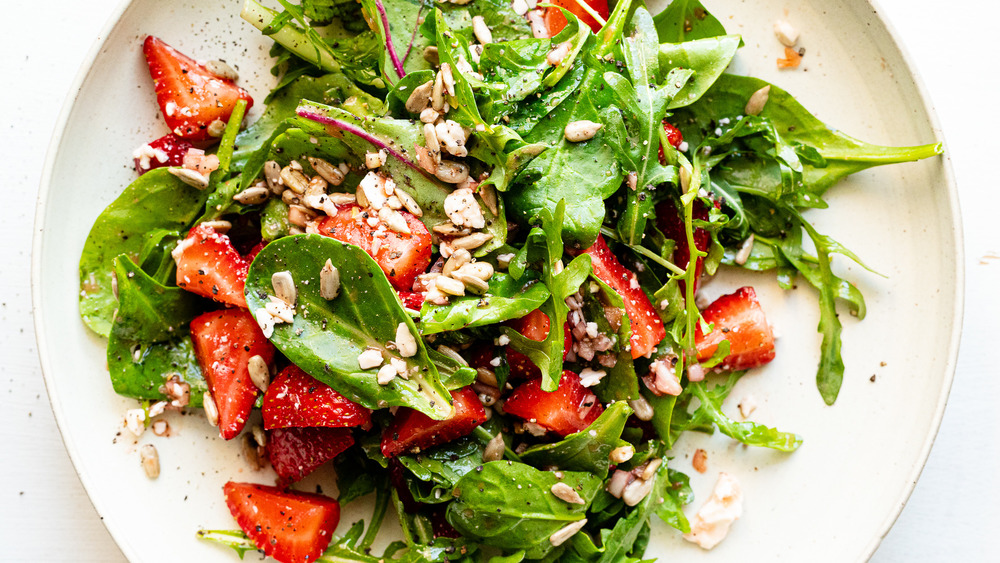 Sher Castellano/Mashed Staff
When the days heat up, turning to light, cool dishes are a surefire way to help ease the general feeling of heaviness that seems to set in with rising temperatures. And while smoothies, popsicles, and even cold soups are all good options, nothing beats a delicious, crisp salad. And as soon as berry season hits, you need to head to your local grocery store or farmer's market to stock up on strawberries to make this salad. It's a refreshing dish that you'll want to enjoy for lunch or dinner all summer long. 
The key to this salad according to recipe developer, Sher Castellano, (and the reason why it's best with strawberries, rather than other berries), is that strawberries are the first berries available in the spring and summer, and they offer a mix of tart and sweet flavors, along with a hint of crunch. As a salad topping, it's hard to beat this combination, especially when they're allowed to marinate in balsamic vinegar before serving. 
Gather your strawberry salad ingredients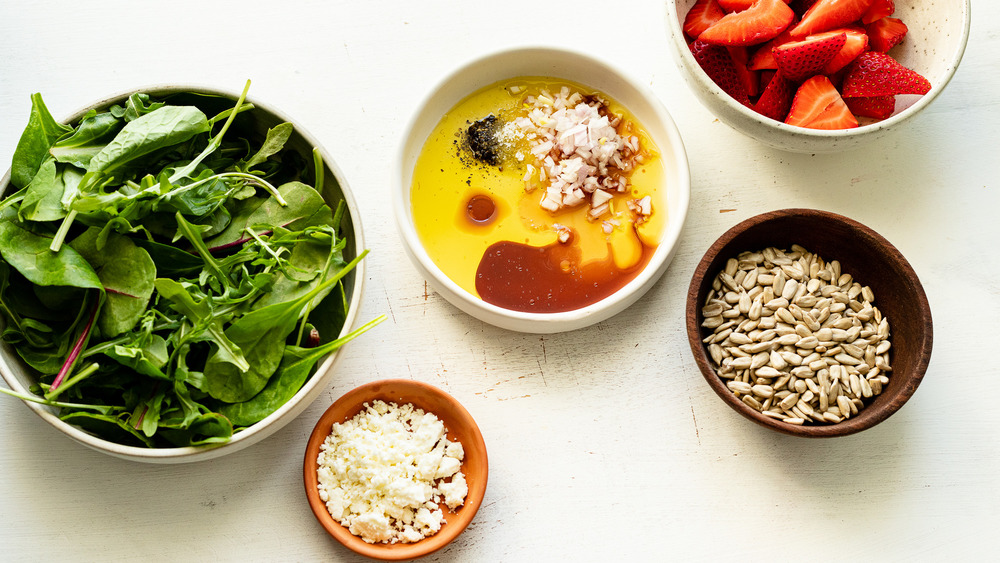 Sher Castellano/Mashed Staff
This entire salad only takes 17 minutes to make from start to finish, and that includes the time needed to marinate the strawberries. But everything will go faster if you grab all your ingredients and have them ready to go. 
For the strawberry salad itself, you'll need mixed salad greens (or if you prefer, you can opt for plain spinach or arugula — the pre-washed, prepared versions are a good option), sunflower seeds, and feta cheese crumbles. For the dressing (which is used to marinade the strawberries as well), you'll need olive oil, balsamic vinegar, honey, minced shallots (you only need 2 tablespoons, so a single shallot is likely to do the trick), sea salt and black pepper. And of course, you need fresh strawberries to really make this salad sing.
Prep your strawberries and set aside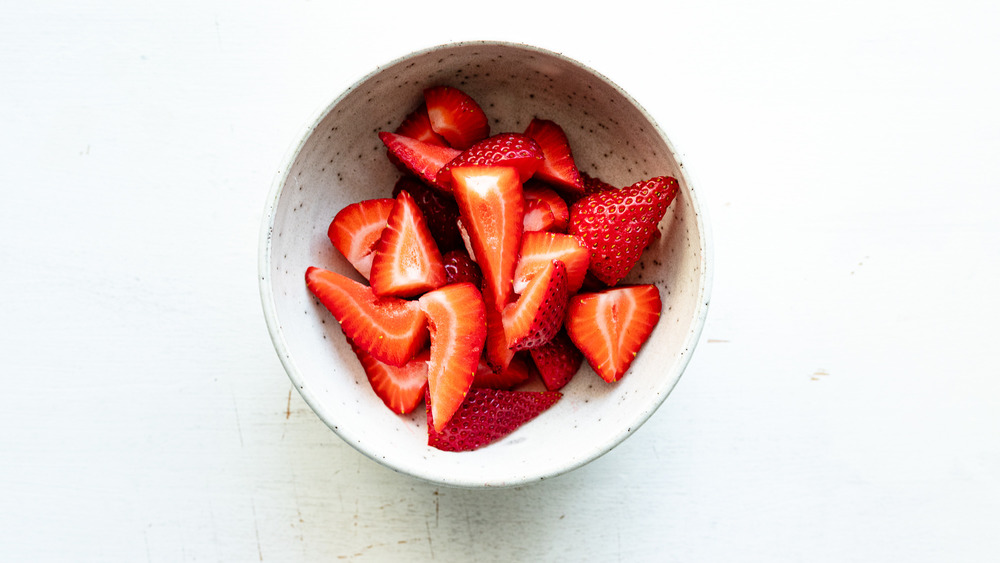 Sher Castellano/Mashed Staff
When it comes to prepping your strawberries, it's really very simple. The trick is that you need to cut them into slightly smaller pieces to open them up and allow them to soak in the marinade. Start by removing the calyx (the green leafy part on top), then cut each strawberry into quarters. You only need a cup of quartered strawberries to make two servings of this salad, but you'll want to start with a little more than a cup of uncut strawberries, because when they're sliced into smaller pieces, they'll take up less space in your measuring cup. And of course, you can always increase the number of strawberries if you're so inclined — it certainly won't hurt anything. 
Whisk the strawberry salad's dressing together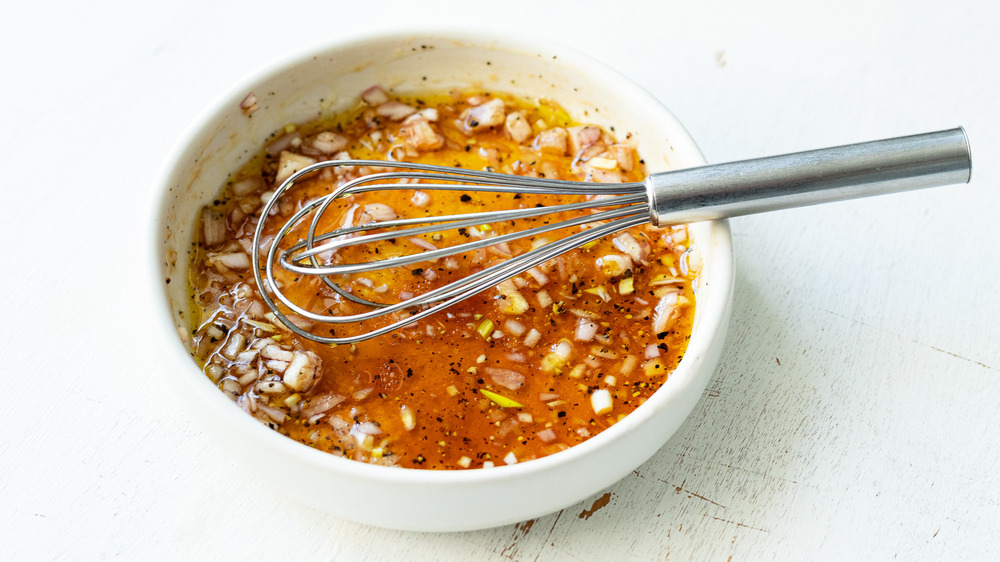 Sher Castellano/Mashed Staff
With the strawberries prepped and set aside, you're ready to make your dressing, which works to marinade the strawberries as well. In a small bowl, add your olive oil, vinegar, honey, shallots, salt and pepper. This combination of ingredients offers a sweet and tart flavor combination, with the balsamic vinegar and honey counterbalancing each other (not entirely unlike the combination of sweetness and tartness you find in strawberries themselves). When the ingredients are thoroughly whisked, you're ready to marinate.  
Marinate the strawberries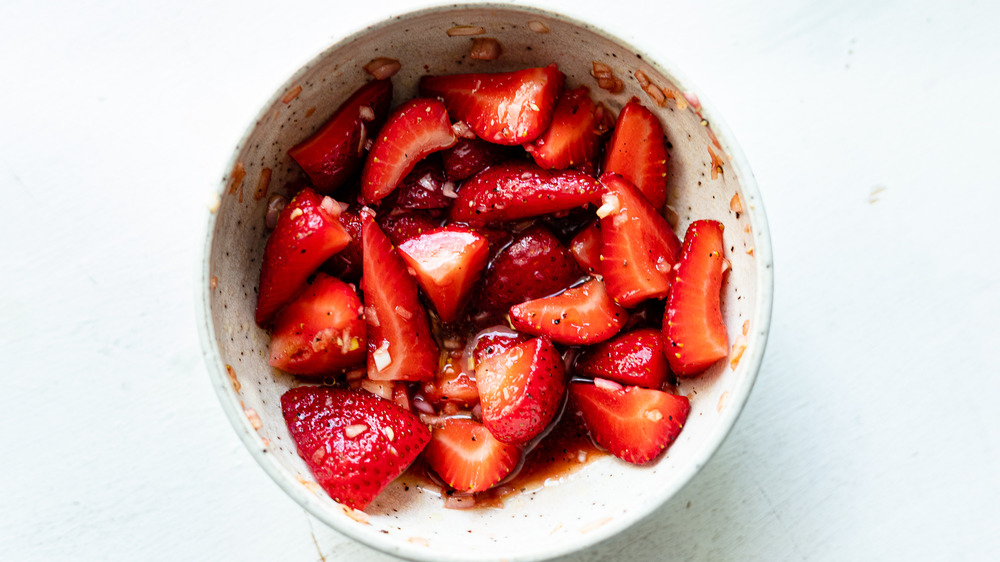 Sher Castellano/Mashed Staff
With your marinade prepped, simply pour the dressing over the strawberries and stir to combine, really spooning the marinade over all sides of the strawberries to fully saturate the fruit. 
"The thing that makes this strawberry salad different than others is the marinating time the strawberries get before serving," explains Castellano. "They're able to soak up the balsamic and honey and shallots and get real flavorful." Once you've fully combined the dressing with the strawberries, set them aside to allow the berries to marinate. You can adjust the time based on when you want to serve the salad, ranging from ten minutes to 24 hours. Just keep in mind, the longer the berries marinate, the more they'll soak up the flavor of the ingredients in the dressing.
Combine ingredients and toss the strawberry salad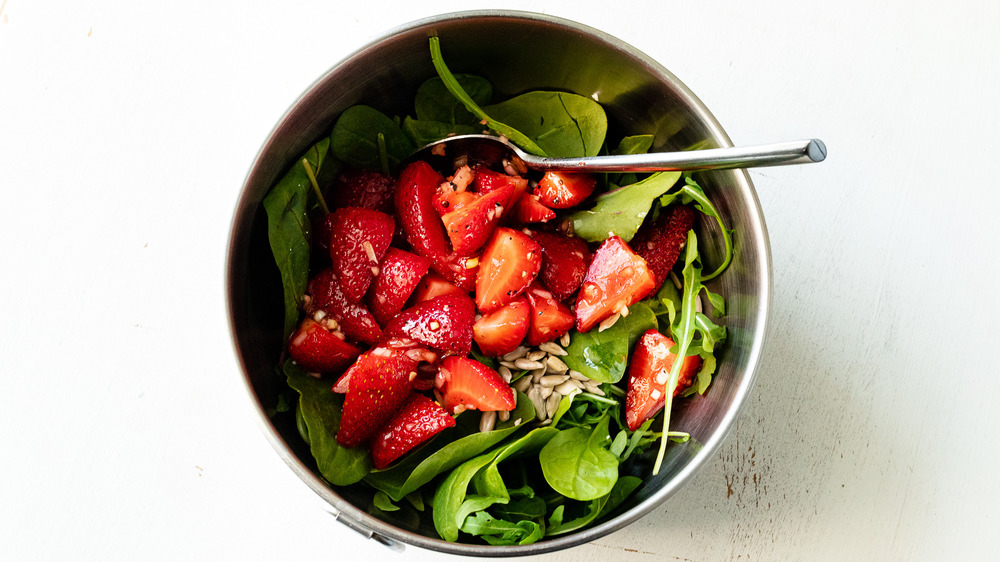 Sher Castellano/Mashed Staff
After allowing the strawberries to marinate for at least ten minutes, your salad is practically ready to serve. Simply place the greens in a large bowl, top with the sunflower seeds and feta cheese, then pour the strawberries and marinade over the top and toss to combine. It's really that simple! And if you want to turn this salad into more of a meal, Castellano suggests pairing it with a salmon fillet or chicken breast. 
Of course, if fresh strawberries are out of season, or the ones at your grocery store just don't look appealing, it's going to be a little tricky to recreate the dish with a different berry or fruit. Other berries just won't soak up the balsamic vinegar in the same way that strawberries will. That said, in the fall if pears are readily available, Castellano says that very ripe pears might work in a pinch. 
Strawberry Salad Recipe
Summer salads just don't get any more refreshing than this strawberry salad with fresh greens, feta cheese, and balsamic vinegar.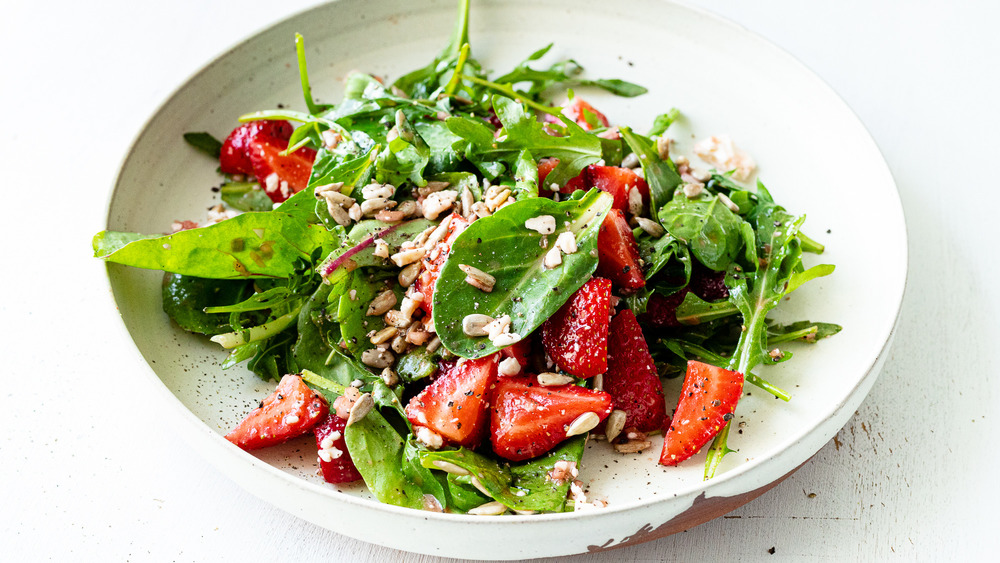 Ingredients
1 tablespoon olive oil
½ teaspoon balsamic vinegar
1 teaspoon honey
2 tablespoons shallots, minced
½ teaspoon fine sea salt
¼ teaspoon black pepper
1 cup strawberries, quartered
2 mixed salads greens (or plain spinach or arugula)
2 tablespoon raw sunflower seeds
1 oz feta cheese crumbles
Directions
Put the strawberries in a bowl and set aside.
In a small bowl whisk together the olive oil, balsamic vinegar, honey, shallots, salt, and pepper. Then pour the dressing over the strawberries and mix to combine well. Set aside to marinate for 10 minutes (or up to 24 hours).
When the strawberries are done marinating add them to a large mixing bowl along with the greens, sunflower seeds, and feta. Toss gently and plate with more black pepper (and/or feta if desired).
Nutrition
| | |
| --- | --- |
| Calories per Serving | 215 |
| Total Fat | 13.0 g |
| Saturated Fat | 3.4 g |
| Trans Fat | 0.0 g |
| Cholesterol | 12.6 mg |
| | |
| --- | --- |
| Total Carbohydrates | 20.3 g |
| Dietary Fiber | 5.8 g |
| Total Sugars | 12.9 g |
| Sodium | 775.2 mg |
| Protein | 9.3 g |