Costco Fans Can't Get Enough Of This Steak Seasoning Blend
Steak seasoning has a storied history. According to Epicurious, Montreal steak seasoning, one of the most iconic steak rubs that took the U.S. and Canada by storm, found its way onto our steaks via Jewish delis. Romanian jews brought the predecessor of this notable spice blend to the new world and used it as the seasoning blend that gave pastrami its signature flavor. This same blend of spices that makes our steak taste great originally had a much more utilitarian purpose — to keep meat from spoiling during the time of the Ottoman Empire. If you love the flavor that steak seasoning imparts on your grilled goods, you have to taste the latest evolution of this spice blend.
Instagrammer @costcodeals discovered a game-changing steak seasoning blend at their local Costco that will get you excited to start grilling. They posted a picture of a bottle filled with the seasoning, alongside the caption, "Love this organic the steak blend seasoning by @kinderssauce! Great for steaks and burgers! Spotted at the Tukwila, Wa warehouse." The post has attracted over 1,800 likes and a wave of replies showering praise on the new product.
The ultimate Costco steak seasoning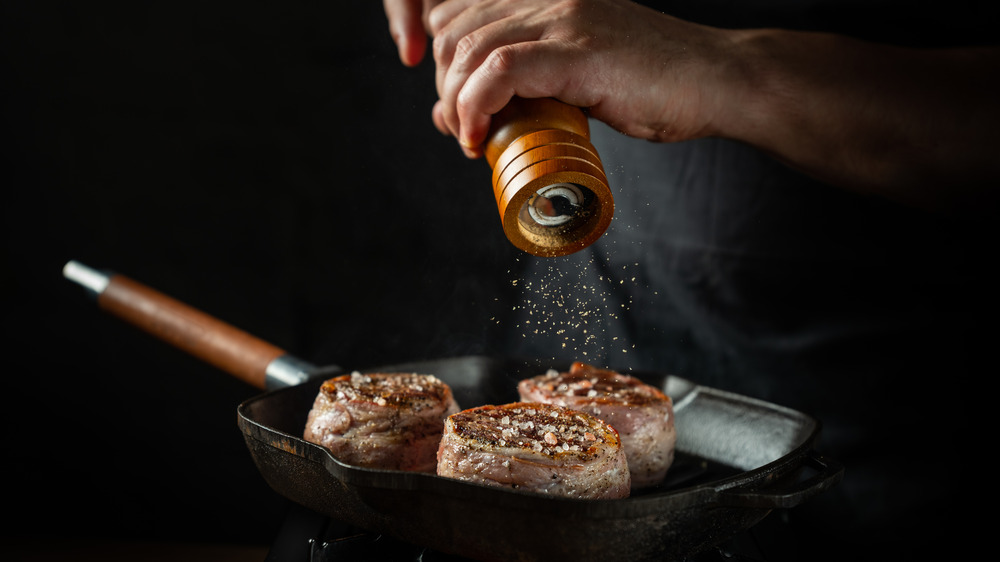 Shutterstock
Excited users have replied to the post with comments ranging from, "Ooh I'm gonna need to try this one for sure! I love The Blend one from them!" to "Haven't tried this one but now I gotta go find it." If you can find this product at your local Costco, you have stumbled into a particularly lucky situation. According to Kinder's, their newest steak blend doesn't appear on their official product site yet, meaning you might have to make an expedition out to Costco to score this particular spice mélange. If you get your hands on this fan favorite, count yourself as one of the few that has the chance to taste this product. 
For those of us who can't find the new spice blend, we just have to hold out hope that the product makes its way to our area soon. While we wait to get our bands on a bottle of the blend, we can keep dreaming of the smoky, rich flavors served up in each sprinkle and get excited to use the ingredient next time we fire up the grill.