Aldi's Newest Coffee Flavor Is Perfect For Blueberry Lovers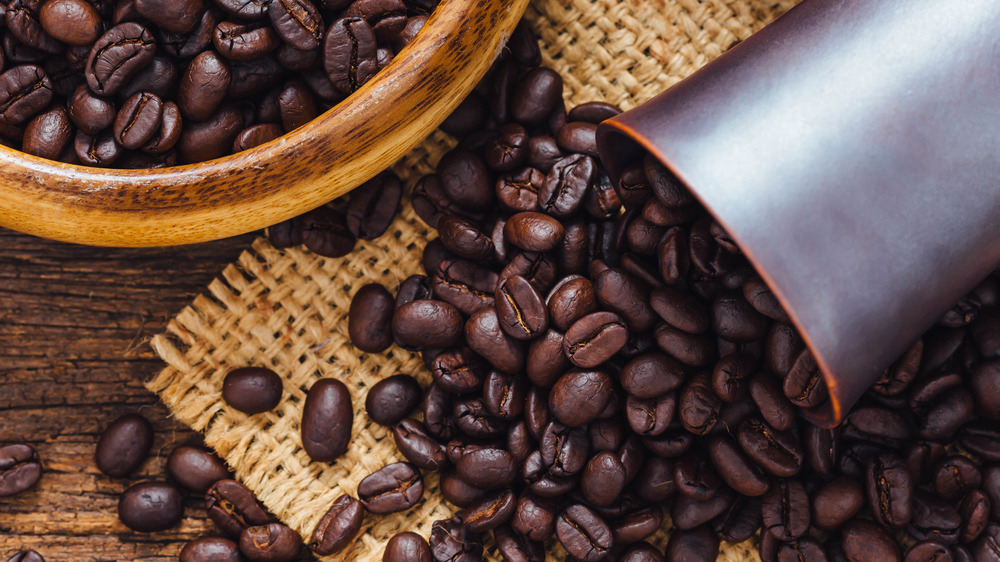 Shutterstock
There are few things better than waking up to the smell of fresh blueberry muffins baking in the oven. While you might prefer bacon or coffee first, blueberry muffins definitely make the top 10 list for many. That's why some coffees, including those at Aldi, are now coming in more interesting and unusual flavors. One of those flavors includes maple bacon coffee at Aldi. So even if you don't feel like frying up bacon first thing in the morning, at least you can smell it from your coffee.
Fortunately, the latest flavor to hit Aldi's shelves pairs a little more easily than maple bacon wafting toward you as you take your first sip of coffee. Instead, this flavored coffee is inspired by the perennial breakfast baked good, the blueberry muffin (via The Kitchn). Better yet, you can even pick up some actual blueberry muffins to enjoy with your aromatic cup when you go to Aldi to pick up a bag of the new coffee. You could also make some really interesting flavored coffee drinks with a brewed cup of this new coffee, too.
This is what you need to know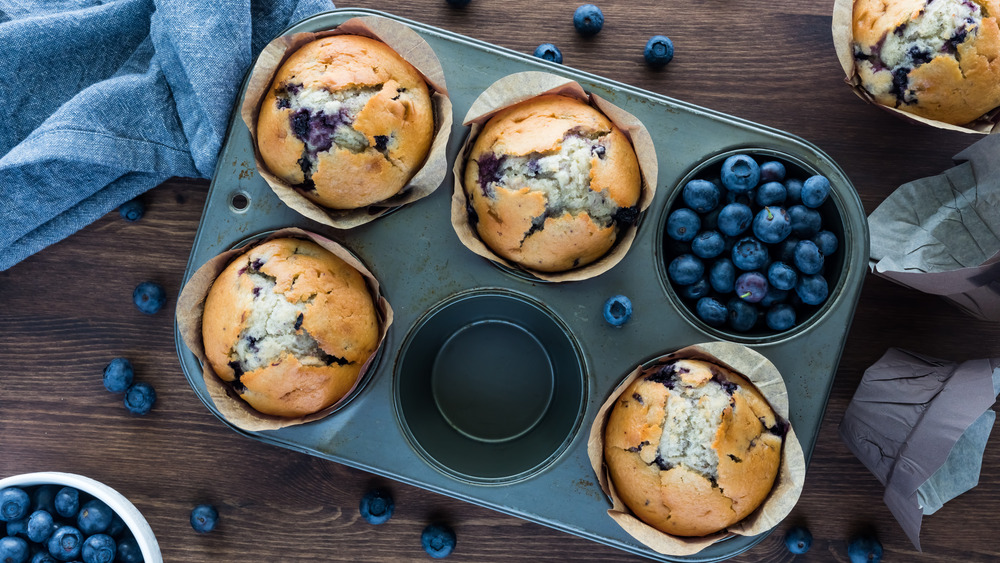 Shutterstock
Aldi shoppers and coffee enthusiasts will be in luck as soon as April 14, when a new lot of AldiFinds drops. Officially, the new coffee will be Barissimo Wild Blueberry Crumble Coffee. According to The Kitchn, the budget-friendly grocery store you know and love is adding the quintessential breakfast flavor as a new flavored coffee addition to its shelves by using artificial flavors. Each 12-ounce bag will cost just $3.69, making it well worth picking up a bag to try.
While you're at Aldi to get a bag, you might want to pick up some Friendly Farms Coconut Creme coffee creamer for a sweet and creamy addition (via Aldi). The flavor combo would likely pair perfectly. To perfectly round out your breakfast with a pot of the new blueberry coffee, don't forget to pop by the bakery and pick up your favorite pastries or baked goods. Whether you actually want blueberry muffins or you'd prefer to pair it with something else like cinnamon rolls, coffee cakes, or even fruit danishes, you can find them all at Aldi. So add this to your shopping list when April 14 rolls around.