This Is How Martha Stewart Creates Beautiful Sashiko-Style Easter Eggs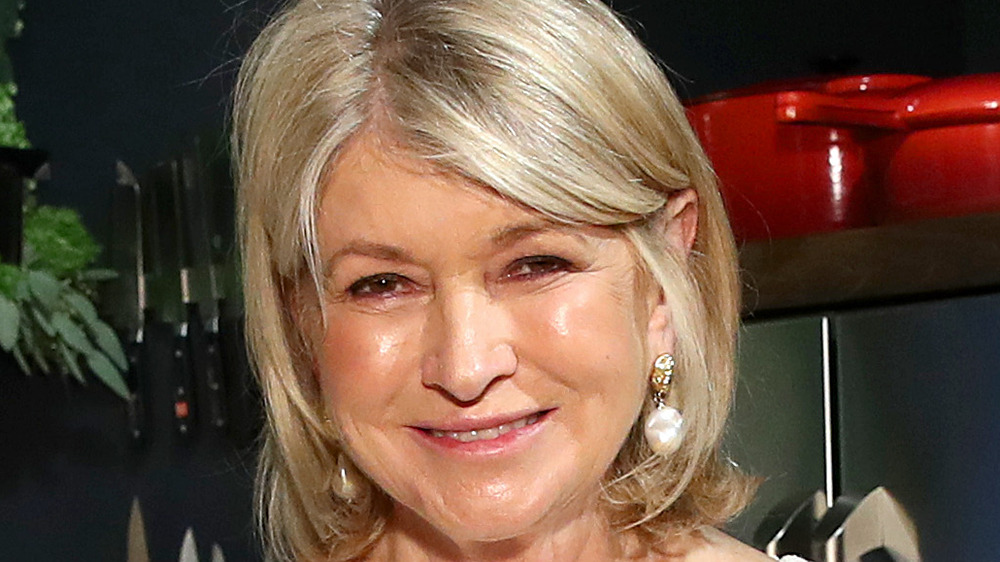 Cindy Ord/Getty Images
If you want to have a quick-and-easy Easter this year, run to Costco and grab eggs that have already been hard-boiled and dyed (via Instagram). But if you're trying to impress family or guests, and you have plenty of time, money, and motivation, then turn to Martha Stewart for Easter advice.
Martha Stewart knows the surest way to a successful Easter egg display is to exceed — if not explode — expectations. Why work with regular old chicken eggs if you can get your hands on ostrich, turkey, or duck eggs? (It wouldn't surprise us if Stewart had a line on dodo or dinosaur eggs, too.)
After you've decided on an egg species, you can find dozens of inspiring Easter-decoration ideas at Martha Stewart that promise to go well beyond the "standard one-color dip." You can give your eggs the look of terrazzo stone using craft flakes, as long as you don't intend to actually eat the eggs afterward. Or create kintsugi eggs, giving them a cracked-but-not-broken look with some skillful application of gold-leaf paint. And these are only two ideas from the list of 51. Right now, we're grooving on Stewart's sashiko-style Easter eggs, which borrow from a Japanese embroidery technique.
Martha Stewart's secret to Easter eggs with Japanese designs is a Ukrainian template
Martha Stewart doesn't expect you to learn Japanese stitching to make the sashiko-style Easter eggs it has listed on-site. No needles are required. After dyeing your eggs, the outlet suggests penciling in your sashiko-like patterns using a template for "pysanka," which are Ukrainian Easter eggs. (No need to divulge this little cultural crossover to your guests.) You can also draw the dotted stitch-lines freehand, if you're up for it. Use a white oil-based paint pen to finish your stitching, then cover your tracks after the paint dries by erasing those pencil marks. You can also leave some eggs undyed and decorate them with a blue paint pen.
Once all your eggs are done, display them in a nice wicker basket and make them your Easter centerpiece. If you love the bedspread from Toast that Martha Stewart uses as a tablecloth in the sashiko Easter egg display, we're sorry to report that Toast apparently no longer carries the item. We suggest you save a couple hundred bucks and select from Etsy's selection of tablecloths in blue and white, which are sashiko's traditional colors (via Seamwork).