This Is The Grossest Easter Candy, According To Nearly 40% Of People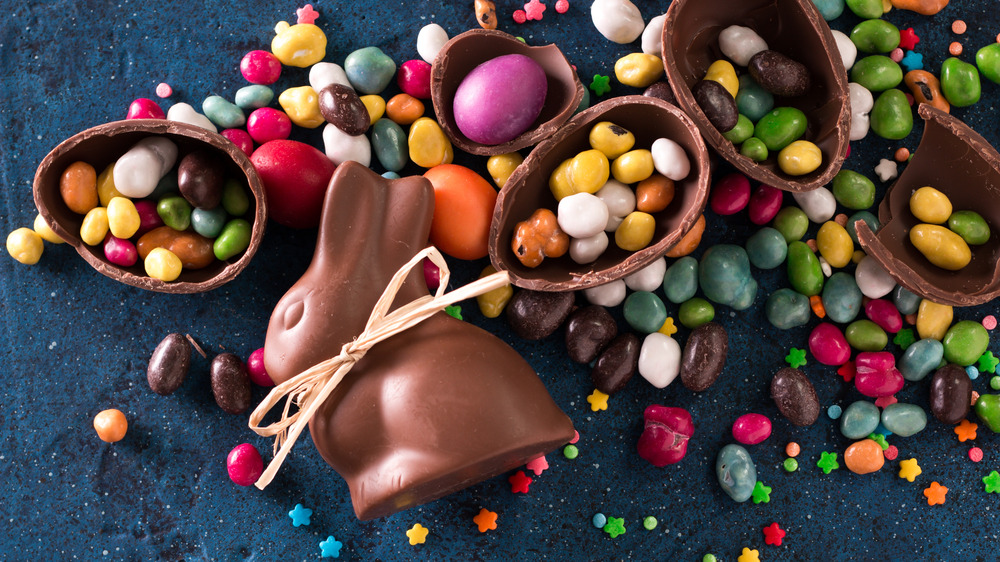 Shutterstock
You probably already know what the answer is here. Mashed recently asked 655 Americans, "What is the grossest Easter candy?" And from the survey, a clear winner emerged, capturing almost 40 percent of the total vote in a field of seven candidates. The second grossest candy in our survey got less than half the number of votes as our grossest. But before we announce the winner, let's survey the surveys. You can find a lot of "worst Easter candy" lists out there. Let's see what some of them have to say.
We here at Mashed came up with a subjective Easter candy ranking in 2019. In a field of 16, marshmallow Peeps ranked dead last, behind such confectionary mutations as chocolate-covered coconut nests and Cadbury Creme Eggs. We liked hollow milk chocolate bunnies, Starburst Jellybeans, and Reese's Peanut Butter Eggs, in that order.
Arguably, nobody knows candy like the online wholesaler CandyStore.com, who surveyed more than 16,000 customers this year to update its annual Easter candy rankings. Cadbury Creme Eggs repeated as worst Easter candy, with the solid chocolate bunny coming in third, and Peeps sixth. "They just don't get much love outside the diorama art world," CandyStore.com said of Peeps.
Peeps top our survey of grossest Easter candy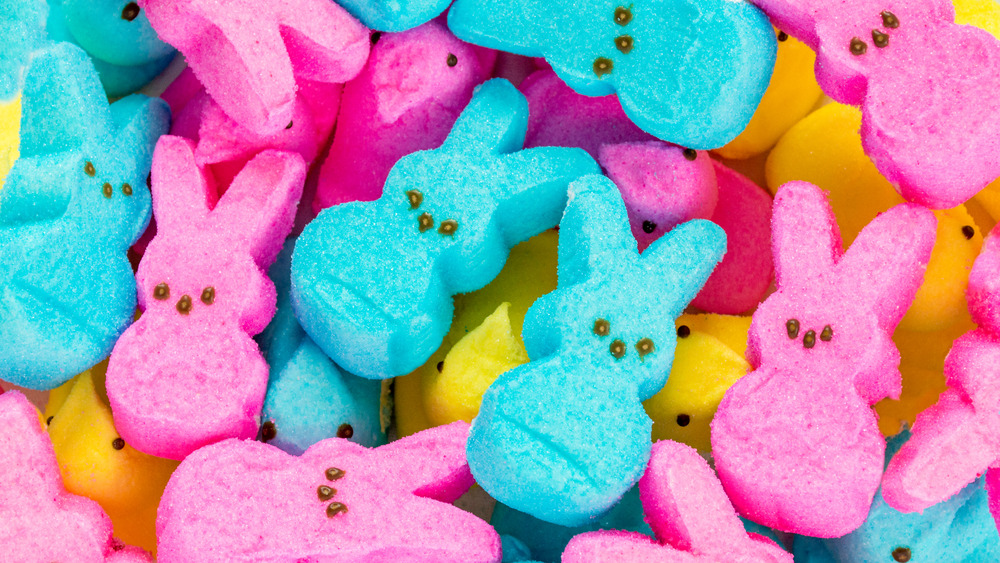 Shutterstock
Peeps even fare poorly if you get away from personal taste and rank Easter candy based on nutritional value. (Although, let's face it: Ranking candy according to nutrition is like weighing the health benefits of video games.) Eat This, Not That! came up with a systematic way of ranking nutritional value by looking at sugar and fat content, among other factors. Chocolate-covered Peeps scored as the absolute worst.
Now that you probably see where we're going with this, let's finally announce the results of our recent survey, asking respondents in the U.S. what they thought was the grossest Easter candy. Sure enough, Peeps was the runaway winner/loser, with 39.85 percent of the vote. Another regular on many Easter "worst" lists is the Cadbury Creme Egg, which took second in our survey with 15.57 percent of the vote. Rounding out the list were Whoppers (12.98 percent), jelly beans (10.99 percent), Robin Eggs (8.09 percent), Reese's Peanut Butter Eggs (7.79 percent), and last but definitely not least, the iconic chocolate bunny (4.73 percent).